How To Keep Pole Saws in tip-top Shape: Basic Pole Saw Maintenance
As an Amazon Associate I earn from qualifying purchases. Without Any Extra Cost to You!
Pole saws are a great addition to your garden equipment. Not only does this tool allow you to cut up branches and grasses. But, it also enables you to access far beyond what the typical arm can reach.
As useful as they can be, they do need some level of TLC (tender loving care) too. With proper maintenance, you can ensure your saw to stay sharp, run smoothly, and last long for years. Thus, providing you the most efficient performance and the best value for your money. 
And yes, we will teach you just how to achieve that. Different types of pole saws may require different approaches to maintain too. Nevertheless, what we have covered here in this article are the "basic" cleaning routines. Thus, helping to keep your pole saws, no matter what type, in great condition all year round.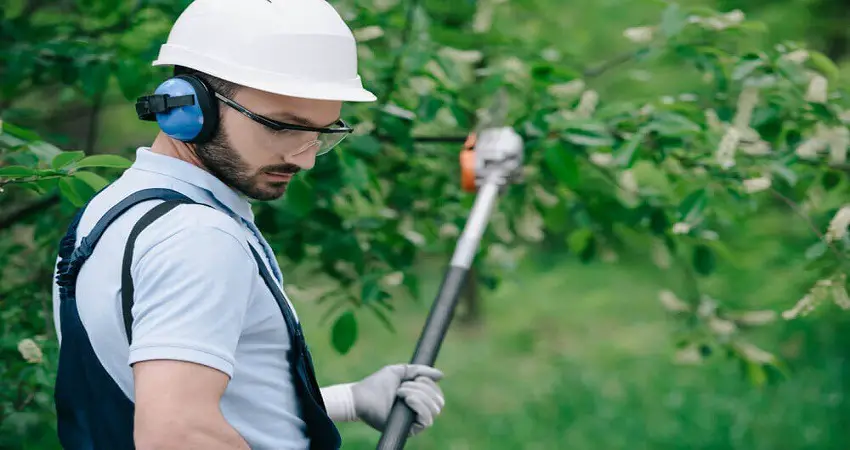 Wipe clean dirt and debris
Dusting and wiping before and after each use is the most basic type of care you can render to your equipment. You can use a damp rug to remove dust particles, oil leaks, and other residues. This is important so as not to encourage build-up. It is easier to clean the saw if the dirt is still fresh. On the other hand, residues like tree saps are much more difficult to remove and can even cause rust or staining if left uncleaned for quite a while.
Also, take this time to carefully inspect the condition of your pole saw. Use your keen observation to check for chips, tears, or any irregularities in your device. When you notice something unusual, make sure to have it checked or repaired first before attempting to use the saw. 
Check out this cleaning rug on Amazon!
Tighten nuts, bolts, and screws
Always have a good set of wrenches on hand. Remember that any loose component can easily turn into a hazard when using the pole saw. Thus, it is a must to meticulously check for the tightness of nuts, bolts, and screws in any part of the saw. Make sure to keep the tightness secured enough that it won't come undone or loosen while the saw is in use. 
Check out this wrench on Amazon!
Check the trigger and trigger lock feature
The trigger and trigger lock are safety features that allow you to have better control over the saw or the blade. Make sure the button is moving and functioning properly. Trust me, you don't ever want it to get stuck while you are in the middle of operating the pole saw. 
If unfortunately the lock feature is broken, you can always try to find replacement parts. The availability greatly varies though depending on the brand and model of your pole saw. 
Check out this replacement trigger switch on Amazon!
Sharpen the cutting blade
A dull saw is no fun at all. What good is a cutting tool anyway if it can hardly cut anything, right? Hence, it is imperative to keep your chain saw or blade as sharp as a knife at all times. 
You will need to use a knife file to sharpen up one tooth at a time. Give your saw accurate and equal filing across all sides. It is best to sharpen your saw regularly at least once a month.
Check out this knife file on Amazon!
Oiling your pole saw, especially the chain and the bar, is essential to ensure efficient performance. These components are most of the time moving and in contact with each other. This tends to develop friction which can heat up and wear them out in time. Hence, you need to lubricate these components to ensure smooth functioning and minimize damage. 
Check out this lubricant oil on Amazon!
Adjust the chain tensioning
The right tension between the chain allows it to effectively drive the links along the guide bar. Having a tension that is way too loose is no way safe. It tends to be wobbly and can even cause kickbacks.  
Rather, the tension should be tight enough to initiate smooth movements. Make sure though that it is not too tight as well. Otherwise, it can increase friction and possibly present a fire hazard. Ideally, there should be little space between the chain and the bar when pulled. This allowance enables the saw to rotate comfortably enough without getting too restricted. 
Generally, you can simply tighten or loosen the chain tension in pole saws by adjusting the designated tension screw. You can always use your trusty old screwdriver to help you do this task.
Check out this screwdriver on Amazon!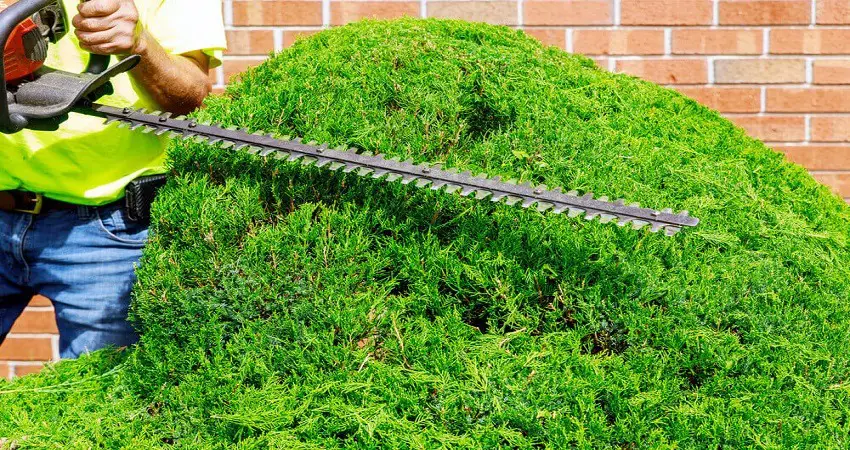 For motor-driven pole saws, make sure to check the oil level in the reservoir. It is crucial for your tool to run with a sufficient oil supply. Operating it with very little lubrication can run the risk of breaking and permanently damaging the motor system. Hence, it is best to have the tank always checked and refilled before use. 
Check out this engine oil on Amazon!

For gas-powered pole saws, this device often comes with air and fuel filters. The air filter is responsible for preventing debris from passing through the inside of the motor. Thus, protecting the carburetor and the combustion engine from wearing out quickly or getting damaged.
The same purpose goes for the fuel filter. This component is equally responsible for filtering out oil and debris from contaminating the fuel. An unclean fuel can damage your fuel pump, corrode your tank, and more. In short, it is bound to make your engine fail.
Hence, it is important to check both your air and fuel filters from time to time. Make sure it is not clogged up. Replace as deemed necessary.
Check out this filter replacement on Amazon!
Store your pole saw properly
When not in use, keeping your pole saw in a dry and secure location can also help maintain the integrity of your device. Make sure to do thorough cleaning first before stowing away your saw. It would also be beneficial to use a saw cover to protect your device from dust and moisture.
Check out this pole saw carrying case on Amazon!
Last but not the least, make sure to do steps 1 to 9 all over again. Make it a habit to perform all these basic maintenance routines. It may take a little bit of your time and effort. But, it will surely enhance the performance and extend the service life of your pole saws.
Wrapping Up
Keeping your pole saws in pristine condition at all times is one sure way to get the most out of your equipment. Not only will it improve its performance, but it will also help extend its lifetime. Hence, giving you the best experience and value for your money.