Many people wants to grow strawberries but they don't know how to grow strawberries from seeds. This article is about how to grow strawberries from seeds with details information that will help you to grow strawberries from seeds in your home. Strawberries are one of the tastiest fruits of the world. On the other hand, its characteristic aroma, bright red color, juicy texture, and sweetness are simply incredible.
Moreover, strawberries are full of vitamin c, manganese, potassium, and many others nutrients. In addition, it is rich in antioxidant, which is beneficial for heart and blood sugar. You will be happy to hear that it is possible to grow this awesome fruit in your home garden easily! You can grow strawberries both from seeds and plants. Keep reading this article to know how to grow strawberries from seeds.
How to Grow Strawberries from Seeds
We have already mentioned that you can grow strawberries from both plant and seeds. But growing strawberries from seeds is a little bit harder than growing from small plants. The plant strawberries grow faster than the seeds.  On the other hand, they produce small fruits at first time. However, there are some new verities in the market which are developed to grow faster. You can buy them for faster growth rate. Strawberries seeds are available both in the local nursery and online store. We have tried to show you the step by step process of How to Grow Strawberries from Seeds in below: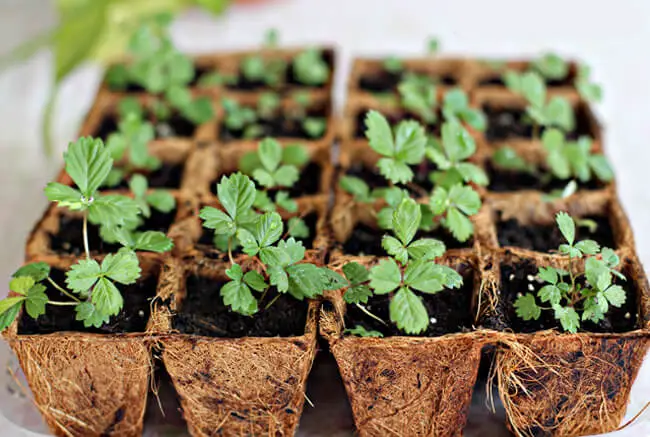 Step-1:
First place your strawberry seeds packet inside a sealed airtight container or on a plastic bag and put it in the freezer for 3-4 weeks. Don't break the seal in the time of removing the bag or the container until it comes to room temperature. Because opening the package too soon may result in water condensing on the seeds. It may take a couple of hours for this process.
Step-2
Now fill up a container with soil and water it carefully. Every seed should be planted 6mm under the soil and space between two plants should also be 152mm or 6 inches. Place 2 or 3 seeds in every hole by using your hand. You can also use tweezers to move seeds from the packet.
Step-3
Now fill down the entire hole with soil.  You can do it with your hands but it should have done carefully. Don't push too firmly, because it can compact the soil and destroy the seed. Now cover up the top of the planter with a plastic wrap. It will help to maintain the soil wet at the time of germination.
Step-4
Now place the planter in a bright location. A warm spot with a bounty of light will be beneficial for strawberry plants. On the other hand, if you live in cold areas, you can use a space heater or other heat source. Water the plants every day carefully. Also, test the soil every day to be confident it is not drying out.
Step-5
Once the seed starts growing, you have to take away the plastic wrap of the planter. As a result, the plants will have enough space for keep growing. The soil will waterless more speedily when the planter stays uncovered. So you need to water more carefully and check the soil more often.
Step-6
When your plants have third or more leaf, you can transfer them in the garden or in containers. You have to do this process very carefully. Now follow the below steps for transplanting process.
Step-7
Strawberry plant grows well in the areas that get a lot of direct sunlight. On the other hand, the soil should be rich and well decomposed. The growth of the strawberries depends much on the soil. Now dig a hole in the soil and place the plant in the hole. The crown should be kept above the soil line. Press the soil gently around the base gently.
Step-8
Water the strawberry plants regularly. The roots will need a lot of water in hot weather. But over watering may kill your plants. On the other hand, water the crown of the plant instead of watering in the fruit and root. In addition, you can use a suitable fertilizer to provide extra nourishment to the plants.
Step-9
After some months, your plant will start blossoming flower. You can give the strawberry plant a chance to grow more vigorously by removing the first flowers. The subsequent flowers should be allowed for going.
Step-10
The first signs that the strawberry flowers have turned into fruit will be small green fruits. These will continue growing and turn red later. When the whole strawberry is red, it is ready to pick up. Before eating the beautiful fresh red strawberries, give them a gentle and quick wash. Strawberry plants are normally hardy. So they will continue producing fruits year after year.
Finally, you can grow strawberries from seeds in your garden. There are very few fruits in the world that will give you the out of the planet feeling. Strawberry is one of them. In addition, home planted strawberry fruits are full of flavor and freshness. Moreover, strawberries are one of the easiest plants to grow. So if you are planning to plant strawberries, then you should start right now. Hope this article will help you to learn about how to grow strawberries from seeds. You can learn how to do lawn care with details information and tips.