Last Updated on April 20, 2022 by Gary Stephen
LED Grow Lights are becoming more and more popular in all types of indoor gardening. The best led grow lights can help you to grow strong, healthy plants. They can give you a huge yield plus great quality fruits and flowers.  Indoor growth offers many advantages. The biggest benefits are the most obvious! Garden pests can't get at your plants, and you have total control over the weather.
About LED Grow Lights
A grow light is artificial light that helps to increase your plant growth. It's an artificial source of light that replaces the need for sunlight. For example, in the winter the available hours of sunlight may not enough for the plant to grow.
The grow light will help the plants in penetrating enough spectrum for photosynthesis. The spectrum it provides is the same as the sun or a little that need for cultivation. Not all spectra are necessary for every plant and produce fruits/flowers. It depends on the plant's needs.
Types of Grow Lights
Grow lights come in three different forms of lighting; Fluorescent, HID, and LED. Fluorescent lights are ideal for plants with low to medium light requirements. A downside is that they can be costly and take time to reach desired temperatures. This could reduce the growth of your plants. High-Intensity Discharge (HID) grow lights can provide a cost-efficient light source. HID grow lights are cheaper than LED lights. Whilst less effective they are still a tried and tested option for many growers. Research now shows that Mercury levels in HID can have an effect on health and the environment. LED grow lights are great because they are energy-efficient. As well as being durable they can have an optimized spectrum for all phases of plant growth. LEDs are safe for the environment, don't overheat, are cheap, and use low power.
Why choose LED grow lights?
LED grow lights are a great solution for today's indoor plant grower. When buying LED grow lights, you need to consider their durability. The construction should be of high quality. If not, then you'd be wasting your hard-earned money. LED grow lights provide the spectrum of light your plants need. If your plant doesn't get enough light it will not grow strong. Then the productivity of the plant will decrease as well. So, if you don't get enough fruits and flowers from your indoor garden, you can use some cheap led grow lights. Also, if you need to save them from snow or cold by providing enough daylight for your plants.
[amazon box="B00NTBZKDE,B00PH1MQV8,B00UORXUBA,B0183Z7Z56,B019J3UPUS,B00FGFW0XO,B00Q8QZB40,B01871AHTC,B01J19ADTI" template="table"]
Here are 10 Best LED Grow Lights In 2023
Here are my 10 best, but cheap, LED grow lights for your indoor garden. These lights have good coverage, high illumination, and all the essential light waves. They increase the growth of your plants. Have a look below.
I love the BESTVA BAT W200 Dimmable LED Grow Light (with WiFi control!). I mean, just look at these stats:
Input Output voltage:120 – 277V
2.9 µmol/J Efficacy @ 277V
100-277V Driver range
Current -100%:120 V: 1.7 A  208 V: 1.0 A  240 V: 0.9 A  277 V: 0.8A
Inrush current: < 30 A
Frequency:50/60 Hz
Power factor:> 0.97Voltage
THD:120 V: 1.05 % 277 V: 0.65 %Current
THD :120 V: 6.25 %   277 V: 14.25 %
Ambient temp:32 – 104° F (0 – 40° C)
Environmental rating: IP65 wet location rated protection against water and dust
Control:0 – 10Vdc Source
Mounting:Multiple mounting methods included in the box
Weight:14.3lb / 6.5 kg
Dimensions :29.3 in x 15.7 in x 6.1 in / 74.5 cm x 40 cm x 15.5 cm
Warranty: 5 years
Contents: A. BestVa BAT W200 LED Grow Light  B .4xLance Hanger C. Input Power Cord  D .Interconnect Cable RJ15 9.8ft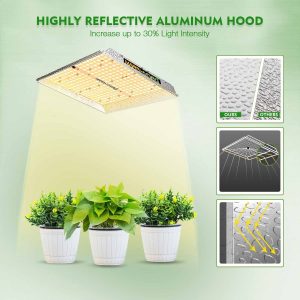 TS1000 is the best novice LED grow light, serving adequate light to 2-4 plants. Its reasonable price, marked yield improvement, and variable output control make it friendly to new growers.
Wattage – 150w
Veg Coverage – 2.5×2.5 ft
Flower Coverage – 2×2 ft
The overwhelming choice for most growers applying in grow tent, small room, cabinet & closet, and plant shelves
Our first review is the Advanced Platinum Series 12-band LED Grow Light. Featuring the highest PAR per watt of any other LED grow light out there. It offers a full 12 band spectrum which ensures you a great yield every time. It's available in three different power units 600w, 450w, and 300w. Even with the highest watts, it's still able to manage low power consumption and less heat. Not only that, along with the utmost lifespan, but it also has a greater LED quality. These models also have a switch for veg and blooming operation.
The Advance Platinum is well known for its removable performance in power efficiency. It can replace a conventional 400w HPS grow light while only using 180 watts of actual power. This gives your plants 100% usable light which gives the greatest photosynthetic response. The secret to success is the optimal blend of 12 different bands of complete light spectrum. All the way from the depths of UV to the upper IR – giving your plants exactly the tuned spectrum that they need. 
The
 grow lights
are also famous for their ability to reach the depth of 4 feet tent along with the utmost coverage. The 450w watt is good for large closet grows, hydroponic trays, small and medium tents. The 300w to usable for closet grows and herb/vegetable garden. If you want to cover a large area, you may need one more of these two.
With its 12 bands of the complete light spectrum, the UV gives your plants the final tuned spectrum. It has a built in 90-degree secondary focusing lenses penetrate the light wave deep in the canopy. That is why it works better in any types of plants/herbs and brings the best outcome that you want. They have the same power performance.
Pros and Cons
Pros
Works perfectly for producing a good quantity of flower/fruits and seed.
Makes the plant green, healthy and filled with leafs.
Provide greatest coverage of your grows tent, closet, pots, etc.
Very sturdy outlet and good for consuming low power
Comes with five years of warranty and 90 days satisfaction return guarantee.
Cons
The light is bit heavy.
The product is very expensive.
Verdict
All in all, it's one of the LED grow lights that can fulfill all the facilities that you want. The lights are a bit expensive but the cost is worthy of its performance.
The Galaxyhydro LED Grow Light is another great grow light for indoor plants. It has a high a quality of 100 pcs 3W epileds chips. These lights have a necessary optimal spectrum which helps grow healthy plants. These LED lights are suitable for using at any stage of plantation. You can use it from seedling to growing big plants with lots of growth, flowering, and fruiting stages.
It can be also used in
germ-plasm
center to grow seed for germination in a laboratory. Or as a mini indoor garden for growing plants as well. So, for better results, check the hanging height limit and the lighting time of these LED lights. For example, if you are using it for the germination stage, hang it 48 to 56 inches for 16 to 18 hours. However, for vegetation 40 to 48 inches, 12-16 hrs. And for flowering 24-40 inches, 10 to 12 hours.
Many people are not aware of proper lighting to height ratio. By letting the light perform at its correct height will show a better result. So, by counting your total area and the stage of gardening, use these recommendations.
Plants love bright lights and these affordable led grow lights are very bright. They will provide active penetration to the plant cells. It consists of UV and
IR rays
along with red and blue lights. The red lights are especially useful for photosynthesis. They are also beneficial for the plants' blooming and fruiting stages.
Usually, when led grow lights are on for an extended period they will overheat. To reduce this problem, Galaxyhydro has two cooling fans. They keep the lights at low temperature. So that the circuit and light life/power remain the same until the end.
Pros and Cons
Pros
Helps to grow all types of plants and encourages blooms and fruits.
It helps to grow veg plants with darker and fresh leafs.
Very affordable in price compared to other LED grows lights.
This LED grow lights also saves you from an excessive electricity bill.
Not only for the indoor planting, but it's also helpful in macroalgae in saltwater swamps.
Cons
Not made for outdoor usage, no waterproof facility.
In some cases, the fan blades can be noisy.
Verdict
This plant growing light is perfect for both hydroponics and plants in soil. Great for green & flowering plants, such as tomatoes, potatoes, pepper, lettuce and crops . Good for 2'X 2' growing area. If you have a large area to cover, then you can consider getting more than one light. Its engineering work is ideal for excellent penetration of the light. You can grow healthy plants and fruits in minimal time.
Here is another trilogy of VIPARSPECTRA Reflector-Series LED Grow Light. It's with upgraded aluminum cooling heat sink, packed spectrum layout, and reflector design. You can use these lights for all kinds of indoor plants and all growth stages. This light can grow bigger flowers and fruits that generally you may not even see yet. Growing fresh fruits and flowers depends on your provided nutrients, water, and quality soil. You can control these things but not the daylight. That is the reason for the different quantity and quality of flowers or fruits every season. But now, with these cheap led grow lights, you can get the highest yield in proper time.
These lights
are designed
to keep a balance with high PAR and appropriate coverage. For the 300w, 600w and 1200w model, the largest coverage will be 3×2, 4×3 and 5×4 ft in 24 inches height.
To control the temperature there is a 4.72 inches fan and a big cooling heat sink made of aluminum. These high-speed cooling fans work great on faster cooling. Compare to HDI lights these LEDs are 70% cooler due to this revolutionary heat sinks and fans.
When you are using a grow light for the entire month, it will affect your electricity bill, as well as your money. The VIPARSPECTRA Reflector models consume very low power in average power draw. The 300w consumes 136ws, 600w consumes 276w, and the 1200w consumes 514w. Compare to any HDI lights you will save a lot of money every year in electricity bills.
Pros and Cons
Pros
Made for excellent coverage and performance.
Energy efficient so save power and money compared to any other lights.
These lights come with reasonable price range.
Easy to install and can be timer controlled.
Cons
Made for indoor use only, not waterproof.
Weak as a production flowering light.
Verdict
For any type of indoor garden, it works great. All its power consumption, performance, and price are very reliable for any gardeners. Thus, it also has three years of warranty and 30 days of money back guarantee.
For the most up to date technology and rapid growth of your plants, King Plus LED Grow Light is one of a kind. These led lights are energy-saving and have high performance. It consumes around 11w to 120w power only in a day. If you have an indoor garden or laboratory, shop or exhibition, then this one is perfect for you. It has a full spectrum including the IR and UV that help to develop every level of seed/tree/crop plantation. This type of light is great for growing plants in a small area within a short time frame.
These grow LED lights have double chips to provide more glossy lamination. For every LED, it has 2pcs 5w chips which are more efficient than 3w or 5w LED lights. It's energy-saving; has a longer lifespan; and very active in the growth of plantation. This light is ideal for all phases of plant growth. It is suitable for pot culture, sowing, farm, breeding, greenhouse cultivation and more. Also for house gardens, water soluble breeding, pipeline cultivation or even flower exhibition. So, from small to mass plantation, King Plus is always there for you.
It is the full spectrum: the light includes red, blue, yellow, white, IR and UV. Ideal for all kinds of indoor plants veg and flower at all growth stages. It will increased the yield of your plants, kill bacteria and reduce plant disease.
Pros and Cons
Pros
This powerful light is ideal for growing any vegetable, fruits or flower plant.
Usable for small to medium areas.
Includes two cooling fans which work well to keep the entire device at low temperature.
Highest lifespan around 50000 hrs.
This best led grows light is easy to install without any help.
Comes with 180 days or warranty service.
Cons
It's not waterproof so don't use anywhere where it get wet.
The coverage area is smaller than advertised.
Verdict
To keep the lights cool and workable it also includes two cooling fans that are helpful on longer usage. This led light is durable and suitable to use in different plantation sectors. It comes with three years of warranty and excellent customer services.
Here is another grow light for the indoor garden. The Hydroplanet T5 4ft 8lamp. It is suitable for placement in either a vertical or a horizontal position. They can be daisy chained together so you can best fit your grow room design. Each light fitting is made with a European highly reflective aluminum interior. Perfect for the vegetative growth period of your plants . You can use the light for different types of vegetables, flowers or fruit plants. Its unique penetration lights develop the growth of leaves. It is ideal for coverage of a large area of your indoor garden.
This 4ft grow light has simple and easy to structure. You can set up the light vertical or horizontal, whatever suits your needs. It has eight lamps and a sturdy frame which makes it quite heavy. The light is awkward to hang by yourself so try to get help with it.
Each bulb has 6500k power with a T5 light feature system. Also, the
aluminum frame
reflects the light 95% to provide brighter illumination. It increases the growth of plantation and works especially well in vegetation.
This large grow light is not only easy to install, but it's also easy to use. After setting up, plug the light into a power outlet and off you go. This is a great light for hydroponics. It's nice and bright and covers a large area. It does produce a little bit of heat but you can always turn off two bulbs. The two switches on the back each turn off 2 lights. You can chose to switch off if you wish to have it for twice as long or don't want to use up as much electricity.
Pros and Cons
Pros
The light fixture is well built and very easy to set up.

Very compact in look and works great on increase growth of your plants.
Consists of a durable power-coated housing.
Strong And extended 15' power cord for the fluorescent bulbs.
Considering the features and usability, the price is very reasonable.
Cons
No so helpful on flowering.
The light is heavier than expected.
Verdict
For hydroponic gardening you need large, powerful and multi-tasking grow lights. That is something this Hydroplanet T5 offers. This light is perfect for developing the growth of seed, plant or crops. The light is powerful and affordable, lightweight and cool. Simply put, for one single light, this will grow you the most for the least.
Here is another LED grow lights for indoor use. The Apollo Horticulture Grow Light is suitable for small spaces & provides proper lighting. This light understands the needs of your plants. That is why its full spectrum light will penetrate in every cell of your pant and ensure healthy growth. This grow light works well on producing fruits and flowers within a short period.
This lightweight, tiny grow light is completely hassle-free when it comes to set up. Unlike the other lights, it doesn't need ballasts to stay still. There is three hanging wires that secure to the light.  Along with its easy instructions anyone can complete the installation without any help.
Most of the grow LED lights come with extended life period. Apollo has the same feature. It can run more than 50000 hours without any problem. If any problem occurs, you have two years of warranty to ask for a replacement. The manufacturer provides excellent customer service. A 75w LED grow light under 40 dollars, definitely worth it!
This full spectrum led grow light is suitable for grow tents and greenhouses. They are also perfect for the H2o system and any other Hydroponic systems. From
vegetables
to flower plants, this cheap led grow lights works for any type of plantation. A bonus is that it produces less heat even for the extended time off work. So, you could place it closer to the plant canopy than other lights.
Pros and Cons
Pros
Perfect for covering 3ft in diameter without any problem.
Very robust and impressive construction of circuit unit.
Comes with the very cheap price range.
It is perfect for all type of indoor plantation project.
It does not consist of dangerous UV rays, so you are safe during work in the garden.
Cons
The fan makes noises but not too loud.
In some cases, the color of the light a change a bit.
Verdict
If you only have a small area or are using a grow tent, then don't get a high price/watt LEDs. You will get the same performance from this Apollo light at more decent price. The light itself seems robust and well designed. It emits a huge amount of light and doesn't produce much heat due to the inbuilt fan which helps cool and circulate air. It is cheaper than other more expensive brands so great value for money.
Here is another full spectrum grow light. The Ledgle Led Grow Light is perfect for any type of plant in their different growing stage. This light has UV rays, IR and white spectrum. It also has all the necessary spectrum that your plant needs to grow bigger and healthy. It has a protection system that keeps the fan at low temperatures to prevent short circuits.
The Ledgle Led Grow Light is even better compared to other ordinary grow LED lights. It has 50 6W led lights in crystal plus lens design which provide soft but bright lighting. This one is a brighter and productive form of 3w and 5w LEDs. It has 2 optional Leaf/Bloom switches for different growing stages. That's why it's useful for coverage of 3 ft x 2ft veg stage and 2 ft x 1.5 ft for the flowering stage.
This grow light is ideal for all lighting, growing, & indoor gardening purposes. It provides rapid yet full growth of flowers, plants and vegetables, and it is usable for all growth stage. The LED light has the entire spectrum that is the same to the sunlight. From 420~430nm, 440~450nm, 460~470nm, 585~595nm, 520~530nm 650~660nm, 620~630nm, 610~615 nm, to the White, IR and the UV ray. These help photosynthesis and blooming. Furthermore, they contribute to lessen the germ attack and prevent diseases.
This grow led light has protective diodes. They add safety from any type of chips out or short circuit. To avoid overheating, the led light has two cooling fans that keep it cool from inside and outside.
Pros and Cons
Pros
Works great all kind of flower plants, medicinal plants, herbs, leafy vegetables, etc.
Also suitable for potted landscape and hydroponic setups.
The bulbs are good in quality, long durable and don't feed over time.
This 300W full spectrum Grow lamp is cheap in price.
Cons
It's not waterproof or fireproof at all.
Not being able to daisy chain.
Verdict
This LED grow light is excellent in performance and price. The manufacturer provides great customer service. It also comes with a one year warranty.
The BESTVA 1000W Dual Chips LED Grow Light is for every mid to large indoor project. A Full Spectrum 1000 watt led grow light is beneficial to plants, vegetables and flowers at all stages of growth. It is High Lumens, High yields, Low heat. The BESTVA Spectrum was developed by indoor growers over many years of careful experimentation and testing. It's engineered to keep the balance of power and coverage. So, this light is ideal for any type of plant growth and as well as with water solution culture or soil culture.
LED lights have a good reputation for not getting overheated. For longer usage, it's possible that the device might get hotter than room temperature. The red light is especially an important factor to create heat.
The small space and moisture are doing the same to increase the temperature of this lighting device
. It has its own cooling system that works to keep it cool. All the holes on the aluminum panel, glass and fans make the heat conversion. So, it can stay at least 80% cooler than any other high intensity HID lights.
The 100 watts led grow light has the entire spectrum that needs to grow a plant. Like the natural sunlight, this one also grows plants, flowers, and vegetables, from seedling to blooming.
This light is suitable for different types of projects. It's made for indoor plantation.
It is also suitable for use in breeding farm, bonsai, greenhouse, sowing, pipeline cultivation or water cultivation
. It shows a greater impact on the plant growth and blooming in any type of
house garden
and pot culture.
Pros and Cons
Pros
LED's are very bright and work great on the plantation.

It's low power use, like other 1000w LED grow lights, so reducing the cost of the electricity bill.

Perfect for using small, mid or large garden area.
Even with the full range and quality performance it comes with a reasonable price.
Cons
The light is not waterproof or fireproof.
The fan is little noisy but not too loud.
Verdict
The BESTVA 1000W grow light is a very useful product that any grower would want. It is more expensive than the other reviewed products in here. Yet you will not find any other type of LED grow light of the same quality in this price range.
It is good for covering a large area and getting healthy plants. It is energy efficient. Compared to traditional 450 watt HPS/MH while consuming is only 172 watt, saving up to 70% energy.
Core Coverage: 2ftx3.5ft(61x107CM) Max Coverage: 3ftx4ft(91x121CM).
It also comes with daisy chain to fit many lights together and
uses the newest EMC LED chip package technique. This provides the best resistance to corrosion and water vapor. The use of new high-end fans and aluminum radiator avoid operating noise. They also keep a low temperature.
So, you can switch between Veg or Bloom.
This helps provide your plants, veg & flowers with everything they would desire in the natural sunlight
.
This grows light is ideal for fit for 2×3.5 ft area at 18 inches of height. If you have a large area to cover, you can add one or two more growing lights for better coverage. This bright LED is very active in growing your plants. Even with its brightness, it uses only 110v current for a full day cycle. It can compete with your any other HID, MH or 45w traditional lights.
 Along with the red, yellow, blues, orange, etc. light, it has the 3 IR LEDs. They look dim but helpful for plants in the blooming stages.
These two are great extra features of this grow LED. The chain also provides the facility that other LEDs can connect by low power consumption. That means you can add one or two more
cheap led grow lights
to increase the coverage by using more or less 1000w.
Furthermore, it has two different switches; veg and bloom. It allows you to save more energy and get the best result that you want. When the veg switch is on, one fan will work when the bloom switch is on. 
Pros and Cons
Pros
Workable to cover small to mid area of your indoor gardening.
All 12 spectrum which helpful to usage different plantation stages.
Use low power, so good for save electricity bill.
It's a lightweight grow light is easy to hang to set up above the plants.
Includes two different switches veg/bloom for more efficient power usage.
Cons
It doesn't have any waterproof or fireproof protection.
The wiring is a bit thin.
Verdict
Super efficient and affordable. Comes with 3 years warranty plus 30 days money back guarantee. All in all, it's a quality LED grow light that is suitable for any condition or environment for a long time.
Last but not least! Our final led grow lights review is for this Vintage Grow HIGH YIELD Dual LED Grow Light. This 45w light usually works for single plant pot covering or in some cases two. If you need to cover a lot more space, you can buy one extra light as well. This light never overheats and great for any indoor plant. Those who don't need a large area to cover or save their precious plant from winter, they can have this grow light. This light is very affordable and will last for many years.
The Vintage Grow light ensures you good quality, large, dense buds in every season. This grow light will help your plants produce a great number of buds and flowers. Its dual spectrum penetrates the precious amount of light wavelengths. That gives you the champion plant with a huge amount of flowers, fruits, and seeds.
This
affordable LED grows light
is also very energy-efficient. Like other lights, it doesn't produce excessive heat that causes harm to plants. You can use it 24/7 for indoor use. It will produce a low heat that only increases the temperature of your indoor garden 0.2% in total. Besides, it only uses 12 watts in a day so it will help you to keep your electricity bill low too.
It is very simple to place in your regular outlet. There is no need for extra equipment for the installation. Take a three holes outlet, attach the light and it's ready to plug and play.
Pros and Cons
Pros
Works perfectly to grow healthy plants from root to bottom.
This light doesn't cause the problem with overheating.
Works as well for blooming flower and growing fruits fast and healthier size.
Cons
Not suitable for use outdoor or damp rooms.
Due to its small size provide little coverage of your garden.
Verdict
Low heat and power consumption for 24/7 indoor use make this a very user friendly light. This affordable grow light also comes with a one year warranty.
Features & Benefits of LED Grow Lights
From professional gardeners to beginners, you can get huge benefits from a grow light.
You can use a grow light during all the stages of the plantation (seeding, veg, flower, and fruits). So, gardeners can use it for single or multiple purposes of the plantation.
If  you see yellowish leaves and long branches, it might be suffering from low light problems. You can use an individual grow light on that pot or for the entire garden.
During the winter a grow light can help your entire garden keep alive.
A grow light allows you to start a garden in remote places where sunlight is very rare. You can even grow a plant in the basement with these lights.
It helps to keep the plants healthy and free from diseases. All the fertilizers, water, temperature also matter for having a disease-free garden.
A grow light can increase the production of flower, fruits, and the seed of your garden. So, every harvest time you will get the most yielding.
Grow lights or led grow lights are flexible in design and technology.

You can use them as a multi-layer vertical system, ceiling lights or inter-lighting designs between plants

.

This type of illumination systems are used in greenhouses and large indoor gardening. LED lights suits best with this kind of typical lighting system.
Another benefit of LED lights is that they are the less heat and more lighting performance. LED grow lights emit less heat than other lighting methods. Too much heat is damaging to the plants, decreases the growth and might cause the death of the plants. LED lights have greater efficiency on low heat production and bright illumination.
Unlike the sunlight, it won't evaporate the water from the soil. So you don't need to water plants so much in a day.
Factors To Choose For Buying A LED Grow Light
Before choosing the full spectrum led grow light look into these important features.
Light proportion
Light proportion or ratio means the present spectrum of your lights. Spectra are essential for growing plants. They make them big and full with flowers and fruits. Usually, they get it from sunlight which helps them with the photosynthesis process. That is why it's important to horticulture or other plantation. Plants usually prefer yellow, orange, red, blue, and in some cases
UV
 and IR. Your
LED grow lights
should contain all these spectra.
Light intensity
Another essential factor
light intensity
that helps to grow plants healthy and colorful. So choose the brightest LED grow light for having good shaped green leafs with big branches. Lack of light can make them leggy and tall. Also, it can turn leafs yellowish too.
Energy-saving and power-efficient
The led grow lights are well known for light intensity in low electricity. But still, some grow light devices can be a headache of your rising electricity bills. So, choose the light that uses less power but ideal for bright lights and full coverage.
Your LED grow lights should have the power to produce much light without using high power.
Watts are what matters to plant growth in many ways. Of course, the whole science of plantation and your experience on it does matter too. It can manipulate the illumination intensity, temperature, and nutrients. Cheap led high watts grow lights can increase the growth as well as the whole temperature of your garden. And the electricity cost.
Duration of light
A good quality light should have a long lifespan. Usually, people think cheap lights have a low lifespan, and the expensive one has high. But the price always determines the longevity. So check out its performance rating by real customers. Longevity and good performance are important for your plants. It stays with your plants under all stages of growth.
Maintenance cost
Usually LED lights do not need high maintenance costs. But in some cases, the cheap light will burn out in 3/4 days later after installing. Some use timers also to control the power switch. But, the quality of the light will save your money on maintenance.
High power cooling system
The best grow lights can heat up which bad for the plant and also for the device. So lower temperature is a must for your indoor garden. A lower working temperature light can take care of your plants better than others.
Constant current driver circuit
An ideal LED circuit should supply continuous power. It regulates the intensity as the temperature changes. Lights with bloom & veg mode are great at providing the right intensity for your plants needs.
Final Thoughts
The best led grow lights are the ones for indoor plants if you want to grow fruits, flowers, and vegetables. Nowadays, the large commercial sectors are using LED lighting technology for large yields. That's how they control the growth of plantation, crops, fruits, and flowers.
Here we only reviewed the LED lighting system that are suitable for indoor usage. The same thing goes for small or large indoor gardens, it allows you a huge control of your garden.
People can now grow different types of plants/herbs that they may not even consider before in their
outdoor garden
.
I hope this review helps with your next
purchase
 of LED grow lights. Get in touch if you have found a better product. I would recommend always wearing LED protection glasses when working with LED lights. And good luck with your grow!