Last Updated on April 20, 2022 by Gary Stephen
Are you looking for a sophisticated has-all-the-bells-and-whistles traditional grow light? Then you have come to the right place. People looking for a  bright LED light for their plant growing (with less electricity use), will find what they're looking for with the King LED Grow Light review. The King Plus LED series comes with the all the features required to grow indoor plants.
Furthermore, the feature of superb LED light and full spectrum makes it unique from the rest of the other. Consequently, with this article, you will know all the benefits and technical specifications of the product. I have also added a buying guide for you so that by the end of reading this article you will have a deep insight into them. Let's get started!
About the King LED grow light
The King Plus LED light gives your indoor plant a suitable environment that the plant seeks for natural growth. It adjusts the proper light, right temperature as well as high-quality performance. This LED grow light is perfect for all stages from seedling to mature stage.
King LED grow light review will be incomplete without mentioning its benefits. King plus LEDgrow light is now one of the best sellers. Many users gave their positive reviews that they felt the feather is pretty helpful. The company never compromises with quality. Here a list of some king plus LED grow lights which can help you to choose the best grow light.
| Image | Name | Power | Coverage | Size (Inches) | Price |
| --- | --- | --- | --- | --- | --- |
| | King Plus LED Grow Light 300w | 300w | 2.6 x 3 ft | 5.1 x 10.4 x 15.9 | Check Price |
| | King Plus LED Grow Light 1000w | 1000w (100pcs*10w) | 3.4 x 3.8 ft | 5 x 11.1 x 16 | Check Price |
| | King Plus LED Grow Light 1500w | 1500w (150pcs*10w) | 4 x 5.6 ft | 15.75×8.39×2.37 | Check Price |
King Plus LED Grow Light Specs
LED model: Epistar LEDs.
Material: Aluminum
Area cover: 3 x 3.4 ft
Beam angle: exactly 90o
Lifespan: tentatively 50,000 hours.
Lifespan: tentatively 50,000 hours.
Dimension: 12.2X8.3X2.4X Inches.
Wattage: 300w, 600w, 1000w, 1500w
Features and Benefits of King LED Grow Light
When you buy a LED grow light, you should know which features and benefits are available in the grow light. Let's see some important features of this light:
Double chips
The King Plus LED comes in the market with a standard designed of a grid pattern white case. If you look closer, you will notice Double Chips. This provides a bright lighting environment for your plant. They are more efficient and effective than the traditional LED light of 3oow and 500w. It specially designed to adjust the balance of lumen/PAR and coverage.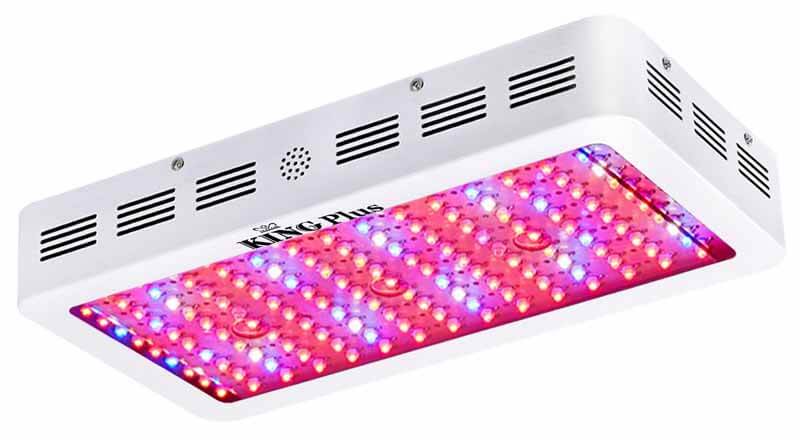 Excellent cooling system
The King Plus LED light comes as a fully equipped heatsink. This runs excellently to keep a perfect temperature range. Sufficient cooling is an essential element to grow your plant properly. It also gives a substantial airflow by ideal ventilation. Though it contains dual cooling, it needs less electricity. Moreover, it's energy saving. Who doesn't love that?
Proper color ratio with full spectrum
We usually see the purple or pink light light that LEDs emit. They usually use a single color on LED grow light. But the King Plus grow light provides you a full spectrum and maintains a color ratio, which is very similar to natural sunlight in the outdoors. Your plants won't even know the difference! The full spectrum works on 380 to 740 nm that is great for wavelengths.
Wide area of coverage
One of the most noticeable things mentioned in the King Plus LED grow light is a wide range of area coverage up to at 36%, which refers to the 3ft x 3.4ft maximum. Keep in mind that the height and lighting area may vary according to the environment and the plant type.
Energy saving
This LED grows light requires less electricity as there is an energy saving mode. That's what we like to hear! It only consumes about 320w to 340w power but still gives a great brightness. So don't worry about wasting the energy to maintain a LED light.
Pros
Superb LED quality.
Long lifespan and durable.
Dual switch and double chip.
Very easy to set anywhere.
Well functioned and easy to maintain.
Suitable for all stage of the plant to grow.
Alternative / Similar LED Grow Lights
If you feel the King Plus LED grow light won't meet all of your expectations, then you can try some other LED lights that are more budget-friendly below.
1. VIPARSPECTRA Reflector-Series LED Grow Light
If you are seeking a high quality grow lights, you can try VIPARSPECTRA LED Grow Light. The performance is pretty satisfactory too, with double chip at a reasonable cost.
Galaxyhydro LED Grow Light is ideal for you if you are more concerned about giving your indoor plant a much better environment and agree to spend some more money. These are also very high quality.
3. Advanced Platinum LED Grow Light
The first thing we would like to tell you about this light gives you an excellent brightness with a superb performance. Advanced Platinum LED Grow Light is one of the best seller items now.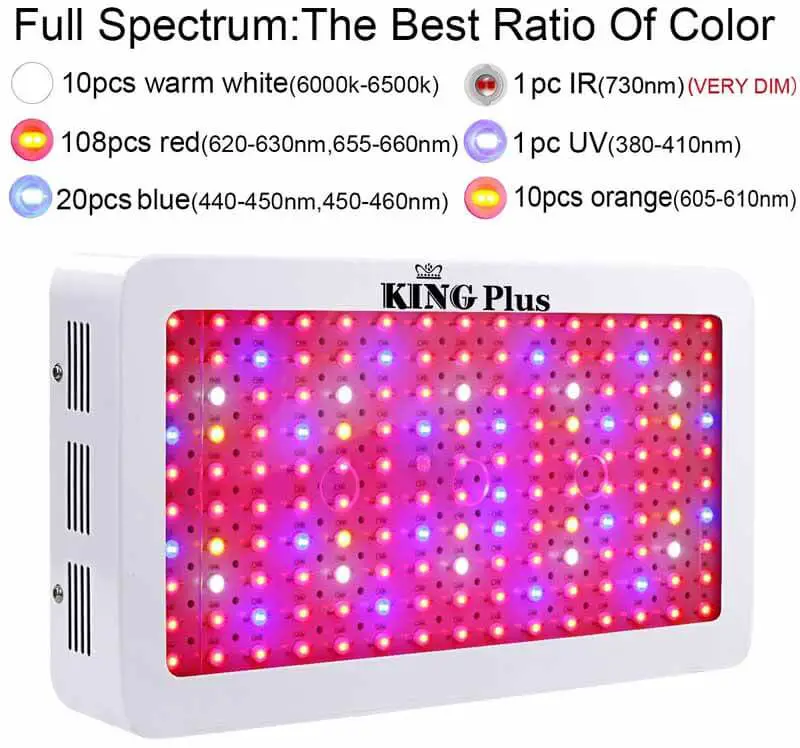 Frequently Asked Questions (FAQ)
Question: Is there any difference between HIDs and LEDs?
Answer: The LEDs have a longer lifespan actually and High-Intensity Discharge uses electrodes a capsule of gas.
Question: What about the lumens of this LED grow light?
Answer: The lumen output is approximately 600w HPS.
Question: What the length of the power cord?
Answer: The Length Of Power Cord Is About 6 To 7 Feet.
Some Essential Fact to Keep In Mind
Never touch or transfer it while it's working.
Try to set up from a distance of 2 to 3.5 fit from the plant.
Be careful in dripping water as it may mix with electricity.
How Many Watts do I Need per Square Foot of Growth Space?
We recommend using around 30 – 40 watts per square foot of your growth space, so ensure that all your plants get just the right amount of light exposure. This will also depend on the type of LED light you buy, as some LED grow lights require less distance and some more, depending on the efficiency of the light. Always remember to read the manufacturer's recommendation to see what will work best with the light that you have purchased.
Final Verdict for The King Led Grow Light review
We hope this King LED grow light review will be helpful for you for your next purchase. We believe it is a good purchase, as the materials used for the production of the light it upgraded, efficient, and has a long lifespan at a reasonable price. It has a useful full spectrum, so you rely entirely on this to grow your plant.
Unlike the other models, here no need to buy extra attachments to make it work better for your plant. In conclusion, this can be said that the above LED grows light can fulfill your need and demand. We hope you enjoyed our review article. Truly, we only have one thing left to say: what are you waiting for? Enjoy the King LED grow light and all its perks.