Last Updated on July 5, 2022 by Gary Stephen
If you have a shed in your backyard that you have neglected for some time now, maybe it's time to clean it up and do some maintenance so it can soon be up and running. Don't let clutter or disorganization take over. Instead, make it a practical area with easy access to all your necessary tools. 
Let's have a look at some solutions and DIY projects that you can utilize to alter its image completely, transforming it into a well-lit and tidy place, where you will be happy to spend your leisure time creatively.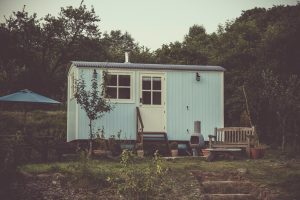 Make your Walls Useful
Don't fret if you don't have a large enough area in your shed. Make use of the walls, by hanging shelves there. Your shed would benefit greatly from these shelves, as you could store all kinds of tools and boxes there, in case there is no other place to put them. 
Another great idea is to install large hooks on your walls. It's a perfect solution, because they are cheap, don't take up much room, and are excellent for arranging bulky equipment, cables, or your water hose. You can even hang your buckets or your seasonal power cords there. Hooks will optimize the wall space and free up valuable floor area. 
Alternatively, you can mount some large tool hangers on the shed walls. They can be very helpful, as they accommodate various useful equipment, such as a broom, shovels, or rakes, and you can keep garden equipment with long handles within easy reach that way. You could also nail some hangers on the shed door if it's sturdy enough.  
Utilize Racks or a Magnetic Bar
You may be one of the lucky people who actually has a large shed. If that's the case, then you won't need to bother with hanging things on walls, as you'll have ample floor space. However, if you live in Australia and happen to have a tiny shed, there is always the solution of self-storage. According to the information found on Alice Springs self-storage, you can store any large or small item you want without any worries. Probably the best suggestion would be to buy large racks with heavy-duty shelves, to store any large or heavy item you want without caring about the extra weight. Even tall objects can be accommodated by just changing the position of the shelves. 
These racks can prove ideal if there aren't any shelves in your shed and you require a little extra room for organization. Keep in mind though that your shed must have a leveled and well-maintained floor, as either could compromise the sturdiness of the shelves. 
Although peg boards and other conventional methods of tool organization are still effective, it is advisable to switch to a magnetic tool bar. It offers a much simpler way to hang your tools and have access to them whenever you want. What's more, it's very easy to install anywhere inside the shed without any fuss at all. 
Keep Containers Handy
If you have any of your vintage baskets or pots that have stopped functioning as planters, you could use them to store items that are often found in a shed, such as potting soil, fertilizers, or packets of your plant seeds. 
A garden hod can provide an equally useful function, as it's perfect for carrying fresh plants and flowers along with all the necessary tools you will need for working in the garden. Essentially, it serves as a useful garden tote for any project you might need it for. Create a spot for a hod within your shed and stock it with the supplies you'll need for your next job.
Build a Bench or Table
Every shed should feature a sizable, solid bench for quick gardening and preparation tasks as well as to store tools for hobbies. But in fact, hardly many sheds have as much space. If having a fixed bench is not feasible but you still want a workspace, consider installing a fold-down table, or even buying one from a hardware store. It certainly conserves space while providing you with the necessary worktop. Just be certain that it is fastened to a sturdy wall.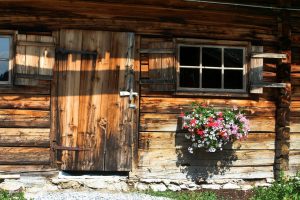 These are just some simple but basic ideas for organizing your shed and utilizing it to the maximum. Every year, go over your shed and get rid of everything you don't need. Items that needn't be stored or that take up extra room frequently gather in sheds. It's not worth the trouble to store them, as replacing them afterward only costs a small amount of money. 
Don't let the tendency to automatically store every little item crowd and take over your shed! And to keep your storage shed organized, make sure to clean occasionally and put everything in its designated area, so that you can find it whenever you need it.