Last Updated on June 11, 2022 by Gary Stephen
I cannot imagine a garden without a hose. I mean, this tool just makes all the watering and washing a simple breeze. However, the fun can easily turn into a bummer when you see those long winding topsy turvy tubings. You know that it takes so much time and effort to manually gather and tidy that entire meter's length of a hose. Now that really is a downer, right? Thank goodness the retractable garden hose reel was invented by some genius, though. 
Yes, you heard that right, retractable! That means that the hose rolls up into its container all on its own. So, no more arm-wrestling and back bending moves. Woot woot!
Sounds pretty amazing, huh?
So, in this article allow me to share with you everything you need to know about retractable garden hose reels. How does it work? What makes them better than other hose reels? And most importantly, what do you need to consider when buying such a product. 
All these questions and more will be discussed in this article. So, let's jump right into it!
What is a retractable hose reel?
Well, this is just like your typical hose reel but made even better. That is because this tool comes with an internal spring-loaded mechanism. The system then allows for the automatic retraction of the hose into the drum reel. 
In that sense, the retractable hose reels are also called self-retracting, spring-driven, or spring-rewind. Either way, they all refer to the same type of garden hose reel.
How does a retractable hose reel work?
There are two main components that make the retractable hose reel work. That is the spring and the ratchet mechanisms. 
Let us first talk about the internal spring. Basically, the spring stretches whenever you pull out the hose. This expansion is what then creates tension within the spring. So, the more the length of hose is being pulled out, the more tension there is too. 
This spring tension is the key to which enables the hose to reel in by itself. As you release this tension, it triggers the spring to recoil back to its default state. This very action of the spring is what prompts the retraction of the hose into the drum reel.
Meanwhile, the ratchet is the one responsible for the locking mechanism of the reel. This device allows you to keep your hose in place at any length you desired. To unlock, you simply have to give the hose a little bit of tug. This will then release the latch from the ratchet and facilitate the rewinding of the hose back into the drum reel.
What are the advantages of a retractable hose reel compared to other types?
No power source? No problem
Retractable hose reels are equipped with an internal spring mechanism. It does not need to be plugged into a power source to operate. This feature essentially makes it more advantageous over motor-driven hose reels.
All good in all location
In the same sense that it does not require electricity to operate, this makes it suitable to be used anywhere you please. You can utilize it in all sorts of locations including off-grid areas. So, you don't have to worry about power interruptions and even the additional cost to operate it.
Fuss-free and low maintenance
Retractable hose reels come with a simple mechanism with minimal moving parts. Thus, it won't likely need much system maintenance. It can get by just fine with regular cleaning and a bit of greasing to keep the components running smoothly. 
However, there will come a time when some of its parts may worn out and require replacement. This is not a problem though as spare parts are pretty much affordable and readily available in the market.
What are the disadvantages of retractable hose reel compared to other types?
Internal spring limitations
There is only so much tension the spring can handle. The longer you pull the hose, the higher the tension and the harder it is to pull further. Hence, the length and internal diameter of the hose will vary depending on the capacity of the spring too. On average, a 25-millimeter hose with a full length of 30 meters is the maximum size a typical retractable hose reel can accommodate.
Still requires a bit of elbow grease
As convenient as it may be, the retractable hose reel may still call for some labor at certain points. In particular, you would still need to manually pull out the hose off of the reel. Although it may not be that rigorous, it can be a problem for some people with physical restrictions. In that case, they may be better off with a fully-automatic motor-driven hose reel. 
What to consider when buying a retractable hose reel?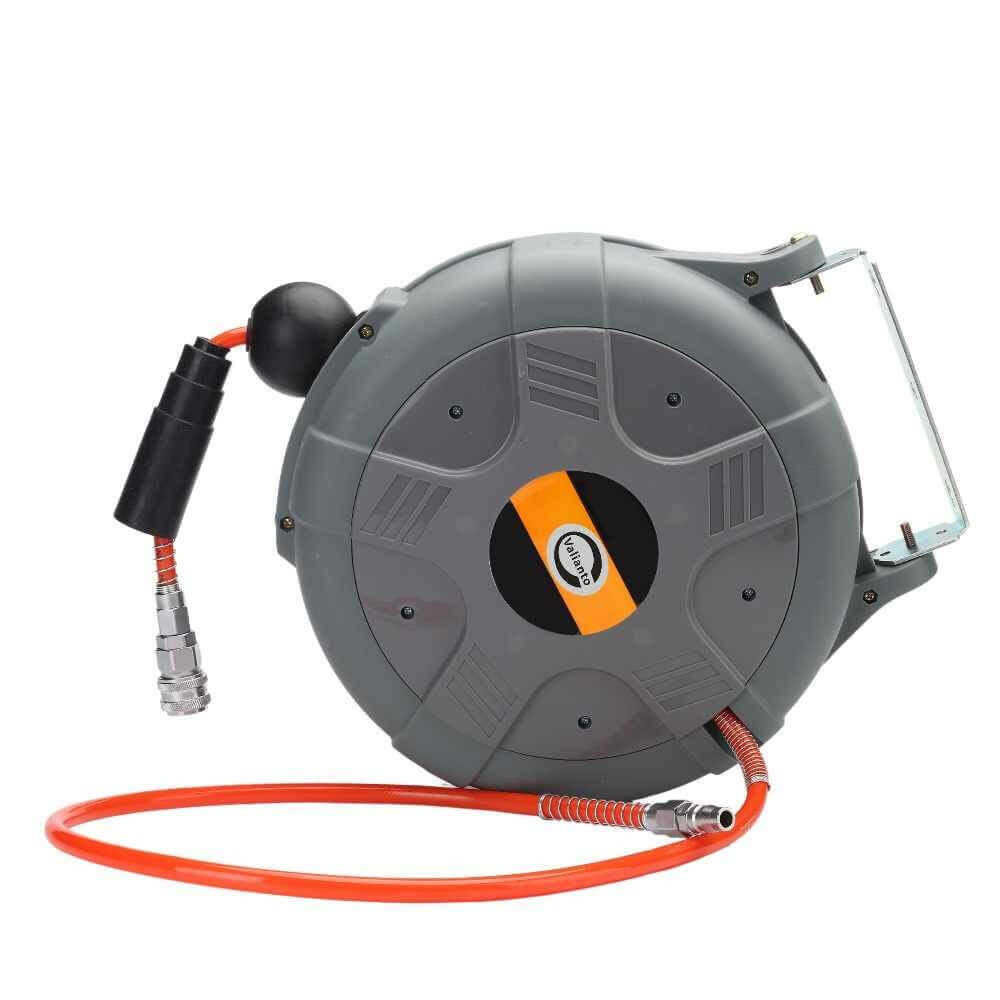 Hose length
Hose length is one of the primary parameters you should first look into when buying a retractable hose reel. The length will tell you how far your hose can go. And so, this will basically depend on the size of your garden. 
Hose diameter
The hose diameter is equally important when choosing a hose reel. Again, both the length and the diameter will matter on how much hose the reel can store. Furthermore, the internal diameter will also determine the amount of water flow. Of course, the wider the hose is, the more water it will be able to deliver.
Quality of materials
The quality of the materials used will determine the durability of the hose reel. This device can be often made with metal, plastic, or a hybrid of both. Again, how you intend to use the reel will help you decide which material to look for. 
If you wish to use your retractable hose reel for heavy-duty tasks, then it is best to go for solid metal. This will give your more assurance in terms of sturdiness and longevity. On the other hand, plastic hose reels are lightweight and so great in terms of portability.
Another thing to look into is the material's ability to be weather-proof and corrosion-proof. This is important to note as hose reels are mostly kept outdoors. Thus, it must be able to endure harsh environmental conditions. 
Durability of construction
What good is a high-quality material if it is poorly built, right? 
The efficiency of the construction also dictates the longevity of the product. Is the internal spring mechanism made with precision? Are the components adjustable? If it gets worn out, are the replacement parts readily available? These are just a few of the questions you should ask when trying to figure out the durability of the reel's construction.
Connections
Retractable hose reels may or may not come with connectors. Nonetheless, you should make sure that the fittings are compatible to use with the hose. The correct size and fit will give you a leak-proof connection.
Moreover, it is also important to consider the quality of the fittings. The material must at least be able to withstand high water pressure and resist corrosion. Otherwise, an inferior quality connector will render inefficient performance too. 
Design
Retractable hose reels are available in various designs. Some are created for wall mounting while others are built with wheels, or as a stand-alone structure. How you intend to use the hose reel will tell you which design is most suitable for your needs.
For example, the wall-mounted retractable hose reels are ideal for users with limited storage spaces. On the other hand, the cart-like structures are the best option to go when you have a bigger lawn to cover. 
There are also hose reel designs that are meant to be stylish and at the same time multi-purpose. Often, the hose reel mechanism is concealed within the decorative structure. Thus, enabling you to safely store and hide the entire hose. 
Portability
This factor may not always be necessary if you simply prefer to keep your retractable hose reel in a single spot in your garden. However, this is very helpful if you wish to have more mobility and flexibility. 
Portable retractable hose reels are practical for users with large ground areas. This allows you to transfer between water sources without the need for a very long length of hose. Furthermore, a portable hose reel is perfect for on-the-go uses too. Like if you plan to use it from one place to another.
Budget
Money may not be an issue for some, but most people prefer to work around a certain budget when buying. The retractable hose reels come in a wide array of price points. Depending on the material used, the style, and other prevailing features it can offer. 
Most often, plastic retractable hose reels are the cheapest. However, they tend to have shorter service life too. The high-quality ones are foreseeably the most expensive. But, considering its quality and longevity, you can also expect it to give you a good run for your money.
I cannot tell you which price range you should choose.  But all I can suggest is to set the amount of money you are willing to spend. From there, do your research and look for the best hose reels that will give you the most value for your money.
Manufacturer's warranty
It is always a big plus if your retractable hose reel comes with a good warranty. This somehow serves as the manufacturer's commitment to maintaining the quality and the durability of their product. The longer the validity period, the more advantageous it is on your part. 
Moreover, make it a habit as well to read and understand the terms and conditions of the warranty. That way, you will exactly know the coverage of the manufacturer's liability.
You might be interested to read also: Best Hose Stands for Your Garden
Our Top 10 Picks for Retractable Garden Hose Reel Products
1. GIRAFFE TOOLS RETRACTABLE GARDEN HOSE REEL
Features:
Can accommodate 130 feet of 1/2-inch hose size

Spring-loaded auto rewind system

Locking ratchet mechanism to lock the hose in place at any length

With hose guide system

180-degree rotation swivel bracket

Wall-mounted with 4-screw bracket

Quick-release wall-mount attachment for an easy storage option

UV stabilized polypropylene casing

With collapsible mobile handle

With inspection hatch for quick maintenance

300 psi working pressure

1000 kPa hose burst pressure

Zero-tangle hose layering

Includes a 9 function hose nozzle

With 6-feet leader hose

Other inclusions: 4x tapping screws, 4x expandable bolts, and user manual

2 years manufacturer's warranty
Why we love it?
We like how much hose this reel can accommodate. Despite that, it is still quite compact and portable. It even has a quick-release wall-mounting mechanism to allow easy removal of the hose reel for storage. This is especially helpful for keeping your reel frost-safe during the wintertime.
2. ARDENA RETRACTABLE HOSE REEL

Features:
Can accommodate up to 82 feet of 1/2-inch size hose

Integrated with a steel spring mechanism

With hose guide system

Wall-mounted attachment

180-degree rotation swivel bracket

Hose reel is detachable from the wall bracket

With ergonomically-shaped handle for easy transport

Allows hanging of accessories such as nozzle, sprayers, and wash brushes

With anti-drip device

Package inclusion: connecting hose, wall bracket, screws, and wall plugs

Frost-proof

2 years manufacturer's warranty
Why we love it?
The Gardena retractable hose reel is very convenient and easy to use. The package already contains everything you need right off the box. Hence, you can immediately install and use the product without a fuss. 
3. TACKLIFE GARDEN RETRACTABLE HOSE REEL
Features:
Auto retract/rewind system

180-degree flexible rotation

Automatic double lock mechanism

Standard 5/8-inch connector size

High-quality brass fittings

Includes an 8-pattern hose nozzle (mist, shower, cone, angle, full, soaker, flat, center)

Includes 82 feet new polymer rubber hose 

Designed with safe retraction speed

Detachable hose leader

Replaceable hose

Pressure-resistant housing

Integrated carry handle

 2 years warranty
Why do we love it?
The Tacklife retractable hose reel is not just convenient to use. But, it also considers the safety of its users. Its well-regulated auto-rewind system is designed to reel in the entire 82 feet main hose within 12 to 15 seconds. This pace is considerable enough not to cause harm to young children, the elderly, and even your pets.
4. WASSER VELA GARDEN RETRACTABLE WATER HOSE REEL
Features:
US standard tap thread

Internal spring-rewind mechanism

With automatic locking mechanism

180-degree rotation swivel

Wall-mounted attachment

Mounting hardware included

Includes a 1/2-inch PVC braided hose

Available in 25 feet, 50 feet, and 75 feet hose lengths

Includes a 6-pattern plastic pistol hose nozzle

1-year warranty
Why do we love it?
The Wasser Vela retractable hose reel is perfect for household use. It comes in varying hose lengths that are practical for day-to-day chores. This can well include watering your garden, washing the car,  and bathing your pets. 
5. HOZELOCK AUTO REEL
Features:
Automatic spring-retraction mechanism

Effective layering system

Includes premium three-layer anti-kink hose

Available in either 10, 20, 30, and 40 meters hose lengths

Compact housing design

180-degree swivel wall hanger

Suitable to be attached to brick, concrete, and stone walls

Hose reel is removable from the wall bracket

Integrated with child lock

Integrated with padlock

Package includes all necessary accessories including wall brackets, screws, and wall plugs

5 years product guarantee
Why do we love it?
I like how Hozelock Auto Reel incorporated security into its hose reels. It comes with a child lock feature to ensure the safety of children. Once activated, there is no way for the hose to be pulled out of the reel. Furthermore, it also comes with a padlock feature to prevent theft.
6. GARTENKRAFT RETRACTABLE GARDEN HOSE REEL
Features:
Patented slow-rewind technology

Full-locking system

Access panel

Quick-release wall-mount attachment

180-degree swivel

With collapsible handle for easy transport

Includes an Italian imported FITT hose

Available in either 1/2-inch or 5/8-inch hose diameter

Available in 50, 75, 100, and 130 feet hose lengths

Includes 6-feet lead line hose

Hoses are replaceable

Comes with a multi-function plastic hose nozzle 

Hose nozzle is adjustable between 8 different patterns

Available in 4 color combinations

Package already includes hose reel, mounting kit, pre-fitted connector, screws, and hose.
Why do we love it?
The Gartenkraft retractable hose reel features a patented slow-rewind system. This safely reels in the hose at a comfortable speed thus avoiding accidents. To further add security, it also comes with a locking mechanism. This provides double protection against malfunctions when working with the hose. 
7. LIBERTY GARDEN RETRACTABLE GARDEN HOSE REEL
Features:
Integrated steel-spring mechanism

Locks in place at different intervals

180-degree swivel design

Durable polyresin housing construction

Rust-resistant molded plastic material

Hose reel is removable from wall bracket for safe storage during wintertime

PVC main hose and leader hose included

Can accommodate 1/2-inch diameter hose

Available in 65 feet or 100 feet hose lengths

With nozzle protector
Why do we love it?
Liberty Garden is a well-established brand that has been creating high-quality garden equipment for years. Unlike other hose reels, this particular product comes with a nozzle protector. This barrier prevents the nozzle from getting damaged as the hose is being reeled in. 
8. AMES NEVERLEAK AUTO WINDER RETRACTABLE WALL MOUNT HOSE REEL
Features:
Durable aluminum NeverLeak water system

Suitable to use with 1/2-inch hose size

It can store up to 100 feet of hose length

180-degree swivel design

Reel can be detached from the wall bracket for storage

Adjustable internal spring tension

Mounting hardware included

Hose nozzle not included 

2 years warranty
Why do we love it?
AMES NeverLeak product line is a great choice for reliable garden equipment. The auto winder retractable wall mount hose reel is no exemption. It features an aluminum water system that makes it weatherproof and rust-resistant. Unlike plastics, aluminum connectors are more capable of withstanding extreme temperatures. Moreover, it is also strong enough to prevent cross-threading from occurring.
9. RL FLO-MASTER RETRACTABLE GARDEN HOSE REEL
Features:
Slow, retractable spring-loaded mechanism

Wall-mount attachment

Mounting hardware included

180-degree swivel

Can be detached from the wall bracket

With fixed carrying handle

With automatic hose guide

With hose stopper

Suitable for standard 5/8-inch hose diameter

Includes 65 feet of reinforced hose

Threaded brass end fittings

Comes with an adjustable 8-pattern hose nozzle
Why do we love it?
The RL Flo-Master retractable hose reel features an automatic hose guide. This allows overlapping while the hose is being reeled in the drum. Hence, creating a neatly layered hose without kinks and loops. Furthermore, it also comes with a stopper device. This hose attachment helps to protect your nozzle by preventing the hose from getting reeled through and through.
10. POWER RETRACTABLE HOSE
Features:
Slow-return auto-retraction system

Locks in place at different intervals

180-degree swivel

Steel mounting bracket

Mounting hardware included in the kit 

With quick disconnect pin for portability

Suitable to use on brick, concrete, and stone wall types 

Includes a three-layer hybrid hose

Available in either 75 feet or 100 feet length of 1/2-inch hose diameter

500 psi burst hose

Includes 6-feet leader hose with twist collar

Patented nozzle protector

With trigger spray guard

Reinforced UV protected casing

Durable steel carrying handle

3 years warranty
Why do we love it?
The Power retractable hose reel is a feature-packed tool perfect for anyone who craves convenience. It comes with a twist collar, trigger spray guard, nozzle protector, and more. All of these work together to make your watering task way easier than ever. 
Wrapping Up
Garden hoses are great, right? But what makes it even more awesome is if it comes with a retractable hose reel. Yup, this cool tool can indeed make your watering and washing chores easy as pie. 
So, whenever you decide to buy one, always keep these tips we have here in mind. Let this article be your guide so you won't ever get fried reeling in hoses anymore.