Last Updated on May 28, 2022 by Gary Stephen
Epiphytes are one of the most interesting kinds of plants. Because unlike the typical, they do not need soil to grow. Rather, they grow on the surface of another plant life such as in the tree trunks in the rainforest. So, it just sounds quite fitting to call them air plants. So, how to care for this Air Plant?
Taking into account its unique nature, taking care of epiphytes may slightly differ from the usual plants. But with proper knowledge, you can surely manage it with much ease and confidence.
In this article, we will discuss everything you need to know about taking care of epiphyte plants. From lighting to watering, feeding, and displaying, we got it all covered here. Moreover, we also gladly included some of the best products to use when tending to air plants. 
Guides For Air Plant Care
What are air plants?
Air plants, also known as epiphytes, come from two Greek words. "Epi" meaning over or on top. Then, "phyte" which denotes a plant. Hence, the word literally translates as "on top of the plant".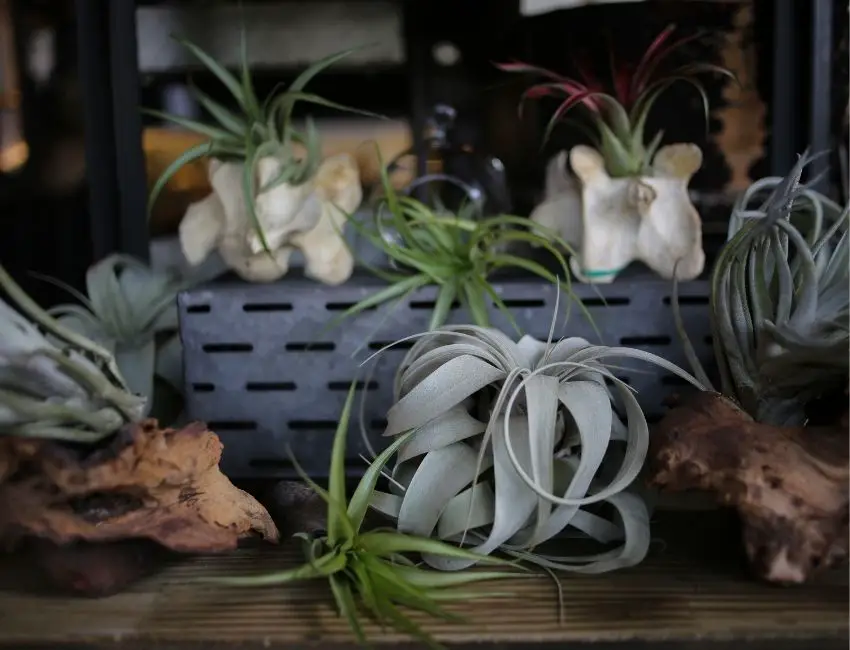 Indeed, epiphytes are plant organisms that grow on top of other plant species. This may sound parasitic, but they actually are not. Instead, epiphytes develop a symbiotic relationship with these plants without ever harming them. This natural biological interaction is referred to as commensalism. 
The harmonious coexistence enables the epiphytes to adapt and survive without soil. To thrive, it obtains its nutrient needs from the immediate surroundings. The roots and the leaves absorb the moisture from the rain and water vapor in the air. Moreover, the leaf debris and moss from the supporting plants also aid in nourishing them.
The Epiphyte Families
The term epiphyte particularly refers to the manner of growth rather than the relatedness of the s
Species itself. So long as the plant naturally grows on top of the trees or other plants, they can be classified as epiphytes. Then again, each of these air plants does not necessarily have to be of the same lineage as each other. 
Here are some of the most common families of air plants:
Bromeliad Family (Bromeliaceae)
The bromeliad family is native to tropical and subtropical areas in North and South America. The majority of which are air plants. This well includes the most popular genera Tillandsia, Neoregelia, Guzmania, and Vriesea. 
Orchid Family (Orchidaceae)
The orchid family is one of the most diverse. It can be found on almost all continents in the world. Thus, you can expect it to adapt to different growing environments. 
The largest subfamily of orchids is called Epidendroideae. Such plants can thrive in tropical to semi-arid conditions. Under this subfamily are the common genera of classic moth Phalaenopsis and the fragrant Cattleya orchids. Moreover, it also includes Dendrobium, Epidendrum, and Oncidium.
Polypodiales Family
Yes, the majority of the Polypodiales or the fern family are terrestrial plants. But, there are a few species that can be grown as epiphytes. To be exact, they are the Asplenium or the bird's nest ferns, and the Platycerium or the Staghorn ferns. Both types of ferns can thrive either mounted on trees or planted on a typical soil medium.
Air Plant Care: How much light do air plants need?
Epiphytes are best grown under bright yet filtered lighting. When placed indoors, a west, east, or south-facing window will do it just fine. These spots will give your air plants enough sunlight throughout the day to help them thrive. Be wary that too much direct sunlight can harm and burn your epiphytes.
If you feel though that your area is not receiving enough light, you can then opt to use artificial lighting. Grow lights are the best solution to supplementing the lighting needs of your plants. You can use a simple tabletop fluorescent grow light as epiphytes are quite small in size.
Our top picks for grow lights:
Hydrofarm Agrobrite Compact Fluorescent Spiral Grow Light
Vivosun T5 HO Fluorescent Tubes Grow Light
SunBester T5 Fluorescent Single Strip Grow Lights
Air Plant Care: How to water air plants?
Air plants love moisture and humidity. In the wild, epiphytes gather hydration from the rain and the surrounding air. Growing them indoors though is a very different thing. Of course, your home is not as humid as the natural forest. Thus, there are two possible ways to achieve a similar environment:
Misting 
This is the simplest way to hydrate your air plants. All you need is a fine-mist spray bottle and a dry towel. Mist the entire air plant daily or every other day depending on how humid or dry your room is. After spraying, lay the air plants on top of the dry towel. This will allow the excess water to drip before displaying them back to their containers.
Our top picks for fine-mist garden sprayers:
Sdoot Plastic Plant Mist Spray Bottle
Chapin Ultra-Fine Mist Hydroponic Sprayer
Soaking
Most growers favor this method over misting. That is because dipping your air plants in a bowl or sink of water enables them to get thoroughly hydrated. To do this, you have to allow your air plant to float in the bowl of water for about 20 minutes to an hour. 
Before putting back on display, place the air plant upside down on top of a dry towel to let the extra moisture drip. It is best to do this watering routine once every week. 
Best Type of Water to Use?
Air plants can be quite sensitive to salts and excessive minerals. So whether you mist or soak your air plants, you have to be careful with the type of water to use to hydrate them. Of course, the best choice here is rainwater. It is the most natural and safest type of liquid you can give your plants. 
Then again, we cannot always guarantee its availability. As a substitute, you can use distilled water instead. This type of water had undergone treatment processes to remove unwanted contaminants. The obvious downside though is the cost. 
For practicality, you can also resort to using regular tap water. It is more convenient to use because it is cheaper and readily available. Just make sure to let the tap water sit at room temperature for at least 24 hours before use. This should be long enough to allow the chlorine content to dissipate from the water.
Air Plant Care: How to feed air plants?
Fertilizing air plants is not an absolute necessity. So, you can opt to freely skip this step as it won't harm your air plant in detrimental ways. Doing so, however, will give your epiphytes better support when it comes to health and growth. 
When feeding, it is ideal to use a fertilizer that is specially formulated for epiphytes. Such will give your plant a good balance of the nutrients it needs most. Often, this is given on a monthly or quarterly basis. But, it is still best to follow the individual recommendations of the product's manufacturer.
Alternatively, you can also use all-purpose water-soluble plant food. With such, it is rather best to dilute the solution at 1/4 strength. Reducing concentration prevents the chances of over-fertilization. When it is time to feed, you can mix the diluted fertilizer in your regular irrigation water. So you are hydrating and feeding your air plants at the same time. 
Our top picks for air plant fertilizers:
Grow More Bromeliad Tillandsia Premium Quality Food
Florikan Dynamite Orchids & Bromeliads Fertilizer
Sun Bulb Better-Gro Orchid Plus
Air Plant Care: How to display your air plants?
Since air plants are soilless, this allows you more flexibility and creativity when it comes to displaying them. The sky's the limit in choosing planters for this type of plant. Here are some interesting ideas worth trying out both in indoor and outdoor settings:
Much like its natural habitat, driftwood appears as a more artistic version of the tree. Moreover, it is also very sustainable and could even be free. That is because driftwoods are basically old tree parts that had been washed out into the shores. They come in random shapes, sizes, and depths of color. 
Aside from trees, you also sometimes find air plants attached to stones. So, why not use that same idea but give it a creative twist. Instead of ordinary rocks, you can use shiny pebble or crystal rocks to give it a more chic and elegant feel.
For this, any type of bowl will do as long as you like the way it looks.  Wooden, glass, ceramic, or plastic it doesn't matter. You can even repurpose your old soup or salad bowls in the kitchen. You can either fill the entire diameter with air plants. Or, mix it with some other materials like pebbles or miniature figurines to make it more interesting. 
This is my all-time favorite planter for my epiphytes! Terrariums are glass containers that are either open or sealed. It can also be used as a tabletop or a hanging decor. Just like bowls, you can put whatever you like inside along with your air plant. But since terrariums are often see-through, it is best to keep the fillers simple and clean if using any.
This is a great idea if you wish to display your air plants like wall art.  You can use your old picture frames and replace the backing panel with a wire mesh. You can attach the air plants between the openings in the mesh. Just make sure the space is wide enough to comfortably fit your air plants.
Wrapping Up about Air Plant Care
Air plants are one unique type of plant. They may not be the usual kind that needs soil to survive. Then again, they are not that complicated to grow as well. In fact, they are quite easy to care for as long as you know their basic needs.