Last Updated on June 12, 2022 by Gary Stephen
Okay, we already know that garden hoses are every gardener's bestie. But now, what about expandable garden hose?
Hhhmm, what about it? What makes it different from typical water hoses? Does it make watering plants any better? Is it worth buying after all?
All those questions and more popped into my mind when I first heard about the expandable garden hose. If you are not yet familiar with this thing too, I am pretty sure you are curious to know the answers as well.
Lucky you, my friend! I got it all figured out. 
In this article, I will share with you everything I know about expandable garden hoses. Plus, I will also gladly include some of the best products I discovered in the market.
So, stick around and allow me to expand your knowledge about expandable garden hoses.
What is an Expandable Garden Hose?
An expandable hose is a garden hose specifically made with multiple layers of flexible material. By default, the hose is unstretched and all coiled up. But as water is introduced, the pressure within causes the material to stretch out and expand. Often, it can swell up as much as thrice its original size and length. Hence, the name – expandable hose!
What makes up the hose expandable?
The key to the hose's flexibility is in the core material itself. Here are some of the common types of materials used in making expandable garden hoses.
Latex is a natural substance often derived from mature rubber trees. This milky white fluid is collected from the bark itself of the tree. Nevertheless, there are also synthetically-made latexes. 
Either way, this material is bound to offer excellent tensile strength and flexibility. Hence, an ideal medium for creating expandable garden hoses. Apart from that, it is also commonly used in the production of rubber gloves, balloons, shoes, tires, and incredibly a lot more.
TPC is short for thermoplastic copolyester. This material is well-favored for developing the core lining of expandable hoses. That is attributed because of its superior durability and elasticity. Moreover, TPC also has great heat-resistant properties. Thus, it is popularly used as well for industrial tubings. 
The only downside though of TPC is its price point. Often, expandable hoses made out of this material tend to have a higher production cost. Hence, they are likely to be more expensive as well than expandable hoses made out of latex material.
The nylon shell is the main component used in creating the exterior of expandable hoses. The main function of this material is to protect the interior lining, either latex or TPC, against abrasions and punctures. 
The nylon shell has the innate ability to stretch and hold its shape. Such properties enable it to provide the core lining a stern wall to efficiently enclose a fully expanded hose. Furthermore, the nylon shell is also known for being mold and mildew-resistant. Thus, making it more suitable to control the always damp nature of water hoses.
What makes the expandable hose any different from the ordinary garden hose?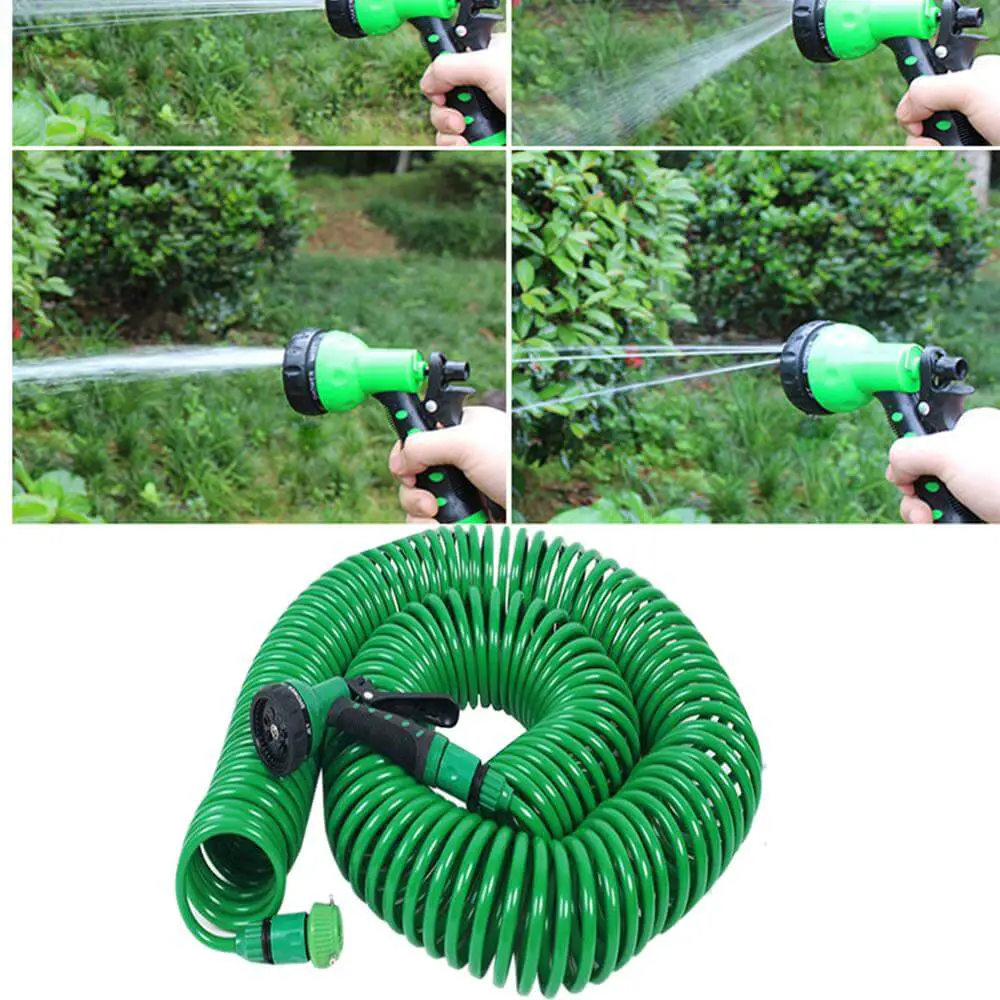 Aside from the fact that both types of hoses can deliver water as it intends to, here are some of the reasons why the expandable hose is a better option.
Less likely to kink, twist, or tangle
Unlike the traditional that is rigid, the expandable hose is made with pliable material. Thus, it can handle any flexion without causing strain to the integrity of the hose. It is also less prone to tangle since it spontaneously shrinks itself when unused.
Again, this can be well attributed to the flexibility of the material. As the hose deflates, the surface area within narrows too. This act of contraction aids the hose to squeeze out the excess water.
Expandable hoses are way much lighter than traditional garden hoses. In fact, it can weigh up to five times lesser than its counterpart. That means, less burden for your arms and back too!
Because it can magically shrink when not in use, the overall size then decreases too. Often, up to three times less in its contracted state. That said, expandable hoses are much easier to store. It is space-efficient that you can even bring it in your car, boat, or other areas with limited storage space.
In general, using and handling the expandable hose is way much easier. It requires lesser physical effort than you usually would with typical garden hoses. Thus, I can safely say it is more user-friendly considering this point.
You might be read also: How to Perfectly Roll a Garden Hose on a Reel
Why should you buy an expandable garden hose?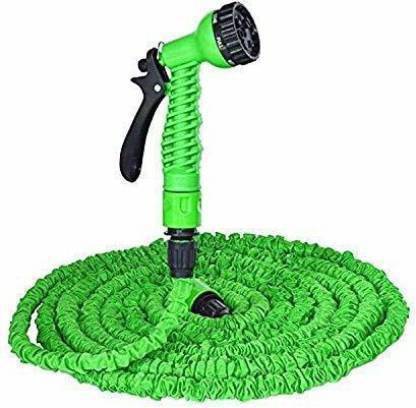 Actually, anyone should be able to enjoy the benefits of the expandable garden hose. But, these following factors would further justify its suitability for your needs.
The expandable garden hose weighs much lighter. Hence, it requires lesser physical exertion to handle. That said, it is more ideal to use for people with back problems or any issue with mobility.
As mentioned, the flexibility of the material allows the hose to contract when not in use. Thus, it is more suitable for homeowners with tiny houses. Or, for other areas with limited storage space like in the car, garage, or in the shed.
Let's admit it, ordinary garden hoses can easily be an eyesore. I mean, that meter's length of tubing can be quite hard to organize. And, if you are an OC like me who cringes with the sight of mess and unevenness. Then, the expandable hose is an absolute life and sanity saver. As we are well aware now, this type of hose is appealingly compact. So, it is easier to stow away when you don't need it at the moment. Because as they always say – out of sight, out of mind!
What to consider when buying an expandable hose?
Expandable hoses are commercially available in different sizes. This commonly ranges between 25 feet up to 200 feet. But usually, a length of no more than 50 feet is long enough to cover the day-to-day household chores. 
Nevertheless, a 200-foot expandable hose is still great to have at home. When contracted, it is almost the same length as that of a traditional 65-foot garden hose. Hence, it is still pretty much compact and easy to store. 
You should know, however, that the actual expansion relatively depends on water pressure too. The higher the pressure is from your source, the more likely will it be able to inflate the hose to its maximum capacity. 
On that note, it is rather best to size up just to be on the safer side. That way, you would still be able to achieve a suitable length despite the fluctuations in the water pressure level.
Quality of Material and Construction
As mentioned, the expandable hose is made up of layers of flexible materials. The interior is either composed of latex or TPC. Both of which are durable and reliable materials. They might just differ when it comes to the cost. Technically, what you should look for here is the number of layers. Expandable hoses often come in two or more layers of interior lining. Needless to say, the latter is obviously a better option.
Meanwhile, the outer layer is often made out of a nylon shell material. In this case, the higher the density, the more rigid the exterior casing would be. This layer is the one in contact with the external environment. Thus, it is crucial for it to withstand abrasions and punctures. In short, it serves to protect the integrity of the hose from any sort of potential damages. 
Always remember that the overall quality of the materials used is vital for the efficiency of the product. What good is your expandable hose if it breaks easily and leaks, right?
Of course, the expandable hose is useless without compatible hose fittings. Hence, the quality of this accessory is equally important to your equipment too. 
There are various types of materials used for hose fittings. This includes plastics, aluminum, and brass. Brass though is the most popular among all kinds. This type of metal is well-known in the industry for its durability and longevity.
Metal as it is, brass is also naturally heat-resistant. That is something that plastic hose fittings can poorly offer. This factor is important to consider especially when you intend to use and store your expandable hose outdoors. 
The same goes for aluminum hose fittings too. This material is less dense and has a lower melting point than brass. Thus, it is more prone to get deformed and damaged when exposed to prolonged heat. The only advantage of aluminum is that it is lightweight and can tolerate higher pressure than brass. 
As you know by now, water pressure is vital in the efficiency of expandable hoses. Hence, you should consider this factor before attempting to buy one. Doing so will ensure that your hose will able to function properly as it intends to. For reference, the average water pressure in a domestic water pipe system is somewhere between 60 to 115 pounds per square inch or psi.
Expandable garden hoses though have varying water pressure capacities. But most often, this equipment requires at least 40 psi to inflate and deliver water effectively. There are also hoses that are capable of handling very high water pressure of up to 180 psi. Although, this much pressure is highly stressful for normal residential water pipings.
Expandable hoses are far more compact than traditional garden hoses when unstretched. Nevertheless, you still need to consider its size to provide it suitable storage space. It should be able to get good air circulation to prevent it from developing mold and mildew.
One of the advantages of expandable hoses is their ability to self-drain. Even so, it is still best to keep the hose well hanged especially right after each use. Doing such helps to facilitate the removal of excess water from the hose.
It is also important to keep it away from direct sunlight if not in use. Prolonged exposure to intense ultraviolet light can compromise the longevity of the material. Hence, it is best hidden or stowed away in its storage bag if there's any.
During the wintertime, it is also ideal to store your expandable hose indoors. This will prevent it from freezing up. Thus, keeping the integrity of the material intact despite the cold season.
As with any other garden tool, treat your expandable hose as an investment. Be it a cheap or expensive buy, it is still your hard-earned cash spent. So, it is just right to know the extent of the manufacturer's liability to their product. This will allow you to maximize your money's worth.
Warranties may include repair or replacement services. Also, the length of validity varies from one brand to another. Thus, always try to check the coverage of the warranty before buying an expandable hose.
Our Top Picks for Best Expandable Garden Hose
1. Best Value for Money: Higen 100-Feet Upgraded Expandable Garden Hose
This upgraded version of Higen expandable garden hose promises to offer supreme durability. Its inner core is made of three layers of 100% natural latex. This can well handle a water pressure of 3 to 12 bars. Moreover, it can also tolerate water temperatures between 42°F to 113°F. 
To protect the inner core, it is securely wrapped with high-density 3750D polyester fabric. This sturdy yet flexible material allows the entire length of the hose to bend freely. No risk of forming annoying kinks, twists, and tangles. 
Connection to the water source is no issue at all. The Higen hose is equipped with a 3/4-inch solid brass fitting. This is compatible with the US standards so you don't have to worry. Moreover, it is reinforced with a heavy-duty rubber washer to ensure a leak-proof seal.
This Higen expandable hose is paired with an ergonomically-designed spray nozzle. It comes in 9 spray patterns that allow you to optimize water use depending on your task. Hence, minimizing water waste.
This expandable hose is lightweight and perfect for on-the-go applications. Even though it is 100-feet long when fully stretched, it still weighs only 4.2 pounds. Furthermore, it also comes with a free storage bag so you can easily stow it away in your garage, car, or anywhere else. Just make sure to store it away from direct sunlight.
With much confidence, the company offers a 60-day money-back guarantee. On top of that, it also provides a 1-year free replacement for non-human factors. This period is long enough for your to test out and challenge the quality and reliability of the hose.
2. Best Leak-Proof Design: TheFitLife Flexible & Expandable Garden Hose
TheFitLife expandable hose is another popular garden hose in the market today. It gained good credibility with over 10 thousand positive reviews. This ain't a surprise though as this product is very much versatile. It is very handy for all sorts of watering or washing chores on both domestic and industrial uses.
The brand takes pride in the quality of its product. This expandable hose is being made with three layers of 100% natural later rubber. This inner core is duly wrapped with a 3750D interwoven polyester fabric cover. 
Overall, the hose has an inside/outside diameter of 6/10. That is actually one of the thickest hose diameters in the market. Nevertheless, this hose still is very light and compact. In fact, its 25-feet hose only weighs 1.8 pounds. That is barely as heavy as one liter of water. 
TheFitLife expandable hose comes with a USA standard 3/4-inch solid brass fitting. The connectors feature a double thread leak-proof design. Hence, ensuring a tighter and more secure seal. Furthermore, it is also equipped with a shut-off valve to conveniently control the supply of water.
As a bonus, the package also includes an 8-pattern spray nozzle. This allows you to switch the water flow modes depending on your task. Hence, giving you better chances as well to save on water.
TheFitLife expandable hose claims to offer lifetime service of 1800 up to 2000 uses under 145 PSI. That is 88% more compared to that of the average 200 to 250 uses of traditional garden hoses. On that end, you get more out of your investment. 
3. Best for Longer Coverage & Application: Flexi Hose with 8-Function Spray Hose Nozzle
When speaking of expandable hoses, you have probably already heard about the Flexi Hose. It is indeed one of the most popular brands with almost 20 thousand positive reviews from Amazon customers.
The particular Flexi Hose features an 8-function rotating spray nozzle. It includes modes in full, shower, flat, stream, vertical, center, cone, and mist patterns. This allows you to adjust the stream of water as deemed needed for your intended application.
Moreover, the nozzle is constructed with zinc alloy to deliver durability and corrosion resistance. Aside from that, it also comes with an ergonomic rubberized handle. With such, it provides the users better grip and control to spray nozzle.
The Flexi Hose itself is made with double layers of 2mm latex core. This is then wrapped with a 3750D elastic fabric for optimal protection. Compared to others, the core may only have two inner layers. Then again, it is durable enough to handle 12 bars or about 170 PSI of water pressure.
As for the hose connectors, worry not as they come in standard 3/4-inch size. Moreover, it is well-built with 100% solid brass. You can also ensure no leaks as they are lined with a premium rubber seal.
Flexi hoses also offer a lifetime manufacturer's warranty. This only proves to show the company's commitment towards maintaining their product's quality.
4. Best for Storage & Portability: Aterod 50-Feet Flexible Expandable Garden Hose
The Aterod flexible garden hose is super compact and lightweight. From a default size of 17 feet, it stretches up to 50 feet long when fully expanded. This length is good enough to perform day-to-day household chores. That can well include watering plants, cleaning, washing the pet and the car, and a whole lot more. 
This expandable hose is made with double layers of durable latex core. This inner lining can handle maximum water pressure of up to 12 bars or approximately 170 PSI. On the exterior, the main core is being wrapped with a tough yet flexible woven casing. This outer shell will protect it against abrasions, punctures, kinks, twists, and tangles.
The Aterod garden hose also includes a nozzle with 9 spray modes. Simply rotate the control to switch between patterns. It also offers additional comfort with its non-slip rear handle. 
Connection to a water source is also not an issue at all. The hose comes with 3/4-inch rust-resistant brass connectors. The inner tubing is lined with a heavy-duty rubber washer for a more tight fit. Hence, minimizing incidences of leaks and cracks.
Another great advantage of Aterod is portability. This hose set already includes a hose holder and storage bag. So, you can easily and properly stow away your expandable hose when no longer in use. 
5. Best for Budget: GardGuard 25-Foot Expandable Garden Hose
The GardGuard expandable hose is an all-around hose not just for your garden but for any household tasks in general. This product has a maximum length of 25 feet. But, it can contract as short as one-third of its original length when not in use. 
It has two layers of durable and highly-flexible latex material. This inner core is set to handle 3 to 12 bars or 40 up to 170 PSI of water pressure. Furthermore, it is also apt to use for water temperatures within -4°F to 122°F. 
To protect and prolong longevity, the latex core is covered with 3300D polyester fabric. This high-density material is rigid enough to secure the integrity of the inner layers. Thus, minimizing the chances of breakage and leakage. 
This hose comes with not 8 but 10 functions in a single nozzle. The pattern can be easily adjusted with a simple twist of the bezel. Furthermore, the nozzle also comes with a buckle stent. This feature allows you to lock in the mode and keep the water flow steady.
Apart from that, the nozzle is ergonomically designed to promote ease of use and comfort. It has a rubberized outer coating to prevent it from slipping and freezing up. This feature is especially helpful during the wintertime. 
 It is equipped with 3/4-inch brass connectors. So, you don't have to concern yourself about corrosion, leaks, and cracks.
For proper storage, the package includes a hose clamp and carry bag. When not in use, you should keep the hose in a cool and dry place to maintain good condition. In fact, the company claims that the GardGuard expandable hose has a service life of up to 1500 uses. That is said to be 30% more life than the average traditional garden hoses. 
6. Best Product Warranty Offer: GROW GREEN EXPANDABLE GARDEN HOSE
The Grow Green expandable hose is one of the bestselling compact garden hoses in the market today. It has already been tried and tested by thousands of satisfied customers. Plus, the manufacturer's commitment to a lifetime warranty ensures you will get the most out of your hose.
This product is built with three layers of pressure-resistant latex core. On average, the normal operating pressure is between 40 to 80 psi. Nevertheless, this hose can withstand far beyond the pressure of up to as much as 145 psi.
On the exterior, the hose is fully covered with high-quality polyester cloth. This layer helps to keep the core layer secured. It comes in a lush green shade that perfectly blends well with your garden. 
The Grow Green hose is also equipped with all-brass fittings. Hence, you can expect these connectors to be robust to handle high water pressure. Moreover, brass is well-noted for its excellent ability to resist corrosion.
Furthermore, this product already includes an 8-way high-pressure nozzle. It can deliver patterns such as a full, flat, center, vertical, stream, shower, cone, and mist. So, you have plenty of options depending on your application.
This garden hose is available in various lengths ranging from 25 feet up to 100 feet long. It is very compact when not in use. But, it can expand up to almost three times its default size upon the introduction of water. 
Wrapping Up about The Expendable Hose
There you go! We hope that the buying guidelines we provided herein will help you find the right expandable garden hose for your needs. This type of water hoses offers utmost convenience without compromising quality and functionality.  Thus, they are great equipment not just for your garden but for any household chores.