Last Updated on June 12, 2022 by Gary Stephen
Trying to find the best tree pruner? You come to the right place!
What is Tree Pruner?
Trees are mother nature's gift to us. They provide us shade and a shelter for animals, it purifies the air and delivers oxygen, and some even supply us with food that nourishes our bodies. All that and more, we owe thy grace to trees.
While growing trees are great. Too much of a good thing also has its own repercussions. Overgrown trees can obstruct the walls, the roof, the fence, and even interfere with the electrical lines. When left out of control, this can cause damage and pose an immediate hazard to the vicinity.
Thus, it is a must to maintain trees well-trimmed from time to time. Tools such as tree pruners are the perfect equipment to use to help upkeep unwanted tree limbs and branches. Tree pruners come in several varieties. All render the same function, but each requires varying levels of handling skills. 
So in this article, let us explore the different types it offers. We will explain the advantages of one from the others. Also, we have provided a buying guideline to help you find the right kind of tree pruner according to your needs. Towards the end of this article, allow us to present to you as well some of our top pick tree pruner products. 
Let's begin, shall we?
Different Types of Tree Pruner
The term "tree pruner" is essentially a blanket term for different tools that are intended to work for the same purpose – for pruning trees that is. Here includes the following equipment:
The pole saw is actually a small saw attached to a straight pole. This can give you a considerable reach, usually about 8 to 12 feet. The saw itself can manage to cut through wood with a diameter between 2 to 4 inches. The capacity though will differ depending on the type of motor used.
Gas-powered pole saws are more powerful than their electric and manual counterparts. However, they tend to be heavier, noisier, and more expensive too. On the other hand, the electric pole saw is great for being lightweight. It comes in either corded or wireless models. 
The manual pole saw is as basic as you can get. It is literally like a simple saw blade attached to a long stick. You move the sharp edge of the blade back and forth until the wood is cut all the way.
Pruning shears and loppers are manual tree pruners. They both come with a pair of sharp intersecting blades that work much like a scissor. The only difference between the two is the length of the handles. 
The pruning shears are shorter and meant to be operated by one hand. This pruner is suitable to use on smaller branches an inch or so lesser. Meanwhile, the lopper features a much longer handle. Because of that extra length, the user is bound to use both his hands to operate the tool. The lopper can also accommodate bigger branches up to 2 inches in diameter.
Do note that pruning shears and loppers also come in various designs:
The bypass pruners and loppers are easily distinguishable because of their curved blades. The sharp inner edges of both blades pass through each other giving you a clean cut. Hence, this is perfect for cutting live trees where the surface is more delicate and prone to stress.
The anvil type of pruners and loppers are specifically designed to have a combination of sharp and flat edges. The sharp inner blade will push and cut the wood right against the flat side. This gives a more rough cutting result. On this note, this is more suitable to use on dead branches. Or, if you simply want to give your tree quick shortening trims. 
The ratcheting or gear-driven types of pruners and loppers are equipped with mechanisms that enable easier and more convenient cutting. Such A kind of pruner is ideal for those users who have lesser strength or force to do manual cutting.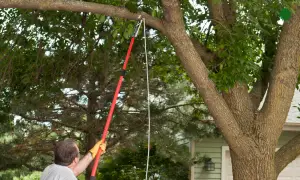 The pole pruner is the longest among all types of tree pruners.  It has the biggest advantage to reach a distance of as much as 21 feet. It features a telescoping pole that allows you to adjust the length to cater to different scenarios. 
Pole pruners can either be operated through the handle or by the rope. The handle model uses bypass or anvil blades to trim the branches. This tool practically works by squeezing the lever on the handle to prompt the blades to close and cut. 
On the other hand, the rope version is quite a bit more complicated. The pole tree pruners use a mechanism that is attached to a long rope. To initiate the blades to move, you have to pull down the strings until the cut is made. 
The compound pruner is the more modern and powerful version of tree pruners. It features a compound hinge that allows the user to maximize the cutting force of the tool. The added strength provided by its unique mechanism enables you to accomplish tasks faster and more efficiently.
Best Tree Pruner Buying Guidelines
Now you know that there are plenty of tree pruner varieties you can choose from. Sometimes, finding the right one can easily become an overwhelming task. Hence, we created this guideline to help you spot which specific features to look for when buying one. Here as follows:
Length
Remember that you intend to use this tool for pruning TREES. And so, it is quite imperative for this pruner to provide the extra length you would likely need to reach the overhead branches. Nevertheless, this also doesn't necessarily mean that it is best to go for the longest pole immediately. 
The length of the pruner should still be based according to your actual needs. You have to estimate how high the trees are you are going to work with. From there, you can determine the most applicable height for you. Ideally, it should be high enough to reach the tallest branches, but it should not be too tall that it makes cutting lower branches awkward already. 
Most often, tree pruners are available in lengths as short as half a foot up to as long as more than 20 feet.  In cases of telescopic poles, it is best to check for the product's minimum and maximum length capacities. Telescopic poles are usually designed to extend 2 to 3 times their default state. Hence, be sure to check for the correct and actual specifications before adding them to your cart. 
Weight of the Best Tree Pruner
With height comes weight. Consequently, the longer your pole gets, the heavier the pruner tends to be as well. So, when buying this tool, make sure you are pretty much comfortable handling the heftiness of the product. You should be able to carry it without strain on your arms or body. Otherwise, you will likely find it difficult to maintain balance and make precise cuttings. 
Among all types of tree pruners, the pole loppers and shorter models of pruners are often the lightest weight. That said, they are perfect for those users who find it challenging to carry heavier tools. Moreso, keep it still while aiming for the perfect cut. 
Design
Length checked! Weight checked! 
Now, which design best suits you? Well, this is a very subjective matter. Choosing the design essentially depends on your level of comfort.
In general, you should opt for a tree pruner with an ergonomic design. The tool must promote bodily comfort. It must be able to prevent or at least minimize the straining in your back, arms, and wrists. Using the pruner should not let you feel like you've been into long hours of work out. 
Features like padded-grip, non-slip handle covers, sculpted handle shape, and angled blades are some of the things to look out for. Such ergonomic characteristics aim to improve your handling thus resulting in more efficient use. 
The user's skills and preferences in tool operation are also equally important. For instance, if you prefer to keep it simple, you might be better off using just a manual pole saw, pruning shears, or loppers. But, if you are already a highly skilled gardener, then you can easily get by with rope-type pole pruners and the like. 
In another scenario, if you want to use a more effortless tool, then it is best to go for compound-action pruners. Or, any other type with ratcheting or gear-driven mechanisms. Such models offer higher efficiency without exerting extra physical effort.
Manual or Motorized
As mentioned above, tree pruners do come with either manual, gas, or electric-powered operations. Manual tree pruners obviously operate without some kind of machinery. It doesn't require gas, oil, or electricity to function. Rather, this type greatly relies on the user's own physical strength. So yes, it may be the cheapest among all types of tree pruners. But, you should also consider here your capacity to exert manual effort. 
They are equipped with 2-stroke engines. Thus, delivering the most powerful performance among all pruner types. Hence, they are perfect to use on commercial or larger projects. However, a strong motor is also likely to cost you more. Aside from that, gas-powered tree pruners tend to produce emissions, louder noises, and they are significantly heavier in weight too.
Electric-powered tree pruners
On the other hand, these are the more lightweight alternatives. They are a bit less powerful than gas-powered models. Nonetheless, they also work more efficiently than the manual type. Electric tree pruners can either be corded or wireless. 
The corded version may limit your maneuverability but it will offer you unlimited operating time. The wireless models, however, are designed to promote portability. But, you can only work with it as long as your battery still has juice. On that note, it is best to always prepare spare battery packs whenever you are planning to use this pruner for a longer period of time. 
The choice between manual, gas, or electric will depend on your intended usage. Manual tree pruners will suffice simple and lightweight tasks. Meanwhile, the electric and gas-powered models are suitable for moderate to heavy-duty projects. Then again, this would still depend on the size of the engine too.
Maintenance the Best Tree Pruner
When buying a tree pruner, you should look beyond what just the tool can do for you at the moment. Albeit, it is also important to know what it requires to continue to perform what is expected of it. Just like any equipment, proper care and maintenance support the consistency of the pruner's performance. Thus, allowing you to make the most out of the tool for a longer period of time.
Varying types of pruners require different levels of care and services. The simplicity of manual tree pruners makes them the easiest to maintain among the different types. All it needs is to be wiped clean every after use to remove any residue off of the blade and keep it rust-free. Every now and then, the blades may also need to be sharpened as well.
On the other hand, the motorized models require a bit more complex and frequent maintenance routines. With gas and electric-powered pruners, of course, it needs to be refueled with gasoline and/or engine oil. For battery-powered pruners, you need to keep their batteries recharged and ready for the next use. 
In both models, you would need to tighten its chains after some time of use. It is also important to lubricate the chain and the blade to encourage smooth movement and prevent corrosion. Apart from that, also ensure proper storage. Keep its sharp edges protected and secure placement out of reach from children.
In choosing which tree pruner to buy, you have to consider how much you are willing to commit to its maintenance. Tree pruners are not actually the cheapest tool to buy. So, if you want to get the most value out of your money, be ready to give it the right care and attention. 
Cost of the Best Tree Pruner
The pricing of tree pruners widely varies depending on their type. The more complex the mechanism is, the more expensive it gets. More so, the higher the quality of the material and built, the pricier it will be as well. 
Before buying one, ask yourself how much are you willing to spend on this kind of tool? Do you need to invest in a premium model? Or, would a simple pruner already suffice your actual tasks?
To give you a clearer picture of the cost, here are the common price ranges on the different types of tree pruners:
| | |
| --- | --- |
| Cost | Type of Tree Pruner |
| Between $8 to $30 | The most inexpensive tree pruners are the short loppers and pruners. But, because of the size, their use is more limited on smaller trees or branches with thinner diameters. |
| Between $30 to $100 | Most tree pruners in the market belong to this category. Mid-cost tree pruners provide good value for money without compromising the functionality of the product. Types included in this price range are pole pruners, compound pruners, and corded electric pole saws. |
| $100 to $200 and up | The most expensive tree pruners are determined by the capacity and how advanced the engines are. Types such as gas-powered and cordless electric pruners are well considered as investment pieces. They may cost you more but you can also expect them to cut thicker branches and deliver more premium performance.  |
Our Best Picks for Tree Pruner
The SWJ803E model is one of the most versatile pole saws from Sun Joe. This 10-inch bar chainsaw may be small. But, its 8 amp electric motor is powerful enough to cut woods with a thickness of up to 9.5-inch diameter. Just the perfect capacity for pruning overhead branches and small logs.
This saw also conveniently comes with an adjustable head. Thus, giving you the ability to shift the positioning from 0-degree up to a 30-degree angle. With such a multi-angle feature, you have better leverage to access hard-to-reach corners. 
Moreover, this pruner also comes with a telescoping pole. It has a length of 5.8 feet by default. But, it can further extend between 8.8 feet up to as far as 14 feet. Hence, allowing you to cover varying heights as deemed necessary. 
More features to love about SWJ803E:
Instant start mechanism

Automatic chain lubrication

Ergonomic handle

Foam grip

Safety switch

Plastic blade cover

Extension cord hook

2-year warranty
Check the latest price on Amazon!
Alternative for best pole saw:
This bypass lopper features fully hardened and precision-grounded cutting blades. This heavy-duty pruner is designed to stay sharp and can effectively cut wood up to 1.5 inches in diameter. That said, this tool is perfect for delivering clean cuts on live tree limbs and branches. 
The blades are also protected with anti-rust and low-friction coatings. These layers allow the blade to glide well into the wood without getting stuck in debris and tree sap. Moreover, this also helps to extend the integrity of the steel. Hence, promoting quality performance for a much longer period.
This Fiskar bypass lopper has a length of 28 inches. The proportion provides you a comfortable height to reach overhead branches. It is also not too long so it makes cutting awkward angles more manageable.
More features to love about the Fiskar bypass lopper:
Shock-absorbing bumpers

Durable steel handles

Non-slip grips

Replaceable blades

Full lifetime warranty
Check the latest price on Amazon!
Alternative pruning shears and loppers
The Corona TP3206 model highlights its 360-degree swivel head. Thus, enabling its users to cut branches at any given angle possible. The rotating and tilting head of this pruner makes it a perfect choice for very bushy trees. 
The cutting blade of this pruner is made from high-quality steel material. It has a double arc design that grasps and cuts woods effectively. With a simple pull of the oval-end grip, the pruner cuts through branches up to 1 1/4 inches in diameter.
Another feature of this pruner is its long-reach handles. It can offer a fixed height of up to 62 inches. Despite the extended length, it remains to be lightweight at only 2.5 pounds. Hence, the great balance between length and weight allows it to be more ergonomic to the body.
More features to love about Corona TP3206:
PowerGlide comfort grip

Up to 5-feet reach

Unlimited cutting position

Minimizes tangled rope issues

Lightweight design
Check the latest price on Amazon!
Alternative for the best pole pruner
The Yartting forged pruning shears are made with SK-5 carbon steel. This fully hardened precision-ground material promises to remain sharp even when it is roughly used. The 8-inch blade is very much capable to cut branches up to 2 inches in diameter.
The pruner is treated with Japanese Teflon non-stick coating. Plus, it also comes with rust-resistant and low-friction protective layers. Together, they enable the ratchet gears to glide smoothly across the wood.
The handles, on the other hand, are made with aluminum alloy material. Hence, making this pruner lightweight and more ergonomic to use. It has a telescopic design that can extend from 28 inches up to 41 inches end-to-end. More features to love about Yartting forged pruner:
Hollow-ground blades

Sharp upgraded blades

Corrosion-resistant

6-section retraction

Anti-slip rubber handle

Customer satisfaction warranty
Check the latest price on Amazon!
Alternative compounding-action pruners
GARTOL COMPOUND-ACTION ANVIL LOPPER
TABOR TOOL GG11A COMPOUND-ACTION BYPASS LOPPER
Wrapping Up about The Best Pole Pruner
There are indeed plenty of tree pruners out there. Then again, finding the perfect one to best fit your needs can seem to be a confusing task if you don't have any idea what to look for. Hence, allow this article to be your guide in buying the right tree pruner for you and your garden.