Last Updated on July 24, 2022 by Gary Stephen

Every piece of equipment must be carefully preserved and stored. Yes, at times, we turn into couch potatoes who are too lazy to properly store the tools we use, so we simply toss them into the garage or any other space.
But that's definitely not something that you're supposed to do because this way you'll easily ruin the tools that are supposed to serve you for a long period of time. So instead, you should focus on creating something where you'll be able to store everything.
Fortunately, this isn't too complicated because you do not need a lot of space to line up your equipment. If you need some creative, yet beneficial tips regarding storage, then check out these great ideas below.
Super-Cool Ideas For A Lovely Storage
Have You Considered Garage Cabinets?
Sadly, there are many people out there who do not perceive garage cabinets as useful. We're not sure whether that's because they haven't employed them before, or they simply do not spend a lot of time in the garage which is why they haven't yet reaped the benefits of these cabinets.
Now, there's a misconception that these cabinets are intended only for homeowners who own a vast tool collection, but that's not really the case. Avid cabinet manufacturers at garagecabinets.com want to emphasize the fact that garage cabinets are intended for every garage. Therefore, it would be advisable to take them into account.
What About An Old Mailbox?
Now, this may seem to you like a strange suggestion, but it's actually a great one. If by any chance, you still have a vintage mailbox that you are no longer utilizing, then maybe you should repurpose it and use it as a space where you will store your gardening tools or any other that is in your possession. 
One of the biggest virtues of this idea is the fact that you will be able to easily access your tools, yet it will also be out of the way.
Check Out These Suggestions As Well!
Mount Hooks To The Back Of A Door
Simple hooks are one of the best ways to keep all your bigger gardening tools to hand. Plus, another great thing about this idea is the fact that it doesn't take up literally any floor space. Besides, if you're currently a bit tight on the budget, then you should definitely opt for this solution because it's very cost-effective.
Generally speaking, you should try out this method even if you do not have a shed for your gardening tools. All you have to do is mount hooks to the back of your door, porch wall, or utility room and see how it goes.
Hang Garden Hoses By Using Chain
It seems like a vast majority of homeowners have lots of hoses, yet one of their biggest downsides is the fact that sometimes they can be difficult to store. If you want to easily resolve this problem, then just simply utilize a coat hook and chain.
This whole process is relatively simple. You just have to attach the coat hook to the wall and then simply hang one end of that chain above the bottom hook. Once you did that, simply put the chain through the center of the hose and then hook it onto the top of the coat hook.
Have Your Own A Makeshift Tool Bucket
A lot of houses contain old paint cans or huge buckets made out of plaster or any other materials. Namely, this is a great place to store your gardening tools. What's great about them is the fact that they have a built-in lid which is perfect for protecting the tools stored outdoors from various weather elements that can negatively impact them, such as causing them to rust, or leaving them muddied. 
Create A Wrap-Around Shelving 
If you're interested in a DIY project then you will need a lot of beneficial storage ideas to keep all your spanners and hammers safe and protected. If you opt for wrap-around shelving, then make sure that every tool that you own has its proper place.
Namely, this is a great option because it will maximize the use of space and can also be loaded with electrical cords and tools, along with labeled Tupperware boxes for bolts, nuts, and screws.
Now, do not forget to also incorporate lighting into your shed because with its help you'll be able to execute any task without experiencing any problems. It will allow you to see exactly what you're doing even when it's dark outside.
Build Racks Into The Fence
Tool racks are an amazing way to keep your shovels and rakes secure, safe, and off the ground, where anyone can trip over them and potentially hurt themselves. Opt for racks that are slim because they do not take too much space.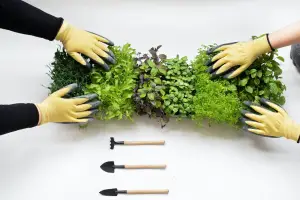 As you can see, there are so many excellent, yet cost-effective ways to have top-notch storage for your gardening tools. With a little bit of time and effort, you'll be able to efficiently store all your tools.