The grow tent is very important for indoor plants. Many beginner growers want to grow plants in the tent often searching for this question "how to set up a grow tent." Having a grow tent is not only useful it comes with lots of advantages. Like, most of the small version of grow tents are easy to move, means they are portable. You can set them or taken down any place of your house, lab or shop anytime.
Most novice growers always get confused about the placement of their grow tents. But, if you succeed in setting up, maintain and continue your work. So your plants will have the possibility of a high rate harvest.
How to set up a grow tent?
Grow tent offers a great environment to grow plants and getting a huge outcome. If you already have a grow tent and thinking of an extension, then you can join the new tent with less effort. It also offers flexibility to change equipment like the lamps, pots, trays, etc. without disrupting your plants.
Choosing the Right Tent
If you don't know how to set up a grow tent than here is some clue for you step by step. At first, we have to decide the size of your tent. Different sizes of tents are not only good for huge/limited space they offer some other benefits too. This article is all about choosing the right tent.
Size:
Size depends on how much plants you want to grow in your tents. Most home growers grow more or less 8 to 10 plants in one growing tent. So, see the description feature to determine how many plants the tent can hold at a time.
Ventilation flaps:
It passes natural air to the tent. Also, you can set ventilation set separately for continuous air circulation. Your grow tent should open the ventilation flaps. Otherwise, you have to cut a part of the tent.
Rigid Stability:
That means a grow tent has to be supportive enough so it can support the carbon filter and others such as hardware. You will find the capability of a tent on its feature's description. Also, the weight of the tent determines the capacity as well.
Fabric:
The fabric of your grow tent should be 100% light-proof and durable for a long time. Also, some fabrics are made of fire-retardant materials. This will give you security against accidents. Look for tents that are made of hemp canvas.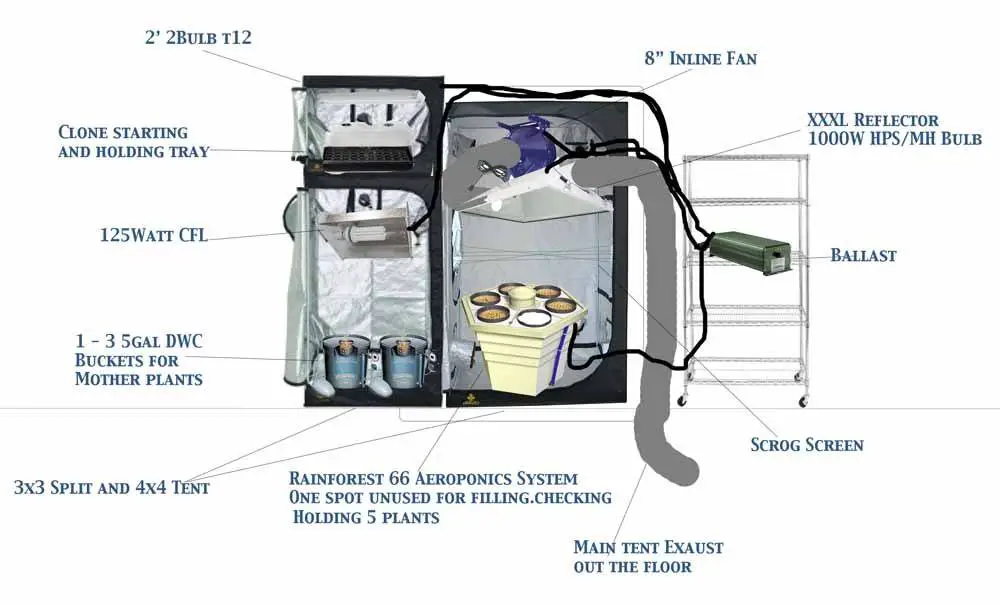 What will you need to set up a grow tent?
How to set up a grow tent? Well at first you will need some supplies like,
Grow tent kit
Temperature gauge
Extractor fan
Carbon filter of appropriate size for your grow room
Hanging equipment
Lamp or Lamps with accompanying hanging cables
Duct tape
Duct Clips
Two pieces of ducting of several feet in length
Essential tools for assembling
What more your need for how to set up a grow tent? Now, you will need some amount of quality soil along with potted plants. Most of the experienced, consider automating the plant care system for their tent. This system allows automated watering.
Grow Tent Lights
Growing lights are crucial for every tent plantation. But only installing one/ or two lights will not enough to fulfill the need. The lamp should be appropriate for the tent's size. Otherwise, you will not get good quality plant vegetation or bloom. If the lamp exceeds the limit, then the excessive heat will be a problem for proper vegetation.
For grow lights, you will find four types of lamps.
Fluorescent
High-intensity discharge
Light-emitting diode (LED)
Plasma
You can select whatever you like according to the wattage. But, there are some other things you might consider as well. See the variables like the color spectrum, cost, ease of maintenance, living space, customer support, and others. You can consult about these things with your light manufacturer. So you'll have an idea of what type of grow lights are appropriate for your tent size and types of plant.
But, if you want easy to use full-spectrum grow lights, you may have the LED grow lights. These lights can fit into any standard sockets and useful for producing low heat. Other lights are a bit heavy and have overheating problems. Many growers complain about their tents collapsing due to heavy plasma or fluorescent lights. But this one is quite light and flexible to use and maintain compared to others.
Grow Tent Ventilation Setup
Tent ventilation is necessary to reduce excessive heat and humidity. They may lead to growing mold and less growth of vegetation. For an idea,
the tent ventilation setup follows the basic calculation.
Length x width x height = n
N x number of times per hour air is to be refreshed = total volume of air per hour. The volume of air per hour should be at least twenty times per hour.
Carbon Filter
With the ventilation system, you will need to set a carbon filter too. This filter refreshes the air that passes through the filter and emits clean air outside. So, that the sounding place of tent stays odor-free. Those who set tents inside the house will get a lot of benefits. Also, if you have a large tent in your garden, you should consider having one carbon filter.
Exhaust Fans
The main final equipment for how to set up a grow tent is an exhaust fan. It helps remove odor inside of the tent and keep the environment fresh inside. For set up, this instruction manual of the fans provided by the package.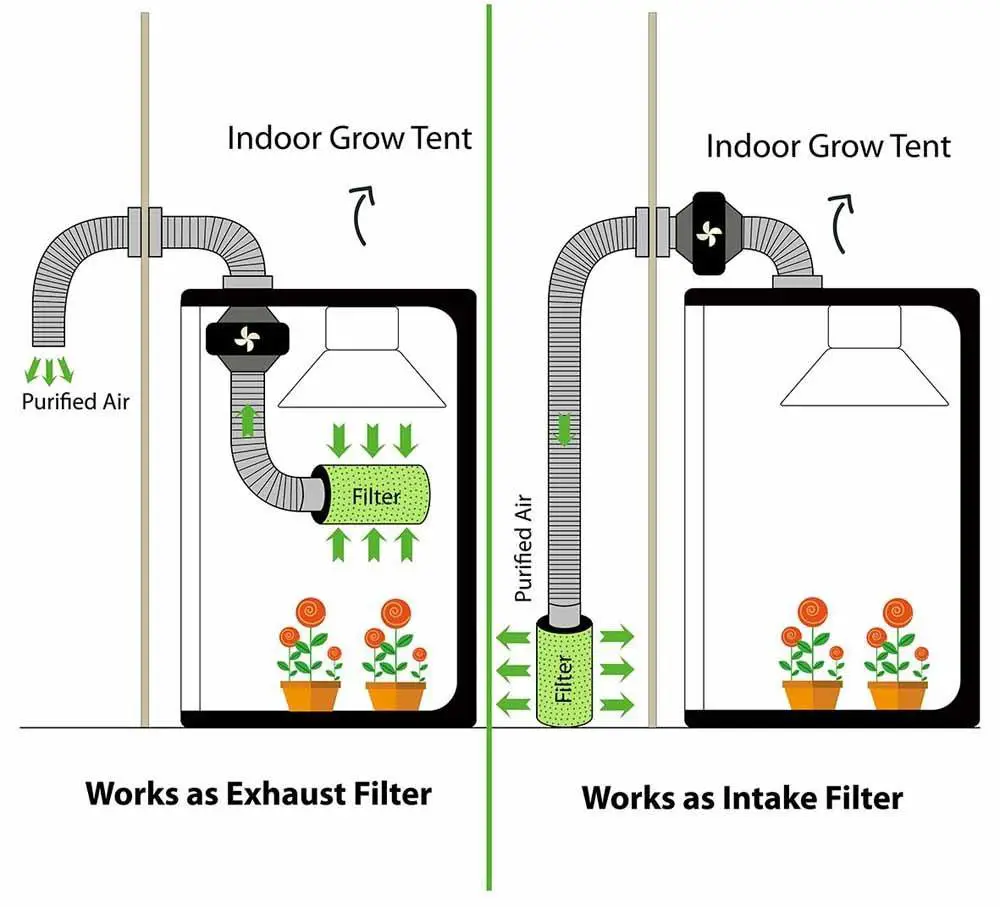 Grow Tent Setup Guide
Start with locating the area that you are considering to set up your tent. Complete all the measurements from top to bottom so you can go for further settings. Be sure your place will have enough space after setting the tent.
Now unpack all the parts like tent, tools, etc. and start assembling the tent as per tent's instruction manual.
It's time to set up the ventilation system. Before that lug in all the fans, make sure that they are fit and beautiful. After testing, install the ventilation system along with a carbon filter.

Now set the grow lights.

If you are installing large lights, make sure the frame you choose to place the light is strong enough to hold the light

. Test the grow lights

separately

before and after installing them in the tent.

You should have a temperature gauge to check the temperature of the growing tent all the time. After installing all the equipment now, it's time to install a temperature gauge level. Make sure the temperature always stays around 68-82 F.
Finally place the plant inside the tent, watering them and add fertilizer if needed. Now close the tent and check any holes where the lights are coming out. Your tent should be light-tight so that pest control would be much easier.
Check your grow tent once in a day to make sure all things are working well.
Benefits of having a grow tent
A grow tent helps your plant to grow in a more spectacular and develop a friendly environment. But, another advantage of grow tents is they also offer Energy efficiency.
Provide an ideal environment
A grow tent assures an ideal environment for the plant. It provides proper lights, fresh air, less insect attack, 24/7 observation, and more. Yes, most of the things are artificial. It is artificial, but scientific and proven beneficiary for plants. Also, the ventilation fans, timers, and others provide an excellent service in the growth of your plants. It may sound massive, but actually, they are cost-saving. Light, ventilation fans, pest control are a one-time investment that saves your money. It's an investment to your plants and returns a double profit.
Circulating fresh air to plants
In your grow tent you can provide a system of thick fresh air to plants. Air with carbon dioxide is vital for the plant's development. Every grow tent includes the ventilation fans or at least the system to install any.
Pest control
After planting, it's common for every grower to feel worried about pests. Your grow tent prevents these types of infestations like fungi infection and others. You can use either chemical or organic pest control in the tent if necessary.
Optimal lighting
You can add grow light as per your requirements. The real thing is the canvas material also works for reflecting the lights. You don't need to set lights all over the tent. A single or a few growing lights is enough to bathe your plants in light.
Summing up
In these "how to set up a grow tent" instruction article we tried to keep the things simple as much as possible. Beginner growers will find some equipment or setup process a bit tricky. But once you start to work, you will figure out things little by little. Read all the instruction that comes with your tent, lights, ventilation system, temperature gauge, etc. carefully.
You will find more instructions, tips, and tricks from our blog page. If needed, you can ask for help from an expert as well. Many growers share instruction videos of how to set up a grow tent step by step, follow them and starts your one.