Last Updated on June 24, 2022 by Gary Stephen
Although it may sound ancient to use firewood to warm your space or even cook good food, there is just something about it that brings a certain kind of coziness and a homey feeling. Not to mention, it is very cost-efficient too. As much as we want to get warm, it can be quite a hassle to chop up logs in the freezing temp outdoors, especially during winter. Furthermore, it takes a looottt of time and effort to manually cut them up using a traditional ax or hand saw. And if worse comes to worst, you might even get frozen to death before things get done. Good thing there is this piece of equipment called a gas log splitter.
This machinery is designed to literally "split" woods into various sizes in a blink of an eye. So fast and so strong that you can produce a week's worth of firewood supply in just a few minutes or so. 
No need to lift an arm. With just a simple push of the button, the machine will do all the hard work for you. That's how fantastic log splitters can be.
In this article, let us discuss with you everything about log splitters. In particular, what the gas-type of log splitter is? What are the pros and cons of using it? How do you find the right one to buy? And lastly, allow us to present to you our review of some of the best gas log splitters in the market today.
What Is A Gas Log Splitter?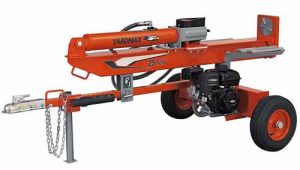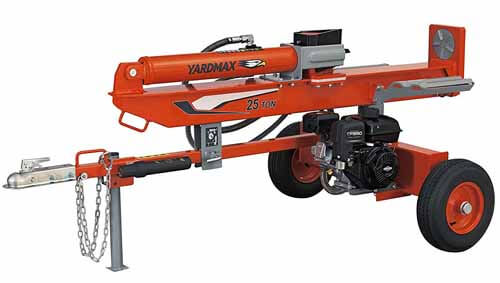 A gas log splitter is basically just like any other log splitters. The only thing that differentiates it from the others is that its engine is powered by gasoline. 
There are various types of mechanisms involved in gas log splitters. They can either come with a hydraulic or kinetic system. Each operates differently, but the same gas fuels both.
What Are the Advantages of Using A Gas Log Splitter?
Although somewhat similar to electric splitters, the gas-type models have their distinct advantages. Here are some:
Power
Power is probably the primary reason why most people choose gas splitters over the electric type. Gas log splitters do offer a broader range of engine power. It is often available in motors as small as 8 tons up to as much as 34 tons. 
Yes, this much power is something that most electric splitters are not capable of providing. On that idea, you can well consider gas-powered splitters to be more powerful than electric models. 
Log Capacity
Because gas log splitters have a more powerful engine, they can serve a broader range of log sizes. So, you are not only confined to cutting small pieces of firewood. But, its bigger capacity allows you to cater to logs as wide as 12 inches in diameter and as tall as 20 inches in length. Or, even more! 
Yup, more power begets more capacity. On that note, gas log splitters are not only suitable for household uses. It is a more sensible choice for commercial purposes too. 
Built for Tougher Jobs
Aside from the varied sizes of the logs, gas splitters are great at cutting woods with different levels of toughness. From softwoods to hardwoods, name it, and this badass can handle it all for you. But mainly, they are fantastic at splitting more rigid varieties of wood. This may include alder, ash, birch, blackthorn, hawthorn, chestnut, oak, sycamore, walnut, willow, and many more.
Needless to say, gas log splitters are not only reliable in terms of log capacity. Even if you only need to split small BUT a denser and knottier type of wood, then a gas log splitter sounds like a better option for you.
No Power Outlet Required
Unlike the electric log splitters, gas models do not need to be plugged into a power source. Hence, this gives the user more freedom to use the equipment anywhere and anytime they please. 
There is absolutely no need to depend on the availability of electricity. This makes it a perfect choice for off-the-grid work areas. You can bring it in your backyard or out in the deep woods without worrying about getting it powered.
Portability
Yes, electric log splitters are more lightweight and compact. However, as mentioned previously, it must be plugged into a power outlet for it to operate. And most of the time, its power cords come in minimal lengths. Thus, if you need that extra meter of connection, you are likely required to have an extension cable to make it work.
Gas log splitters, on the other hand, tend to be heavier and bulkier than electric models. BUT, they still are a good choice in terms of portability. Why? Because they are essentially wireless. Unlike the electric splitters bound by a power cord, gas types are in no way restricted by this. Thus, offering you more flexibility and mobility.
What Are the Disadvantages of A Gas Log Splitter?
Of course, there is no such thing as perfect. So, it is good to take note of where gas log splitters tend to fall short. By knowing such, it will help you prepare for the downsides of the equipment. Here are some:
Emission
Emission is probably the biggest concern of most consumers. As with any other gas-powered machines, the gas log splitter does have its fair share of carbon emissions. However, it cannot be helped since the equipment needs to burn the fuel to produce energy and power itself. 
Although, there are also models that are conscious enough to reduce the impact of their exhausts. On this note, make sure to opt for gas log splitters that are EPA and CARB compliant. These regulatory bodies are here to implement standards. They make sure that the emissions of these gas splitters are within safe and tolerable levels.
Expensive
It is very accurate that price points may appeal as a deal-breaker for most people. Nevertheless, if you think of how much power the gas splitter can offer, it seems to justify the cost. As you already know, gas log splitters are designed to have bigger and powerful engines. Considering that, you can rightfully expect it to be more expensive than smaller and light-duty electric splitters. 
Hence, with greater power comes a higher cost!
Louder Sound
Because it has a more robust and powerful motor, it tends to produce louder noise as well. This may mainly be a problem for users that are located within a residential area. The sound it emits could likely be loud enough to cause disturbances to neighbors.
Aside from that, gas log splitters may not also be a good idea to put in places near the livestock. The noise can easily startle the animals and cause them to be restless and stressed out. That is in no way healthy for them.
What to Consider When Buying A Gas Log Splitter?
Tonnage
Okay, we have already established that gas log splitters are powerful. But, how much power do you need from it?
To begin with, you should know that the power in log splitters is measured in tons. The amount of energy or tons refers to how much force the machine exerts into the log to split it apart.
Some variables can affect your power requirement. The larger and greener the wood, the more pressure it needs to penetrate and break. The green or freshly cut logs are heavier and denser. That is because the log still contains a certain amount of moisture within. 
As time passes, its water content dissipates and leaves the log all dried out. This makes them now softer and easier to split. It takes about 6 to 12 months for the log to age or be seasoned.
Of course, the type of wood itself plays an important consideration. Mother nature did not create them equally. And so, each kind has its level of toughness. Therefore, the amount of engine power pretty much differs; depending on the wood you are likely to use.
In general, you can use this reference as your basis for motor power selection:
| | | | | |
| --- | --- | --- | --- | --- |
| Type of Log | 6-inch | 12-inch | 24-inch | 36-inch |
| Seasoned | 6 tons | 7 tons | 20 tons | 35 tons |
| Green | 15 tons | 16 tons | 30 tons | 35+ tons |
Log Capacity
The size of the logs itself helps to determine which gas log splitter is best for you. Different models come with different log capacities. And so, you should look into the maximum diameter, length, and weight of the logs you are likely to be dealing with. That way, you can ensure that the equipment will be able to effectively handle the logs and perform the tasks as they should be. 
Cycle Time
This basically pertains to the amount of time the ram takes to return back to its default position. The duration starts from the very moment the ram travels the log towards the cutting wedge up to the time it reaches back to its starting point. The shorter or faster the splitting cycle, the more work gets done.
This factor is one of the major considerations, especially for commercial uses. The target is to ensure there is quick reloading of logs so that there will be no or little time wasted. The faster the turnover, the more productive they can be as well. 
Hydraulic vs Kinetic
The gas log splitter can either come with a hydraulic or kinetic mechanism. Each has its own sets of charms. The choice simply boils down to which do you value most – power or speed?
A log splitter with a hydraulic type of system is equipped with pumps, pistons, and cylinders. These components work congruently to forcibly send the log into the splitting wedge. The hydraulic system tends to produce a much stronger force. However, it also takes a lot more time to complete a full cycle. Thus, if you are after the power and don't mind the slow turnover, then the hydraulic system is a great fit for you.
On the other hand, the kinetic log splitters are designed with a flywheel system. The energy produced from this mechanism is what drives the ram to catapult right into the wedge. Hence, giving you an incredibly fast cycle time. So, if speed is more of your concern, then the kinetic type of gas log splitter is a better choice for you.
Splitting Orientation
Gas log splitters are either designed to have a horizontal or vertical orientation. While there are also some models that can offer both ways. 
So, why is this important to consider? Well, the splitting orientation essentially implies the positioning of the log during the process. 
For most domestic use, the horizontal type of splitter seems to work really well. In this case, the log is being laid horizontally into the bed. Because at some point you are required to lift and position the logs, this system is more apt to use on splitting smaller and lighter woods.
On the other end, the vertical gas log splitter is a suitable choice for more heavy-duty and commercial uses. The logs in this particular model are being split in an upright or vertical position. This is great for handling big and bulky log sizes. Just simply slide the wood towards the machine to position it in place and allow the splitter to do the rest of the work. 
Our Best Picks for Gas Log Splitters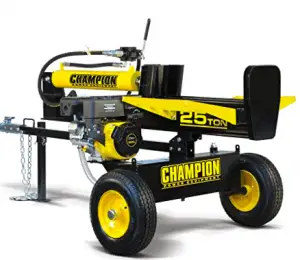 Features:
25-ton splitting power

224CC single-cylinder OHV engine

11 GPM 2-stage pump

12 seconds cycle time

Log capacity maximum of up to 24 inches in length and 100 pounds in weight

0.9-gallon fuel tank

0.6-quart oil capacity

With low oil shutoff feature

With auto return valve

Suitable for horizontal and vertical operations

With hardened steel wedge

With log catchers

Towable

WIth DOT-approved wheels

EPA certified 

CARB compliant

2-year limited warranty

Free lifetime technical support
Why do we like this gas log splitter?
The gas log splitter from Champion Power Equipment comes with a 224CC single-cylinder OHV engine. An OHV or overhead engine is much better than the typical OHC or overhead camshaft in the sense that the OHV is lighter and more compact. Thus, an OHV engine enables the splitter to be constructed with more power minus the extra bulk and weight. 
This gas splitter also offers its consumers great versatility. It can be converted from a horizontal into a vertical position in just three quick steps. This option allows the machine to accommodate larger logs. In fact, it can handle as long as 24 inches in length and as heavy as 100 pounds in weight.
The gas log splitter is also fairly portable. It comes with a pair of heavy-duty DOT-approved rubber wheels. This can freely transport the equipment up to 45 MPH. Moreover, the package also comes with a 2-inch ball hitch coupler and an extended tongue. This can both fit and attach to most types of ATV/UTV towing applications.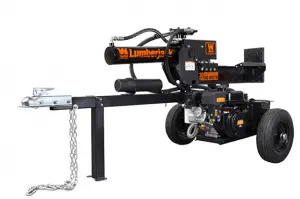 Features:
30-ton log splitting force

212CC OHV air-cooled engine

12 GPM

Two-stage pump

4.5 inches by 24 inches double hydraulic cylinder

Log capacity: 14 inches by 25 inches

Cycle time: Up to 14 seconds

Auto-return design

7-inch heat-treated steel wedge

Adjustable detent valve

With safety chain

Two-handed operation

Towable frame with 2-inch ball hitch

6-inch DOT-approved pneumatic tires

1-gallon gas tank

Heavy-gauge welded-steel construction

2 years warranty
Why do we like this gas log splitter?
WEN is one of the top producers of high-quality log splitters. And, this Lumberjack model is no exemption. This heavy-duty gas log splitter comes with a 212cc OHV engine. It comes with a double hydraulic cylinder that can deliver up to 30 tons or 60,000 pounds of log cracking pressure.
Its OHV engine is strong enough to cut logs as wide as 14 inches in diameter and up to 25 inches in length. As powerful as it may be, its 1-gallon gas tank can efficiently operate for up to 4 hours at half load off. And with a cycle time of 14 seconds, just imagine how many logs it can split in that certain span of time.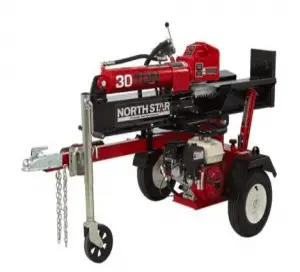 Features:
30-ton log splitting power

Honda GX200 series engine

With cast-iron sleeve

Low-oil shutdown

Steel fuel tank

Two-stage Concentric pump & Brand valve

Log capacity: 16 inches by 25 inches

Cycle time: 14 seconds

Heavy-duty steel-reinforced hose

NorthStar hydraulic cylinder with premium Hallite seals

With quad filtering system

Auto-throttle control

Alloy-steel wedge

2-inch ball coupler

With adjustable jack

High-speed tires with steel fenders

Towable frame

Convertible horizontal/vertical orientation
Why do we like this gas log splitter?
This NorthStar gas log splitter offers nothing but premium-quality components. For one, it is equipped with a Honda GX200 engine that can enforce up to 30 tons of pressure against a 16×25 inch log. Aside from power, this motor also comes with an engine guard and an idle-down feature.
The NorthStar log splitter is also designed with auto-throttle control. Thus, it promotes better fuel economy and minimizes noise production. But most importantly, it also helps to prolong the engine life too.
Wrapping Up
The gas log splitter is a solid and powerful wood cutting machine. It can efficiently perform tough jobs that its electric counterparts cannot confidently accomplish. So, if you want reliable equipment for heavy-duty uses, then this gas log splitter is the wise and perfect choice for you.