Last Updated on June 24, 2022 by Gary Stephen
Cutting logs the traditional way, using an ax or a saw, still hasn't lost its charm. Many people still stick to this primitive method. Why not? It has been tried and tested for hundreds of years. It just gets the job done in the most uncomplicated fashion. But as time moves forward, so does the technology in wood cutting. And today, the kinetic log splitter is the new name of the game. It is even more advanced than the typical hydraulic splitters. This innovative machine is instead equipped with a flywheel system. It cuts through the wood with a blast of force and lightning speed.
In this article, let us learn more about kinetic log splitters. How does it work? What makes it better than the hydraulic log splitters? What factors should you consider when buying one? And lastly, which products in the market are worth spending for?
What Is A Kinetic Log Splitter?
A kinetic log splitter is a wood cutting machine that makes use of a flywheel system. Powered by a motor, the spinning wheels produce energy and convert it into, as the name implies, a kinetic force. This kinetic technology enables the machine to cut logs at a much faster rate with minimal effort.
So, how does the kinetic log basically operate?
The main components of the splitter include flywheels, motor, belt, rack, pinion gear, ram, and a lever. To begin with, the motor can either be fueled by gas or powered by electricity. 
By structure, a pair of flywheels are positioned on opposite sides of the engines. As the motor runs, it rotates the belt to which the wheels are in contact. Thus, initiating the spinning of both flywheels as well. This very chain of action is what creates the energy. The kinetic energy produced is stored until such time it is ready to be used. 
To release, all the user has to do is to pull the lever or the handle. This will trigger the rack and the pinion gear to engage. Once engaged, it releases the stored energy pushing the ram away. The strong impact given into the ram is what sends the log right through the cutting blade at a very high speed.
And, tada!!! You have split a log in a fraction of time and with very minimal effort.
Advantages of Kinetic Log Splitter 
The kinetic technology puts log splitter at a greater advantage than those with typical hydraulic systems. Here are the various reasons why:
The speed of log splitters is essentially dependent on the performance of the ram. The quicker the ram moves, the faster you can get the logs chopped up.
In the case of the hydraulic splitters, most models take an average of 8 to 9 seconds for the ram to return back to its default position. Nevertheless, a cycle speed within the range of 10 to 15 seconds is already considered fast for such a system.
On the other hand, a kinetic log splitter takes only about 3 seconds to complete a full cycle. That said, it is at the very least 3 times faster than hydraulic splitters. This then gives you better leverage to improve your work efficiency.  The faster the splitter can chop, the more job gets done.
To be honest, it is quite impossible to have an apple to apple comparison in terms of power. That is because these log splitters do not operate the same way. Moreover, it also does not have the same unit of measurement.
Between the two, the hydraulic log splitter is easier to measure. Its power is often measured in tonnage. For instance, if a machine is rated with 10 tons, that means the ram exerts an equivalent amount of 10 tons of pressure to break apart a log. 
The kinetic log splitter though plays a different story. It is quite hard to compare its rated power with hydraulic since the ram drastically moves quicker. Because of that speed, it makes it easier for it to penetrate and cut the log through and through.
On that note, a kinetic log splitter can have the same amount of rated power as a hydraulic system. However, the impact of its fast speed consequently takes a lesser amount of force to break into the wood. Given that advantage, a kinetic splitter with a rated power of 10 tons can expectedly exceed the performance of a 10-ton hydraulic splitter.
We have already established that kinetic log splitters are more powerful than hydraulic log cutters.  Needless to say, they can pretty much split any type of wood a hydraulic splitter can. Thousands after thousands of users have tested and proven its ability to cut through hardwoods. This can well include varieties like yellow box, red gum, blackwood, ironbark, stringybark, jarrah, and more. So, whenever your job includes such types of woods, the kinetic log splitter should be your go-to cutting tool.
Well, both hydraulic and kinetic log splitters are available in either gas or electric-powered engine models. However, motors that run through electricity are more awesome in the sense that it produces less noise and carbon emissions. On that account, it is more suitable to use for indoor settings like in a shed, a workshop, or a barn. 
Furthermore, you can avoid the hassle of dealing with messy oil leaks and constant gas refueling. It is a more eco-friendly option I should say.
Unlike hydraulic log splitters, kinetic systems do not have hydraulics or a pump to deal with. Hence, you are likely to encounter messy oil leaks and any untoward pump malfunctions.
Just like any other type of machinery, a kinetic log splitter only requires regular cleaning and lubrication. And with some models, it might benefit from having an engine tune-up every now and then. That's simply all it needs to keep its motor running smoothly and add some more good years to its service life.
Kinetic Log Splitter Buying Guidelines
Kinetic log splitters come in a good range of power options. It is often available in as small as 5 tons up to as much as 40 tons or even more. So, why is it important to know how much power you would likely need?
Well, the power will tell you exactly how much force it can offer. The higher the power, the more splitting force it can deliver. If you intend to use it only for the usual household wood chopping, then you can do away with low-powered splitters. A 10-ton kinetic splitter will be a good and flexible option to start with. 
Nevertheless, if you are out to cut up some serious logs, then you are better off buying 40 tons and up. Machines with this much power are ideal for commercial uses. You can expect it to split almost any type of wood and can handle a larger scale of workload.
Along with the power of the motor, you also need to consider the actual size of the log your splitter can handle. Doing so will ensure that the machine you intend to buy will be able to accommodate the sizes of woods you're likely to be working with.
For this matter, take note of the maximum length, diameter, and weight of the log in the splitter's specifications. This will give you a better gauge of how small or how big of a log it can process. Choosing the right capacity for your intended task can greatly contribute to your work efficiency.
The most prominent advantage of kinetic log splitter is its quick cycle time. Hence, this factor greatly matters for most people. On average, a full cycle of 3 seconds is what is usually considered as "normal" speed for kinetic splitters. 
However, there are also some models that offer way faster time. A speed of fewer than 3 seconds is incredibly fast that it makes your task turnover very quick too. You can double or triple your output in a much shorter period of time. If this is what you are aiming for, then buy a kinetic log splitter that can deliver 1 to 2 seconds of cycle time only.
This factor basically answers the question – Do you want your kinetic log splitter to run in gas or electricity?
Kinetic splitters are available in both gas and electric-powered engines. And, each type has its own pros and cons.
Gas-fueled log splitters<span style="font-weight: 400;"> are a reliable option especially when it comes to power. Such machines tend to offer more force than their electric counterparts. Hence, this engine type is a better option for handling larger logs. 
Moreover, gas-powered splitters are great to use in areas without immediate access to electricity. This makes it a good choice for off-grid workshops. Or, simply for locations where power outage is often experienced. Just make sure to bring extra gas fuel to refill your tank.
Electric log splitters, on the other hand, are all up for user-friendliness and convenience. This type of engine is powered by electricity and so does not produce carbon emissions. Hence, less pollution and safer for the health of the user and the surroundings. For this very reason too, it makes this splitter the ideal choice for indoor and confined spaces. 
Kinetic log splitters can come in models with either one-handed or two-handed operations. So, what's the difference?
Nothing too drastic. But this can somehow affect your comfort with regards to handling the machine. Some users might find it easier to work with one-handed operations. However, the two-handed models are said to be much safer. 
So, the decision here is totally subjective to the users themselves. If comfort in movement matters a lot for you then go for one-handed models. But, if safety and security are your top priority, then it is best to opt for the two-handed kinetic log splitters.
The great thing about kinetic log splitters is that they tend to be more compact than hydraulic splitters. Hence, they are easier to transport from one place to another. It is so portable that the smallest size can comfortably fit in the trunk of a car.
However, there are also models that are designed to be big and bulky for heavy-duty usage. In this case, it would be a good idea to opt for those with built-in wheels or a towing unit. This gives it the advantage to still be mobile despite its size and weight. 
Let's be honest, kinetic log splitters don't come cheap. Price is wayyy beyond your old-school ax. So, it is right and just to find this investment piece worth your every penny. 
Durability is one major thing to look out for. The splitter should be sturdy enough to last you long good years of quality service. The material for one should be made from heavy-duty steel. 
It should be able to have resistant properties against various environmental factors. Elements such as moisture, UV, and corrosion are a few of those that can weaken the integrity of your machine in the long run. An added feature like powder coatings can help extend the protection from wear and tear. 
Moreover, the machine itself should be of solid construction. The frames have to be thick, strong, and well-linked to each other. That way, you are less likely to deal with cracks and broken parts.
Our Top Pick Kinetic Log Splitters 
Features:
6.5-ton power

Electric-powered

15A motor

Delivers up to 13,000 pounds of cracking pressure

20.5-inch x 10-inch log capacity

With side-mounted support wing

Comes with a 34-inch removable mounting stand

With 5.5-inch never-flat wheels

14.75-inch cylinder stroke

5-inch wedge

4×4 inch auto-return push plate

20-second cycle time
Why do we love it?
The Wen 56207 is one of the best-selling log splitters on Amazon. With over 1,200 positive feedback, you can assure this product can truly deliver its promises.
This model is electric-powered using a 15A motor. It is capable of producing up to 13,000 pounds of pressure to cut through the wood.  That is strong enough to split a 20.5 by 10-inch log. Not to mention, it does not emit any emissions and is easier to maintain. Thus, a very suitable choice for residential purposes. 
Although, you should be aware that the cycle time of Wen 56207 is quite slow compared to other leading kinetic log splitter models. It can only complete a full cycle in 20 seconds. Nevertheless, if you try to calculate it, it can still split up to 120 logs per hour. And, that doesn't sound bad at all, especially if you only intend to use it for the household.
What we also appreciate with Wen 56207 is its versatility. It comes with a metal mounting stand that can be removable if you rather prefer to work close to the ground. To further add, it has a pair of 5-inch wheels that promises to never go flat. So, you can always transport your splitter anywhere you please.
Best for:
Electric-powered option

Residential uses

Small-scale tasks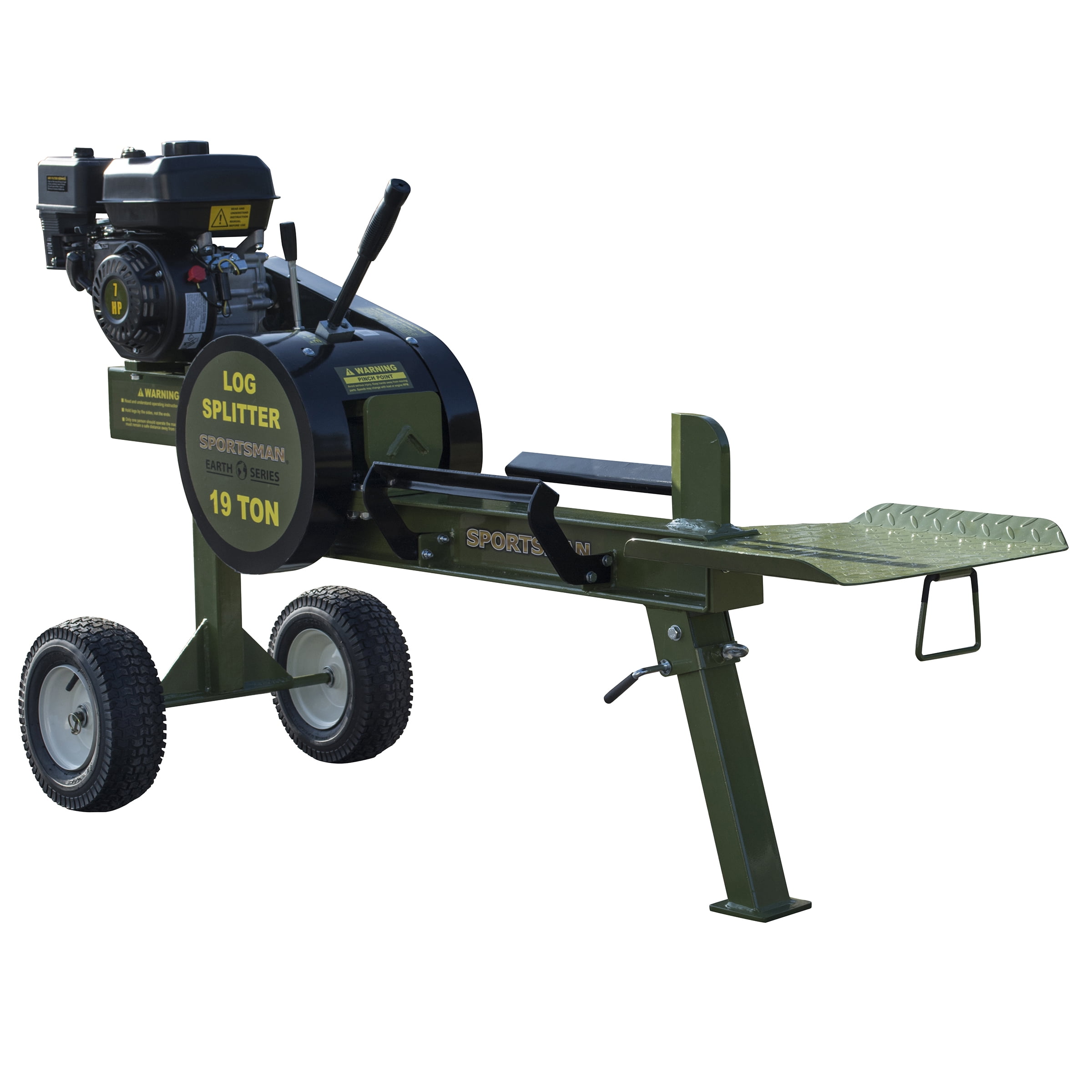 Features:
Equivalent to 19-ton hydraulic power

With 7 horsepower engine

4-stroke air-cooled engine

Powered by unleaded gasoline

0.92-gallon fuel tank

35 pounds flywheel weight

2 seconds cycle time

7-inch steel splitting wedge

21-inch x 13.75-inch log capacity

Can hold up to 100-pounds log weight

12-inch hard rubber wheels

Two-handed operation

EPA approved

Non-CARB compliant

One year limited warranty
Why do we love it?
If you prefer the stronger power that the gas models can provide, then this product is the best fit for you. The Sportsman kinetic log splitter comes with a 7 HP engine fueled by unleaded gasoline. This can produce a 19-ton power equivalent to that of a hydraulic system.
However, unlike hydraulic splitters, this machine has a cycle time as speedy as 2 seconds only. That is said to be about 19 times faster than its hydraulic counterparts. Hence, the faster the cycle time, the more work gets accomplished.
This Sportsman log splitter is also designed for a two-handed operation. This makes the handling of the machine much safer for its users. So, despite the fast pace, you can still maintain a cautious operation.
Furthermore, this model belongs to the Earth series line. Hence, even if it is gas-powered, you can be assured that it is still eco-conscious. This splitter is EPA approved and Non-CARB compliant. 
Best for:
Gas-powered option

Commercial uses

Medium to large-scale tasks
Wrapping Up
The availability of kinetic log splitters takes the wood cutting game to a whole new level. It operates way much faster and easier than the typical hydraulic system. More so, when it is being compared to the old-fashioned ax and saw. Kinetic log splitters will not only offer you convenience, but efficiency in time, effort, and output too.