As an Amazon Associate I earn from qualifying purchases. Without Any Extra Cost to You!
How to grow potatoes in a container? Potatoes are one of the best sources of vitamin C, potassium, vitamin B6, and iron. One medium potato with skin provides 620 mg potassium which is 18% of our daily need. Besides, they are sodium and free from cholesterol. Also, they are also a good source of fiber and magnesium and antioxidants.
Potatoes are one of the many vegetables that you can farm at home. But sometimes it becomes impossible to farm for the shortage of growing space. On the other hand, growing potatoes on the ground take up lots of space. But don't depress, you can grow potatoes in containers. In this article, we will show you the simplest way of how to grow potatoes in a container.
How to Grow Potatoes in a Container
The method of How to Grow Potatoes in a Container is surprisingly simple. You can grow potatoes in a very small space by using this process. Hence, growing potatoes in the container are the same as growing them in the ground. First, you have to select certified seed potatoes that are disease-free. You can also buy any kind of potatoes from the supermarket. But, the potatoes should be mature potatoes which are 70 to 90 days old.
After selecting seed potatoes, you have to select potato containers and soil. If you choose a plastic container, make sure it has several holes for drainage. Then select a place that will provide six to eight hours of sunlight. Then go after the following steps of below for harvesting: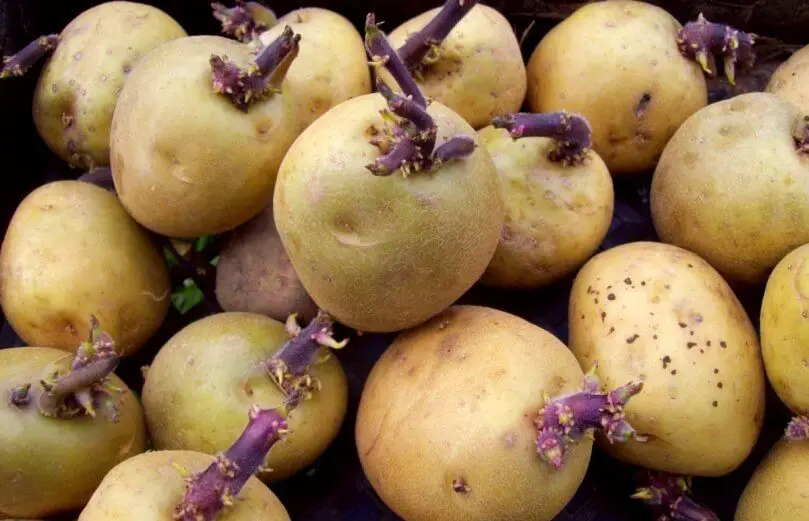 Step-1:
Cut the selected seed potatoes in two or three pieces. Every piece should have at least one sprout. After cutting, the potatoes will need to heal and callous by drying a few days.
Step-2:
Fill up your container with four to six inches of compost. Be careful about the quality of compost, because the growth of potatoes will depend on it. You can also use pots instead of the container.
Step-3:
Place the pieces of potato on the top of the compost, so the sprouts or eyes will point upwards. Use the maximum of three sprouts for 12-inch diameter.
Step-4:
Now cove
r the sprouts with another five or four-inch of compost. Then, water the soil carefully. After that, wait for the plants of the potato to come up above the soil level.
Step-5
This step is known as the "earthing up" process. When the plants of the potatoes come 10 centimeters or 4 inches up above the soil, add eight or more centimeters of compost. Continue this process until the soil reaches the top of the container.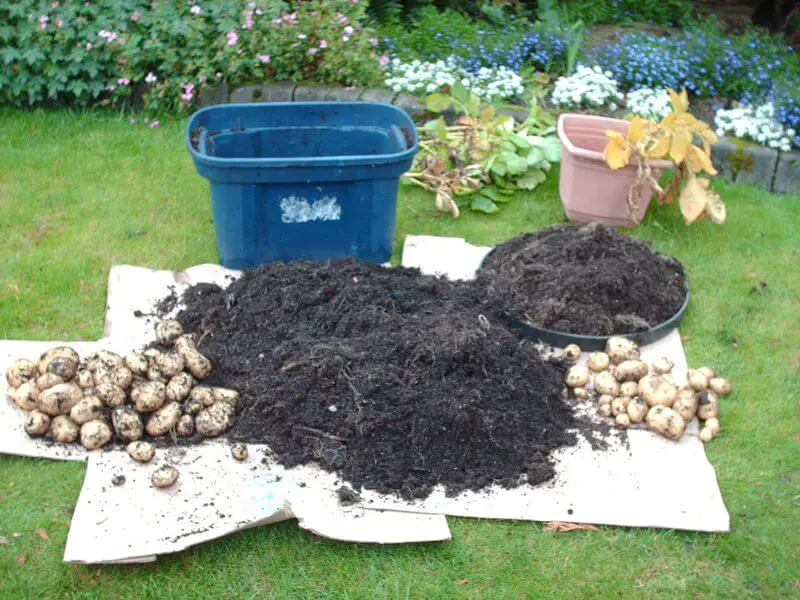 Feeding and Watering Container Potatoes:
Watering is a very important part of the process of how to grow potatoes in a container. The growing potatoes will need continuous watering for the right level of moisture. Thus, the plant will be dead if the soil became very wet or dry out.
It will be better if you have a reliable irrigation system. And if you haven't any, then you must be disciplined and always keep an eye on the soil regularly. Besides, you have to water at least two days on the soil every day.
You can use nitrogen fertilizers but they will result in lots of foliage at the expense of potatoes. Instead of using nitrogen fertilizer, you can add blood and bones of two fishes as the natural fertilizer in the soil.
Disease and Pests
There are some diseases of potatoes which may occur after planting. These are Blight, Aphids, and Flea Beetles, etc. Blight is one of the common of them. It can spread and ruin your potatoes and other crops. To save your potatoes from this disease plants other crops away from the potatoes. So, in the time of selecting compost, select organic compost instead of artificial fertilizers. Artificial fertilizers attract more pests.
Harvesting Container Potatoes
The potatoes will be ready for harvesting after the plants start to turn yellow. They will provide a green crop after becoming ready for harvest. Send your hands into the soil and give a search around. If you feel that any potatoes are ready for harvesting then pick them all one by one. The green potatoes are poisonous, so avoid them. If you feel the potatoes are not ready for harvesting, then simply leave them in the soil. The plant will generally continue to grow larger.
Freshly harvested potatoes are very good for eating straight away. If you are going to store them, you have to dry them a little bit. You can dry them by putting them under the sun for one or two hours. Then, place them in a paper or cloth bag and store them in a cool and dark place.
Potatoes are the most eaten vegetables in United States and fourth-most eaten crops in the world. Potatoes are tasty and healthy at the same time. Thus, the full process of growing potatoes is interesting too.