Last Updated on September 6, 2021 by Gary Stephen
Those who have back or a joint problem they only know how painful it is to clean a messy lawn all day round. Ohio steel lawn sweeper review is for them to know they can clean all the unwanted grass/debris in an easier and faster manner straight from their seating position.
Most of the users who have used it gave it a good rate. This unit built to last long has excellent build quality and doesn't require frequent change. Nonetheless, it can hold a large capacity for debris and won't be rough traveling on tall grass lawns too.
For Whom is the Ohio Lawn Sweeper Designed?
Who are tired of cleaning a large yard manually to keep a lawn neat and clean, ohio steel lawn sweeper is one of the great solutions for them. Ohio Lawn Sweeper is for them who are looking for a model manufactured in the USA. If you want the best pick up capability, then it will be the right choice. We all know when fall season arrive leaves become dry and starts falling.
In general, a lawn gets dirty due to these dry leaves, and one needs a garden tool to clean the space. If you think raking leaves is none of your jobs, then Ohio steel lawn sweeper review would be helpful for you. To save your energy and money, you will need this lawn sweeper. Getting one, you can collect the leaves faster.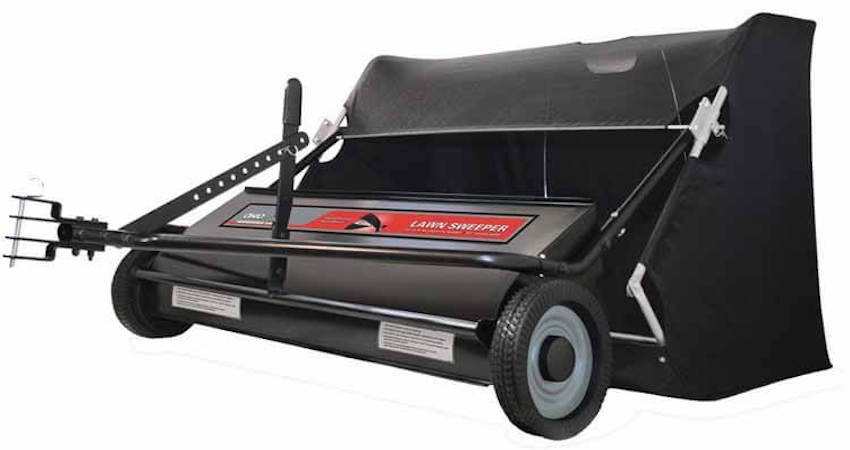 Ohio Steel Lawn Sweeper Specs
Sweeper Weight: 102 Pounds.
Sweeper Width: 50 inches.
Any Assembly Required: Yes.
Batteries Required: No.
Tear Proof: Yes.
Dimensions: 57.5 x 17.5 x 12.5 inches.
Hopper Capacity: 50″/26 cu. ft.
Any Warranty: Yes, three years.
Features of Ohio Steel Lawn Sweeper Review
It's not easy to buy the best lawn sweeper because lots of variation exists. Different models are there when you intend to buy a new one you have to choose one according to own your requirement. They have varieties of size, price, and features so on. Remembering the fact, we have added here some prominent features of this lawn sweeper so that you can identify quickly why this model is better than others.
50″ Spiraled Polypropylene Brushes
Ohio steel lawn sweeper comes with 50 wide, pull behind lawn sweeper covers. Besides this, it also has 11 wide spiraled polypropylene brushes. There are very fewer models; you could find that provides this size width. The advantage of getting this width is it can catch a large amount of grass and debris.
According to the manufacturer, these brushes are a patented feature and these only exclusive for Ohio sweepers. Henceforth these brushes can turn on a 4.5 to 1 brush to wheel ratio, that's a plus point for you.
Emptying the Hopper is Easy
Comparing with other models, Ohio Pro 50SWP26 is more effective because of its patented spiral brush. In this addition, the feature let the machine sweep leafs and debris more efficiently than before. Thanks to its heavy-duty 26 cubic foot collector bag. In fact, this makes it a breeze to clean a lawn faster and save a lot of time for you.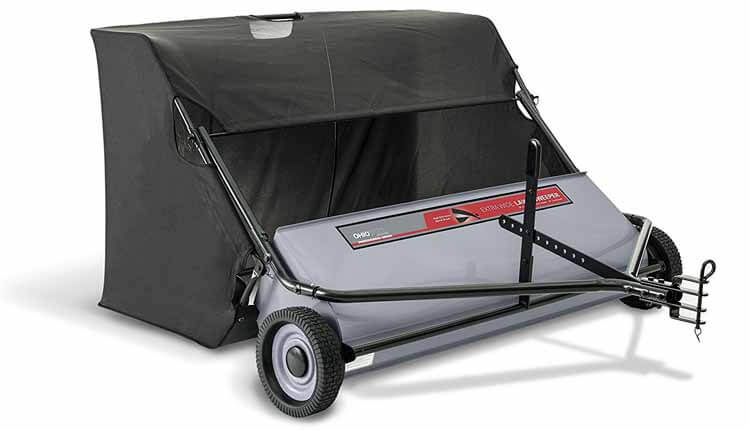 Sturdy Construction
No wonders the machine has a well-built body. You may already know Ohio is the manufacturer who has a good reputation for selling high-quality garden and lawn equipment. All the products they brought to the market have its highest longevity. The brand never compromises with its quality. Even each item they bring in the market contains the top consumer convenience. So you can be sure that you don't have to change this machine one a month later after purchase.
Easy to Use
Do you know what makes it different from others? Well, that is it's easy to use feature. You don't need to come down from your seat to empty the bag. Instead, you can do it just by pulling the rope from your seat without putting much effort. Another prominent feature is it comes with a five-position hitch adjustment that is very rare in other similar models. The benefit comes from this feature if needed you can use it with a wide range of tractor models according to your purpose. Therefore, it will save your expense from buying any extra attachments in future.
Pros
Very easy to use and handle.
Heavy-duty sweeping machine.
Excellent pickup capability.
It comes with a hitch pin.
Patented spiral brush design.
Has five-position hitch adjustment.
The Size of the sweeper is 50 inches.
Cons
Reported as no lock on the brushes.
Alternatives/Similar Lawn Sweepers
In between $400 you will also get some other similar kinds of lawn sweepers available in the market. You can check some other lawn sweepers; it helps you to decide which suits you most. Some of them are-
1. Agri-Fab Push Lawn Sweeper(Check on Amazon)
It is light enough to hang for storage. Moreover, Agri-Fab 45-0218 26 Lawn Sweeper is now one of the best sellers on Amazon; most of the users gave it good rate for its high sweeping performance and durability.
2. Karcher S650 Outdoor Push Sweeper (Check on Amazon)
Our other pick is Karcher S650. A well built outdoor convenient push sweeper. In particular, it has two-stage height adjustment facility. It's an excellent choice if tired of your old sweeper for having a perfect lawn sweeping.
3. Brinly STS-427LXH Lawn Sweeper
Technically, it has a large forty-two inch working width. Not only has this come with high-velocity brushes that make sure it can pick up the maximum amount of debris each time.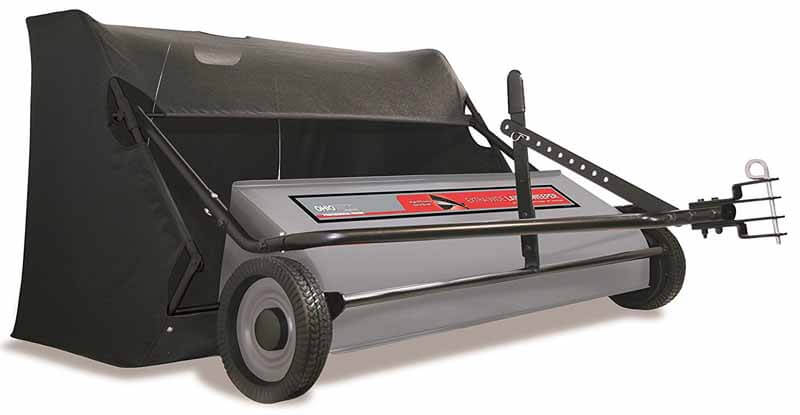 Frequently Asked Questions (FAQ)
Question: Can I empty the grass without getting off the lawn mower?
Answer: Yes, by pulling the dump rope you can do this.
Question: How well does it work with pine needles?
Answer: Excellent, it can pick up pine needles, small sticks, and pine cones.
Question: Has this lawn sweeper any warranty?
Answer: Yes, it has three years warranty.
Question: Does the catch part ride on the ground?
Answer: Yes, you can set it to ride just above the ground if your lawn is pretty flat.
Final Thought
Try to read once ohio steel lawn sweeper review. Moreover, the lawn sweeper is easy to use and emptying the bag is simpler comparing with others. In fact, none you need to pull the rope on the tractor seat even requires to bend or moving from your position. However, to keep your lawn clean and enhance its beauty you must try Ohio Steel 50SWP26 Pro Sweeper.