Last Updated on June 25, 2022 by Gary Stephen
The most important element that plays a crucial role in determining your garden's landscape is its framework plants. Often referred to as bones, they provide a definite structure to gardens. Garden planners combine their knowledge of horticulture and architectural landscaping to make gardens voluminous and eye-catchy. The garden framework is generally made of sturdy plants with excellent foliage. Dwarf evergreen trees are the best landscaping shrubs. They can fill up the garden layout all year round. Be it any climatic condition, from scorching heat to snow, the dwarf evergreen trees will remain intact and maintain your garden's appearance.
The use of dwarf evergreen trees for garden landscaping is a time-tested concept that has been in fashion for centuries. Modern home gardeners have acquired a taste for classic garden frameworks that incorporates the use of evergreen trees. These shrubs have now dominated the market with their new varieties featuring vibrant blooms and prolific leafage.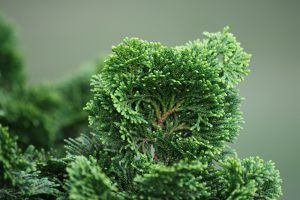 If you are in search of dwarf evergreen trees for your garden, then you have come to the right place. We have compiled a vast list of the best dwarf, evergreen shrubs for your garden. In this article, we have discussed at length all evergreen shrubs that will remain healthy, even with low maintenance. Though such a feature seems unachievable, several plants contain all such hard-to-find traits. Such trees make a beneficial addition to gardens of all shapes and sizes. This is because they remain as good as new even without constant pruning or watering. Since they are dwarfish, they will not ruin your garden with abnormal root outgrowths. We will discuss the benefits of choosing dwarf evergreen trees over other alternatives in the following section.
Why use dwarf evergreen trees as garden "bones"?
There are many benefits to having dwarf evergreen trees in your garden.
They have an inherent small frame and with no effort on your part to maintain their short stature.

The dwarf variety of such trees has very little or no growth and does not need trimming.

Their thick canopy will create a thick screen of voluminous leafage around your garden and offer privacy.

They are very easy to replant and install and do not have any protruding roots and branches.

Coniferous trees attract many birds, providing a quality zone for their winter habitat. This will create a beautiful ecosystem in your garden and around your house. What's better than watching birds live happily in your garden?
You can achieve a beautiful garden landscape without wasting time on gardening. They have a high level of sustainability and low maintenance.

They come in many exotic varieties for you to choose from. Each has its own charm and can transform your garden into a magnificent landscape.
The best dwarf evergreen trees for garden landscaping
This is a very popular ornamental tree of high-grade timber that is a native of Taiwan, Japan. Isn't the name just beautiful? They are well known for their excellent density, which serves as a good quality screen for your garden. It has a unique conical shape and its feathery foliage enhances its appearance. This shady tree can withstand extreme winter conditions of up to -30 degrees Fahrenheit without the need for any special care. The stunted or dwarf variety of this tree grows up to 10 to 12 feet in height and 3 to 4 feet wide. The only thing you need to provide is a good sunny spot and well-drained soil. The Hinoki cypress is a gorgeous variety of dwarf evergreen trees and will be a good choice for large-scale gardens.
2. Blue Wonder Spruce.
This petite evergreen tree is a standard choice for hedgerows because of its height of 6 feet. They are also only three feet wide and thereby occupy a small land space. It offers shade, and privacy as well as adds beauty to your garden with thick its silvery-blue leafage. Its compact shape and leafy branches will enhance the look of your doorways and porticos. This little tree is not only good-looking but is also very hardy. It can withstand temperatures as low as -40 degrees Fahrenheit and will thrive even under thick layers of snow. This is a very slow-growing dwarf tree and is sometimes used as ornamental shrubs as well as garden bones.
As its name suggests, the pencil point juniper is an elegant-looking slender variety of dwarf narrow evergreen trees. Its packed foliage gives it a voluminous look. You can prune these slow-growing plants into the shape and size of your preference. This feature makes them an ideal variety for being grown as garden boundaries. It only grows up to 5 feet in length and is only 1 foot wide. This plant bears brilliant blue-green needles and thrives best in zones that get a good amount of sunlight. Its compact size and columnar shape make it an excellent choice for small-scale garden areas. This is a very sturdy variety and can withstand temperatures as low as -40 degrees Fahrenheit. The most striking feature of the dwarf pencil point juniper is the blossoming of blue-colored berries during the autumn. This will add an ornamental value to the plant and make your garden even more gorgeous and vibrant.
4. North Star Dwarf White Spruce.
This branched and packed dwarf evergreen tree can thrive in both high and low altitudes. It is a proper cone-shaped coniferous tree with light green pine needles. This hardwood tree has many qualities that elevate it up the chart of resilience. They can withstand frost and remain intact even at -50 degrees Fahrenheit. This variety requires little or no maintenance and can thrive within a range of full to partial sunlight. There aren't any specific soil types for this North Star dwarf white spruce. But they grow well in soils that don't allow water stagnation. The North Star is a refined specimen of compact evergreen trees which is ideal for large garden areas. Their bright color and uniform shape make them perfect for mixed plant beds and garden borders.
This variety of dwarf evergreen trees is also known as cowtail pine because it resembles an upturned cowtail. It's a shade-loving tree that grows up to 8 feet tall and 3 feet wide. Unlike other sturdy evergreen trees, this can only withstand temperatures up to -10 degrees Fahrenheit. Soit is more suitable for planting at lower altitudes and cool regions. This non-flowering trees best ornamental aspect is its color and shape. It produces about 2-inch long dark green pine needles The Japanese plum yew packs at the bottom and it gets spaced out on top. This unique design makes it a good show plant for small-scale gardens. It thrives best in hot, humid, and shady spots and can also tolerate full to partial sunlight. This dwarf yew tree can go on without any maintenance or pruning. A single trim before the onset of winter will last a long time.
Characterized by dark glossy leaves instead of pine needles, the little gem
is a non-coniferous evergreen tree. Like its larger variety, dwarf southern Mongolia produces fragrant white blossoms. They bloom during the transition period between spring and summer. In cooler regions, it may yield a second batch of flowers during autumn. This makes it a desirable show plant. Its shiny leaves exhibit a host of dark colors that highlight the large white flowers. The little gem may grow up to a height of 20 feet and serve as a good framework tree for large-scale lawns and gardens. Its shape is roughly pyramidal and has medium but dense leafage. Since this species is native to the warmer regions of the southern hemisphere, it can only withstand cold up to 0 degrees Fahrenheit. Though the shade is more preferable, it can thrive in a wide range of sunlight conditions. It can grow well in hot and humid conditions, unlike many other evergreen trees. This beautiful evergreen dwarf tree is of high ornamental significance and its low maintenance makes it the most desirable option for your garden.
7. Chalet Swiss stone Pine.
The Swiss stone pine tree is conical in shape and resembles an upright pine cone. It is a compact and packed tree that only grows up to 8 feet in length and 4 feet in width. This slow-growing tree is ideal for lining your patios and is also best suited for garden landscaping. It has a columnar growth and its uniform upward curved branches give it a molded look. The tree produces long blue-green needles that impart a feathery texture to the tree. The branches are well packed and uniformed that do not need any amount of pruning. This sturdy tree can bear temperatures as low as -40 degrees Fahrenheit. The sight of colorful pine cones amidst the green foliage imparts an ornamental attribute to it. It is one of the finest species of dwarf, evergreen trees. Having them in your garden will add an exotic look to it without any maintenance on your part.
8. Green Penguin dwarf Scotch pine
.
Going by the name, the tree's structure resembles that of the fictional green penguin. It is thick from the bottom up to a certain height and curves into a tapered top. This tree is rich in diversity as it has feathery juvenile needles outlined with thick older needles. This slow-growing, hardy evergreen tree only expands up to 2 inches per year. This tendency eliminates the need for constant pruning and offers low maintenance. It is a resilient species that can withstand cold up to -40 degrees Fahrenheit. This dwarf evergreen tree grows only up to 6 feet in height and 3 feet in width. Thus it makes a perfect choice for hedgerows and garden bones. Its bright bottle-green hue and unique shape will become a noteworthy element of your garden.
The dwarf black pine or kotobuki is native to Japan and other Asian regions. It is one
of the most petite varieties of dwarf, evergreen trees and is best suited for small scale gardens. The kotobuki grows well in cooler regions and can even withstand up to -20 degrees Fahrenheit. This tree reaches the height of 4 feet and is 2 feet wide at maturity which makes it best suited for containers. Owing to its well-defined features, a single kotobuki is very attractive. You can either use it as a filler plant or make it the primary ornamental highlight of your garden. You can use its unique and artistic structure to line your doorway or beautify the patio. Apart from these uses, this versatile tree is also good enough for landscaping purposes.
10. Dwarf Serbian spruce.
This dwarf tree has a distinctive conical or globe-shaped mound with dense foliage. Its glossy blue-green needles and compact shape grants it immense ornamental value. Not only is it good for landscaping, but it also serves decorative purposes like bearing Christmas lights. The best aspect of this tree is that it does not grow beyond 5 feet and has a width of the same dimension. Another aspect that makes it a popular show tree is its slow-growth marked by a 3-inch increase per year. Its firm branches compressed with silvery green pines will also make it a brilliant choice for an outdoor Christmas tree. This sturdy dwarf spruce can bear low temperatures up to -40 degrees Fahrenheit. You also don't need to prune them to maintain their uniform shape as they are dense and conical or roundish.
Weeping evergreen trees and their efficient landscaping qualities
Another variety of plantations suitable for garden landscaping are the weeping evergreen trees. The major distinction between the dwarf evergreen trees and weeping evergreen trees is their structure. The branches of the former stay upright while that of the latter droops and resemble a slouched, weeping posture. The dwarf varieties of these plants impart an exceptional pattern to your garden area. You can mold them into any framework, like entwining gateways or droop low over other shade-loving show plants. The weeping trees' slender and loose hanging boughs make an amazing screen of pine needles. These branches weigh down the trees, so most trees grow in a swirling fashion with the foliage hanging around like fountain water. Such trees will promote greenery throughout the year and become the highlight of your garden with its fascinating appearance.
Some wonderful varieties of dwarf weeping evergreen trees for your garden:
1. Dwarf Weeping Spruce Tree
.
The dwarf weeping spruce trees are native to mountainous regions that are suitable for the growth of stated trees. These plants produce elaborate loose hanging branches that expand the trees foliage up to 10 feet. Weighed down by heavy branches, they can grow a height of 3 feet. They only grow 3 to 6 inches per summer after reaching its standard stunted height. It's a low maintenance tree that only requires care during summer and you may leave it for its entire lifespan. The weeping spruce is a sun-loving species of dwarf, evergreen trees that need up to 6 hours of direct sunlight every day. Though it prefers acidic soil, it is resilient enough to grow in adverse conditions and soils of other variety. It may thrive in shady and wet zones but that would affect its natural lifespan. The best season to plant the dwarf weeping spruce is summer and needs regular watering for the entire season. They thrive in cooler regions and cannot stand humidity and heat. You can use them as garden bones and also place them across railings for a canopied effect.
2. Weeping Eastern White Pine
.
This dwarf weeping pine tree is also known as Pendula because its hanging branches bear a striking resemblance to a suspended pendulum. It has a grey bark, which often remains hidden by the thick, close-hanging foliage. It bears soft and dense clusters of blue-green needles. The color of the needles varies from tree to tree and the bluish-green hue appears more vibrant in the winters. This phenomenon does not apply to every subspecies as some lose color midway. These slow-growing dwarf trees mature at the height of 6 to 12 feet and its sprawling branches sweep the ground. Since these weeping evergreen trees do not have any definite shape, you need to offer support to the branches. You can even train them to grow in a specific direction and create a creeping screen across your choice of garden area. You can train them to raise up to a few feet and arrange across other frames to display the foliage. The pendula is of a high ornamental significance and you can make it your garden's focal point. It can grow in both sunny and shady regions making it ideal for cooler regions.
3. The blue weeping Colorado spruce
.
This small weeping evergreen tree is one of the hardy varieties of garden plants. You can give any shape and arrange its bright blue pines and hanging branches any way you like. It is a very fast-growing plant that attains maturity and stops at about 10 feet high. It can grow up to 5 feet to 10 feet wide and produce thick foliage that you can mold as per your preferences. This tree will add beauty to your garden space with its unique color. Though they grow and thrive in extreme sunny spots, they can also withstand some shade.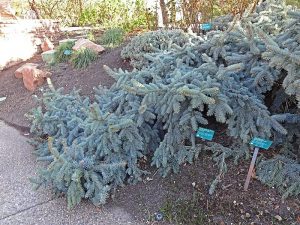 4. The andean gold saw-toothed Azara
.
This dwarf, evergreen plant, is native to certain regions of Chile and along the northwest coast of the Pacific Ocean. It grows up to around 12-13 feet high on maturity and its lush leafage and summer blooms impart an exotic look to it. The flowers are deep yellow in color and appear in thick clusters. It thereby raises the ornamental value of the tree by leaps and bounds. Apart from these, the tree also bears single-seeded white berries at the end of summer. The sweet-smelling off-season blossoms will perfume your entire garden area with a sweet aroma. Their large waxy leaves of darker overtones highlight the bright blooms and make it eye-catchy. The leaves have a distinctive saw-teeth-like margin that gives it the unique name of 'saw-toothed' Azara.
5. Weeping blue Atlas cedar
.
This variety of dwarf evergreen trees is ideal as the primary decor of your garden landscape. It is a coniferous plant with long weeping branches that yield cool blue needles. This tree grows up to 10 feet in height on maturity and its branches may spread across 15 to 20 feet. Its dimensions and shape increases its ornamental value and also enhances its versatility. You can train the blue Atlas cedar to grow and occupy any space like garden fences, walls, and fountain areas. Managing and directing the growth of its foliage from a tender age will enable you to get any artistic effect using the sweeping branches. This tree is a true cedar and prefers full to the partial sun; yet, it can withstand some shade too. It is a slow-growing variety that also produces small pine-cones in spring. The weeping branches laden with dense icy blue pines offers a waterfall effect and makes an excellent addition to your garden landscape. 
6. Green arrow weeping Alaska cedar
.
This dwarf narrow evergreen tree is an ideal choice for garden landscaping. This slender evergreen cedar tree only grows 1 foot wide and 20 feet tall. It is this narrow structure that makes it suitable for small gardens and even compact backyards. The weeping green arrow is a sturdy tree that can bear low temperatures up to -20 degrees Fahrenheit. Despite its hardy features, the cedar tree has a subtle exterior owing to its feathery foliage. If you need a small area garden landscaping, then the green arrow is perfect for you. Not only will it offer an adequate framework but also conserve space for filler plants and other ornamental vegetation.
Help, my evergreen trees have winter burn!
Winter burn is, unfortunately, a common issue with evergreen trees, and often results in browning foliage, causing plants to die in extreme cases. But what to do to save your beautiful evergreen tree? We recommend pruning out dead or damaged tissue of your tree in mid-spring after new foliage is produced. If the new foliage don't make an appearance, scratch the bark to see if there is any greenery underneath. Besides, if you find a patch of green, it is likely that new foliage will still peek out. If not, the branch is likely dead and should be pruned until it reaches a new bud or branch. Give it a few seasons to get back to its normal self, but if an evergreen is completely brown recovery is unlikely.
Call Rocklin arborists to prune your trees
Conclusion
Using dwarf evergreen trees for garden landscaping is an investment with high returns. Once planted, they will flourish in your garden and be at your service throughout their lifetime. We hope you've enjoyed this thorough assessment of the best dwarf evergreen trees, and that it helped you to determine the best variety of trees according to your preferences. Without any further delay, revamp your garden with a wide variety of small evergreen trees. Transform the space into an ethereal zone with the trees ornate glamour and innate versatility. Here's to luscious beauty!