Last Updated on June 25, 2022 by Gary Stephen
It can be difficult to pull inspiration out of thin air when it comes to thinking of ways to use yard space. On the other hand, it is always too easy to just let it go unused and ignore the potential for turning it into a usable and beautiful feature of your home. This guide was made to give four vastly different suggestions to use your outdoor space. The idea is that regardless of what stage of life you are in, you should find an idea here that gets you excited. From planting a beautiful rose garden to creating an outdoor kitchen space, building a kids' playground, or a meditation garden, we have all the inspirational ideas you need to get going on creating the perfect garden.
Discover Your Green Thumb in This Yard Space
Planting can be therapeutic and a great chance to explore your creativity. You can create a beautifully sculpted shrub, a neatly-designed rose garden, or a wild and wonderful overgrown ecosystem in your yard. Whatever your personal interests and likes, you can create a garden for yourself that expresses your individuality.
Get inspired by gardening magazines, online blogs, and other people's creative lawns. You can even go all-out and buy (or make) garden ornaments, like gnomes, wind chimes, or bird boxes. With the latter option, a whole new world of bird spotting is also open to you. For nature lovers who want to make the most out of their outdoor space, creating a beautiful garden full of life is a great use of the backyard.
Create An Outdoor Cooking Space
You might think that you need a sizable space in the backyard for this one, but realistically you can make the ideal outdoor cooking space with just a small surface area. All you need the room for is a grill and a small amount of surface space for preparing and serving your delicious grilled meals. You can create a special outdoor kitchen for the shape and size of your garden, using the materials and garden furniture that suit your home's style. Research design ideas online to get the creative ball rolling.
If you have ample space for an outdoor kitchen, you can include a seating area and tables so that the space can be used for dinner parties and events, like birthdays or graduations. The more space you have to fill, the more outlandish your outdoor grill area can become. But remember, you can make the perfect little outdoor kitchen with a very modest amount of room as well. 
Got Kids? Make A Playground Right At Your Yard Space!
If you have outdoor space that goes unused or that you think has the potential to be so much more than it is right now, you should consider turning it into the ultimate playground for your little ones. You can spend as much or as little as you would like on your personal playground. Low-budget options for fun include creating small mounds, simple shelters, or water features in the garden for a natural playground. Or else, get a swing tennis set, plastic or inflatable paddling pool, and games like frisbees, balls, and dress-up clothes.
For a more dramatic change, you can get a trampoline, either a small one-person trampoline or a large multi-user option if you have a big family and a bigger budget. A swing set is another popular choice for at-home playgrounds, and even climbing frames with slides if you have the space. Finally, a sandpit always goes down a storm with the little ones. Make your garden a thrill for your kids with any or all of the above options.
Multi-Purpose Tranquil Yard Space
If you live a busy life and need a space to relax, breathe and spend quality time with nature, you can create a tranquil garden space in which you can unwind. This space can be as simple or as intricate and planted as you like, but we recommend that you save some open space that you can use to do yoga, place an easel for art, or a lounge chair for simple quiet contemplation.
Use this outdoor space to find peace and center yourself after a long day of work and being busy. Your personal peace garden is where you go to shake off the day and bring yourself back to a place of stillness.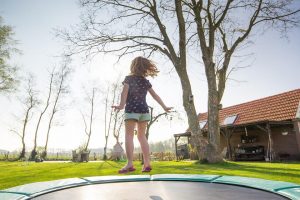 So, whether you want to discover your green thumb, create an outdoor kitchen, build a playground for children, or unwind in a tranquil outdoor haven, your unused garden space is ripe with potential. Depending on your lifestyle, needs, and budget, your garden will take shape and be totally unique to you. It is time to get creative and explore the varied options for your unused outdoor space. Have fun and make it whatever you need it to be!