Lawn Mower is one of the most useful garden tools that must need for your lawn care. A lawn mower is a machine that can be used to cut a grass surface to an even height. It is very hard to cut grass without machine because it takes huge times to do that but with lawn mowers, you can do it very fast. A lawn mower can be broadly divided into many categories. Each of these lawn mowers comes with their own merits and demerits.
However, Many types of lawn mower are available in the market that you should buy depends on the size of your lawn. So, you should know everything about various lawn movers before you make your selection. Today we will discuss different types of lawn mowers that you can use for your lawn care.
Top 8 Types of Lawn Mower
Here we listed some lawn mowers that can help you to know about mowers. After reading this article, you can understand which types of lawn mower you should buy for your lawn care.
Riding Lawn Mower

The main advantage of riding mowers is that the user does not have to walk behind it. They just simply sit on the mower and operate the lawn mower while riding it. The riding mower is best suited for bigger lawns which is more than one acre, and do not have many obstacles like trees, benches, etc. Many types of riding mowers are available for the different purpose. Some can be used to cut large decks, while some are designed with higher horsepower for difficult terrain. The manufacturers provide additional features for cutting grass such as spreaders, a more massive grass catcher, and more. The Riding Lawn Mower is the best lawn mower for large lawns.
Zero Turn Lawn Mower

Zero turn lawn mower is designed specifically for large lawns riddled with obstacles such as trees, benches, flower beds, and so on. As the name suggests, these mowers have a zero turning radius and are remarkably easy to navigate around the toughest of the obstacles. Moreover, they are many types riding lawn mowers and come with a seat for easy operation in large lawns. They can get quite large, and prove to be slightly expensive. So, unless the lawn is larger than an acre and full of obstacles, it is best to go for a more inexpensive lawnmower. Here, you can get the best zero turn lawn mower list for you.
Tractor Lawn Mower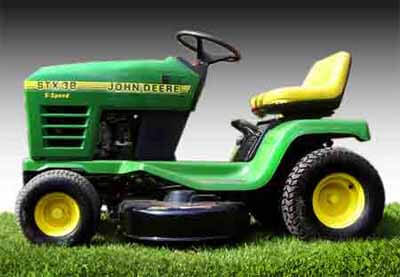 Tractor lawn mowers are among the most versatile and most significant of the lawn mowers. They are built in the image of small tractors and can be used for larger lawns. It has fitted mechanism in the midsection of these lawn mowers between the front and rear wheels. A tractor lawn mower can be additionally equipped with clipping collectors, carts, aerators, and so on, depending on the need. In fact, they are so versatile that users can fit snowplow blades to remove snow or spread seeds on a farm, and so on. They are incredibly useful and can be quite expensive.
Rotary Push Lawn Mower
Rotary push lawn mower is one of the best mowers that make to use of rotating blades to cut the grass. These horizontally blades turn at high speeds to chop off the grass with suck and tear action. It is usually powered by petrol engines, and require the user to push the mower across the lawn for cutting grass. Some of these can be fitted with a rear roller, which can flatten a stripe of grass as the mower cuts through the grass. The flattened stripe of grass reflects light at a different angle and gives the onlookers an illusion of a differently colored lawn. Nice touch. So, this one will be best for you if you have a small lawn.
Push Reel Lawn Mower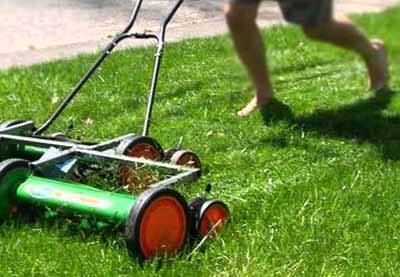 Push reel mowers have multiple blades, ranging anywhere from three to seven which rotate vertically and work perfectly. These push reel mowers cut through grass using the scissoring action. To use these lawn mowers, it requires a lot of muscle to push them around. However, some of them can be tied to a tractor for pushing around. Despite the effort required, they enjoy high demand as the vertical cutting action is great for the health of the grass. Mostly, they are used for small lawns, and a number of them are used in golf lawns too. Push reel mowers do not give good results with thick grass, or badly maintained lawns. However, once the lawn is in control, they deliver the best results.
Electric Lawn Mower
Electric lawn mowers are not a different category of lawn mowers. Instead, the various types of lawn mowers, which generally run on gasoline or diesel, if fitted with an electric engine, fall under this name. So, electric lawn mowers are available in almost every category of lawn mowers. They are powerful, convenient to use, and do not make any noise while in operation. Most importantly, their maintenance requirements are not high either. Today, electric lawn mowers are available in both cord, and cordless. These electric lawn mowers are Eco-friendly too, and they will be a product of choice in the future also. Eventually, it will be the best lawn mower on the market when the technology improves.
Robotic Lawn Mower
Maybe you know about robots. Now the technology is far advanced than past. It has given birth to possibly the most convenient lawn mower that is the robotic lawn mower. These lawn mowers require the users to set up a boundary wire as the perimeter of the lawn, which will guide the lawn mower. The robot mower works overnight, while everybody is asleep.So, you can use your robot mowers when you are sleeping. They are electrically charged and require little work. In fact, when the lawnmower is needed the charge, it will return to the charge station by itself for charging. So, it will save you times. It can also work without disturbing the neighbors with any noise.
Hover Lawn Mower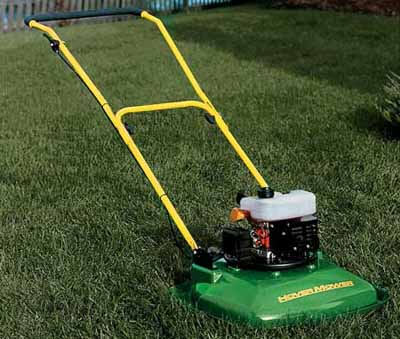 Hover Mowers use the same rotary blade principle as the rotary lawn mowers, but with one big difference. There are no wheels in hover mowers. Instead, they move across the lawn by hovering over the ground. They have powerful sports engines that produce a downward thrust of air, which acts as a cushion and levitates the mower slightly above the ground. They are lightweight, easy to maneuver and work perfectly over steep lawns, irregular lawns, and more. Because of their compact size, they are easy to store in garages too. So, you can choose this mower for your lawn.
Final Words
So, when you will buy the lawn mowers, you should know which types of lawn mower you need for your lawn. If you have a small lawn, you can use push lawn mowers but if you have large lawn, then you must buy riding or tractor lawn mowers.