When you decide to use a Zero Turn Mower on the hill, you should know how to use a zero turn mower on a hill. Generally, Zero Turn Mower is a friendly tool to mow your lawn. It works great and efficient. But, is it safe on the hill? Mowing in the hill slope is always dangerous. You need to be more careful during mowing that type of area.
Is Zero Turn Mower good for the hill?
It is easy to mow the flat area, but what about the hill? Yes, you can use your Zero Turn Mower on the hill though you need more care. But you can control with ease your Zero Turn Mower on a hill slope. You can control the speed and it's careful in turning to avoid injury. That's why you should know how to use a zero turn mower on a hill before starting to use it on a hill. In this article, you can learn more about it.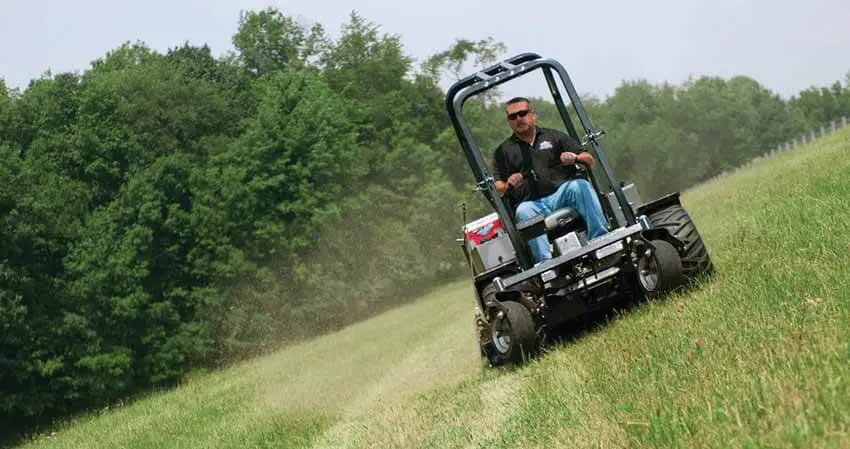 How to use A Zero Turn Mower on a hill?
As it is dangerous in mowing on a hill, you should follow the following steps to mow with a Zero Turn Mower safely. After reading this article, you can use a zero turn mower on a hill for mowing.
Follow manufacturer recommendation
In the recommendation, manufacturers will tell you the degree of the slope for mowing. So, if you read the recommendation carefully, you will be able to know the degree you can mow according to it.
Accurate Steering 
We know that the Best Zero Turn Mower uses the rear wheels for steering. Make accurate control of the steering of your mower. If you need to turn left, you should use the right hand to steer it. When you mow in a slope, your poor steering can cause an accident.
Determine the slope
You can use the slope with a pitch indicator to measure the degree of a hill. A 10-degree slope is easy to control balance. But a 20-degree slope is sometimes difficult to keep the balance.
Treading Lightly
The caster wheels of Zero Turn Mower do not provide enough stability on the hillside. If the tires are less treading, there is a possibility to drop down from the hill. So, check the tires if they provide the best traction. Choose the mower with the wider wheel because it provides better traction.
Speeding up mower is not the solution
Zero Turn Mower is well-known for its speed. But it is better to drive this mower on a slow speed with 15-degree slopes on a hillside. If you drive it at 5 mph pace, it will provide better traction and safe trimming. Besides, avoid sharp turns when you are on the hill.
Control the Speed
When you use your Zero Turn Mower on the hillside, you should check the speed carefully. This mower has the capacity to mow the grass with great speed. But you have to control the speed when mowing on the hill and drive it slow. When you move your mower up or down, you should drive it with constant velocity. If you move it in moderation, it will secure the mower. Moreover, do not make a sharp turn, because then it can cause loss of control.
Take safety gears
Before driving a Zero Mower on the hill, ensure to have the security measures. Drive the front wheel when you mow on a hill with fifteen-degree slopes. You can also slot in the walk-behind model for this purpose. This reduces the risk of injury. Besides, use your seat belt for safety mowing. If you are able to control the speed and steering, you can avoid all the injuries.
Dangers on Hillside
As Zero Turn Mower only has the rear wheel for steering, the front wheels have no steering power. Only front wheels can allow the mower to make a sharp turn. When your mower is sliding on the hillside, the front wheel cannot work to prevent it. So, due to the design, this mower is not good on the hill.
Operate Safely
While mowing on a hill with a Zero Turn Mower, you should operate it very slow and do not make a sharp turn. It is better to mow the grass when it gets dried to avoid any slipping. When you need to go to the uphill, you should go forward at a gentle pace. If you lose control, move backward from off the hill and fasten the seatbelt. Keep all things away from the mowing area.
Conclusion
Actually, It is not hard to mow on the hill with a Zero Turn Mower. The extra things needed here are proper control and more attention. After knowing how to use a Zero Turn Mower on a hill, you can mow there. You can also find more about zero turn mower, check garden tools for your lawn care and gardening.