Last Updated on September 6, 2021 by Gary Stephen
Zero turn mowers are wonderful for getting the job done on flat grassy areas, but it is crucial that you learn how to drive a zero turn mower. The Zero Turn Mower is fast and can cut grass wonderfully, but it has no steering wheel. Although it may sound strange, people like this mower because it is easy to operate. The hydrostatic transmissions of this mower gives it the ability to turn fast and it is easier to control.
Let's jump right into finding out how you should best drive your zero turn mower:
How to drive a zero turn mower?
A beginner may think that it is tough to drive this specific mower, but it is actually not that difficult at all. Simply follow these steps and you'll be driving your zero turn mower like a pro in no time.
Read the manual
After buying a mower, a crucial step is to read the manual step by step. Most mowers have a guide on how to get started. Here are a few other tips you might find handy:
Get familiar with all the controls of the mower
Be aware of all the controls that your mower has. There is an ignition switch to crank the mower into action. The parking brake is for starting the engine. The mower clutch is to engage the mowing blades. In addition, the deck height changes to raise the blade. The steering arms are the replacement of the steering wheel. Before starting your mower, check the fuel, oil, blades, belts, etc. Also, check the tires.
Practice mowing first
Practice makes perfect! Find out a big space, then take your seat and check all the controls before starting. Now, adjust the arms in a comfortable position before starting the engine. Try to grasp all controls in your hand. Move forward and also backward to feel the motion of the machine. When the engine of the mower cranks, you need to push the choke knob in and also pull back the throttle. During rolling, you need to release the brake that is for parking.
Now, push the handles forward slowly and balance them to move your mower straight. When you see that your mower is turning to the left, you need to advance your left arm. When it turns right, advance the right arm. You need to practice it many times to get proper control. But don't worry, you'll get there in no time!
On the Hills
To make a proper turn down on the hill is sometimes difficult with a Zero Turn Mower. But if you make the turn and control the speed, you will not have any trouble. However, do not turn more than 15 degrees. You should mow when the grass gets dried to get the maximised traction and also try to mow up and down.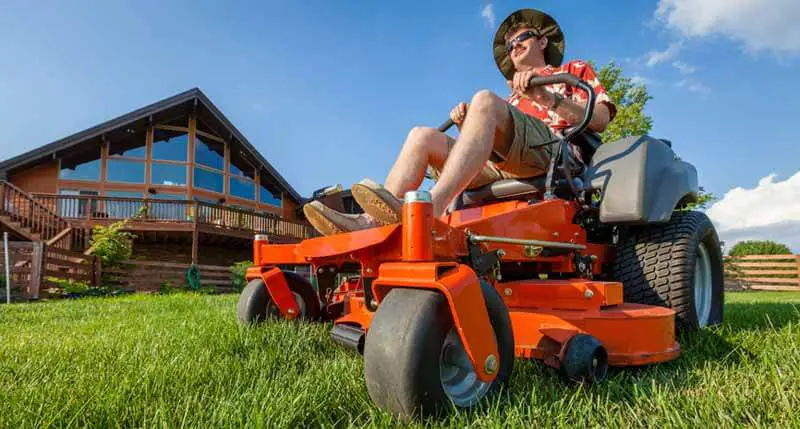 How to stop your Zero Turn Mower
Most of the models of Zero Turn Mower do not have the foot-pedal with brake. My top pick would be the Husqvarna Z254 with 26 HP Kohler engine provides reliable startups and a max speed of 6.5 MPH.
Only the steering handles can control the speed and direction of this mower. When you direct the handle forward, the speed will increase. And when you want to slow the mower,  bring the handles backward. So, to stop your mower, you should push the handle backward; it's as simple as that!
Advantages of a zero turn mower
The zero turn mower is a great lawn mower for personal use. It is also easy to maintain. There are many other advantages of a zero turn mower. Here they are:
1. Increased Maneuverability
This mower contains two handles on both sides of the mower that allows you to control the machine. You can control the direction fast and you can turn 180 degrees without any trouble. So, you can mow your lawn with total confidence using this mower.
2. It is Faster
With this mower, you can mow your lawn within a short time and with efficiency. Also, you can mow the wider area with this machine. That will save you time – who doesn't love that idea?
3. More Efficient
Most of the models of zero turn mower have the ranges of 5 to 30 horsepower. They provide high speed for cutting grass. So, it allows you to mow your lawn with efficiency.
5. Less Strenuous
This lawn mower allows you to ride on it. So, you need less strength to operate it than a walking lawn mower. There is no possibility of get muscle strains when mowing with it. So, you can cover a large area with this mower in a jiffy and in ease.
Final Words
We love the zero turn mower and all its swanky features, but know it can be quite intimidating at first to learn how to drive a zero turn mower. As you can see, it is not that complicated at all, and you can simply follow our easy steps. However, always practice caution when using your zero turn mower, and make sure you are comfortable using it before starting with your workload. To help you in the process, we've also shared a helpful video to show you how to drive a zero turn mower. If you can get it under the knee (which you will soon!), you'll quickly see why we highly recommend this mower for small and medium-sized yards.