Last Updated on June 24, 2022 by Gary Stephen
In this article, let us know more about what this garden hose quick connector can do? What advantages can it offer? And what qualities should you look for when buying one? Plus, we also gladly included some of our top-pick products, so you know exactly which products are worth adding to your cart.
Why You Need A Garden Hose Connector?
For sure, garden hoses are great! It can help with all sorts of chores, from watering the garden to washing the car, bathing the pets, and countless more. But, what you should know is that it is not a one-task-fits-all kind of thing. To get stuff done effectively, you would somehow need to have various fittings attached to your hose too.
Yes, my dear! For every task, there is a chance that you might have to change the fittings. Like for example, it is best to use a mister for your delicate plants. Or perhaps a sprinkler or a soaker for your lawn. 
Meanwhile, you would instead need a more robust water stream for cleaning your patio or the driveway. Hence, it is good to shift to a power jet sprayer for such kinds of tasks. So, you see, different attachments serve different purposes. Along with this is the burden of having to switch these fittings constantly. All the bending and screwing every single time you need to change up can be cumbersome and time-consuming.
Thank goodness, though, the garden hose quick connectors came to rescue you from this trouble. This quick connector is also a type of hose fittings. It is meant to make the "switching" of watering tools faster and easier. Sounds pretty handy, right?
What is a Garden Hose Quick Connector?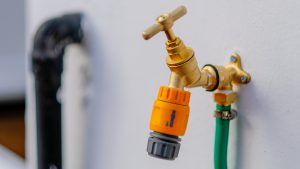 To technically define, a quick connector is a hand-operated garden hose coupling. It is specifically designed to replace a threaded or flanged connection. As you know, such a kind needs some amount of twisting and sometimes may even require a wrench to attach or detach. Thus, a total hassle, especially if you intend to change attachments daily.
The quick connector, on the other hand, is equipped with self-sealing valves. The principle behind its design is simple. It usually comes in pairs, a female socket, and a male plug. The female socket is connected to either the fixture or the end of the garden hose. Meanwhile, the male plug is attached to the nozzle or whatever watering tool you desire to use.
The magic mechanism is within the female socket. It is equipped with a spring-loaded lever. When pushed back, it allows for the male plug connection attached to either the hose or nozzle fittings. Upon release of this lever, it ensures the connection is in place, thereby creating a tight seal. 
Et voila! 
You have a seamless fluid line that is quick to hook and quick to release in just a few seconds— no more bothersome threads. Just a simple push, and you are good to go with your hosting business.
What are the Advantages You Can Get From Using Garden Hose Quick Connector?
Saves your effort
Well, convenience is pretty much the most obvious thing you can gain from using a quick connector. To be honest, this hose attachment is not necessary. You can do away just fine without using any. 
However, it also undeniably makes our lives wayyy easier. And that is precisely the price you are paying for this product. I mean, why bother wasting your effort screwing fittings over and over again when a quick-connect option is available, right? 
It saves your time
Threading the fittings itself takes a few minutes of your precious time. And, if you don't have the luxury to spare some sec, it can be a real test of patience. Using the hose can quickly become frustrating when all you wanted is to get things done ON TIME. 
Nevertheless, the quick connector device is meant to eliminate this issue. It targets to cut down the time it takes in between switches so you can do more tasks with whatever little time you have.
Saves your sanity
In a world that is already full of drama, connecting garden hoses shouldn't be a part of it. You don't need another complication in your life. The quick-connect fitting enables you to tick one more burden off of your list. 
Remember to keep things simple yet effective. And that is precisely what this accessory aims to offer. With this coupler, you are likely to perceive the use of hoses as bliss and not a miss. Do every chore with your garden hose hassle-free!
What to Consider When Buying A Garden Hose Quick Connector?
Material
The material itself of the garden hose quick connector is the primary physical aspect you have to consider. That is because what it is made up of dramatically affects its performance and longevity.
There are two common groups of materials used, which are metal and plastic. The metal, mainly the brass, is the one highly recommended among all kinds. Brass is well-favored for its durability, corrosion resistance, and longer service life. Although, aluminium is also an excellent alternative option for metals.
Plastic, on the other hand, is another popularly used material for hose quick connectors. The main selling point for this is its affordable price point. Moreover, the type of plastics used in the industry nowadays is more vital than decades ago. They are built to have better tolerance to higher temperatures too. 
Although, it is also good to note that modern plastics still are not at par with metals in terms of durability. So, you might want to consider that if you are looking forward to more robust applications.
Pressure Tolerance
The water pressure varies from one place to another. Hence, it is essential to know how high or low the pressure is from your water source. By doing so, you can gauge the capacity of the hose quick connector that would likely be suitable for your tap. 
Water pressure is often measured in pounds per square inch or psi in short. For residential piping systems, the average water pressure is between the range of 30 to 80 psi. Any rating beyond that said parameter is well considered as too low or too high already.
Considering your actual psi rating, you must opt for a quick connector that can competently handle the pressure. The higher its tolerance, the better it will perform and the longer it will last you too. 
An inferior-grade quick connector just won't make the cut when applied to high water pressure sources. Such kind tends to break and leak in no time. In the end, it will just waste the water, your time, and money too. 
Then again, the ability of the quick connector to withstand varying levels of water pressure still depends on a lot of factors. For one, the material has a significant impact on its durability. Again, metals are hands down stronger than plastics. Nevertheless, the design and the size also influence the resiliency of the fitting.
Temperature Tolerance
Temperature tolerance is also a big factor to consider when choosing a quick connector. This refers to the device's ability to withstand hot and cold temperatures. Especially when you intend to use hot water, then this should be highly regarded. 
As you know, not all types of materials can handle intense heat. Plastics, particularly, have lower melting points and have a more significant tendency to disintegrate when exposed to high temps. Metals, on the other hand, have better resistance to both hot and cold. 
Aside from the temperature of the water, the climate is also related to this factor. This is relevant because garden hose systems are mainly used for outdoor applications. Hence, it is worth noting whether your area is all-year-round sunny or, from time to time, experiencing winter seasons. On that basis, you will exactly know which ones are best suited to your environment.
Built-in Flow Regulator
Some quick hose connectors have this feature, and some don't. But, if given the option, it is best to opt for those with such. This functionality is convenient, especially when your quick connector is attached to the hose end with a nozzle.
Having such a feature allows you to manipulate water flow without the need to walk back to the faucet. It is no longer necessary to get hold of the main switch as you can control it directly in the quick connector. Thus, saving you the effort and water wastage too.
Water-Stop Feature
Water-stop is another excellent functionality worth having in your hose quick connector. This feature allows you to switch tools conveniently even when the tap is turned on—no need to worry about water squirting from the end of the hose. The flow will automatically stop when the quick connector is dislodged. 
This is also a great safety feature if your quick connector is accidentally detached. It puts the stream on hold, lesser chances for you to waste the water too.
Corrosion-resistance
Okay, we have been time and again praising the use of metal hose quick connectors. But, word of warning, metals are consequently more prone to attract rust compared to plastics. 
Sadly, metal components are likely to oxidize when exposed to various elements such as oxygen and moisture. And so, corrosion is highly probable to occur whenever these two are. Garden hose systems are no exemptions. 
When rust sets in, it will break down the metal leaving it weak and brittle. Thus, a corroded quick connector is likely bound to crack and leak. Not to forget as well, corrosion is irreversible. So, know that the damage is permanent. No turning back, so it is rather a good idea to get a new one instead. 
That being said, you should go for corrosion-proof metal materials. Quick-connectors made of stainless steel alloy, nickel, aluminium, copper, and brass are the best candidates.
Compatibility
Of course, the entire garden hose system will be useless if it ain't compatible with each other. Hose quick connectors are not a one-size-fits-all kind of thing. Be aware that different brands come in various sizing and designs. Hence, you cannot expect it to outright fit with other brands of hose fittings. 
On this note, it is a must to always check its compatibility with the rest of the system. That may include the garden hose, the faucet, the hose nozzle, and any other water products you intend to use it with. That way, you can ensure that they will fit together even if it is not of the same brand or model.
Additional Accessories
One of the most significant advantages you can get from using a quick connector is the multitude of accessories you can use it with. It is so versatile that you can use it with a standard hose nozzle, a sprinkler gun, and even be connected to another hose to extend the length and a ton more. You can all attach them to your mainline with much ease and convenience.
To make it even more hassle-free, you can buy multiple male plugs and set them permanently to each accessory. That way, you can immediately connect and detach it to your hose anytime you wish. 
Cost
Garden hose quick connectors usually have a price point between $6 up to $25 more or less. This depends on the material used, the quantity, and inclusions like gaskets. Of course, the branding can also somehow add to the value of the product. 
Cheaper ones tend to be more generic and have limited warranty coverage, if there's any. Contrastingly, the established brands are more well-built, well-packed, and have better after-sales services. Hence, it is reasonably expected for them to have a steeper price point.
Although there are plenty of those quick connectors out there that are pretty reasonably priced too. But if you want to save some dollars, you can try to buy in bulk. Packs in sets of 3 or more tend to have a slightly lower price than when bought per piece. 
Warranty
This is another vital thing you should be looking into when buying a quick hose connector. Unfortunately, not all connectors come with it. Cheaply-priced ones most likely do not come with any. However, the more expensive ones almost always have warranty coverage. And to be honest, this is part of what you paid for. 
Like with any other product warranties, they come in different terms and conditions. Some manufacturers provide a complete replacement or refund should you be in any way dissatisfied with their product. Meanwhile, some are offering limited warranties in parts and services only.
The length of validity of the warranty is also an important thing. Some companies are confident to offer a lifetime warranty to their products. But, most of the time, securities are usually delivered between 12 months to 24 months.
Our Top Pick Products for Garden Hose Connector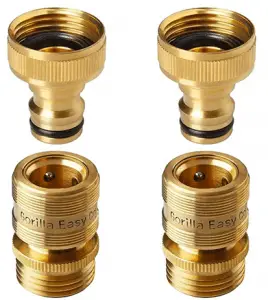 Features:
Constructed with solid brass material

It fits with the standard 3/4-inch GHT connections

With horizontal grooves for better traction and grip

Pressure tolerance of up to 200 psi

With o-ring rubber washer to ensure a leak-proof performance

Suitable for both indoor and outdoor uses

Compatible to use with Gorilla Easy Connect products only

1-year product warranty
Why do we love this product?
There is so much to love about this product. The Gorilla Easy Connect quick connector is made with solid brass metal. Hence, you can assure that it is durable and will last you a long time. Moreover, brass has more muscular tensile strength and so can tolerate higher water pressures. 
Furthermore, Gorilla Easy Connect comes with an ergonomic design. It can be operated single-handedly. Thus, ideal to use for those with arthritic hands or other hand and joint mobility issues. 
Why should you buy it? Best solid brass quick connector.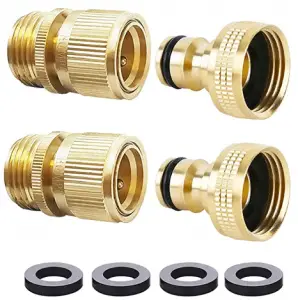 Features:
Constructed with solid brass material

It fits standard 3/4 inch GHT hose connections

Compatible to use with NH American hose thread

Can tolerate up to 200 psi of water pressure

1-handed operation

Includes 4 extra rubber washers

1-year warranty
Why do we love this product?
Here is another brass garden hose quick connector worth noting. It is constructed with solid metal, perfect for heavy-duty applications. This connector can withstand water pressure of up to 200 psi. Know that it is pretty high already for a regular garden hose.
Why should you buy garden hose connector? Best solid brass quick connector alternative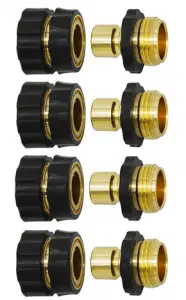 Features:
Heavy-duty

Constructed with premium aluminum metal

Standard 3/4-inch diameter

Universal sizing compatible to use with 3/4-inch connections including hoses, nozzles, sprinklers, and other watering devices

Easy to connect

With rubberized grip design

Suitable to use with cold water only

Best for outdoor applications

3 years product warranty
Why we love this product?
This quick connector from Twinkle Star is one of the best-selling connectors on Amazon. With 4,000+ positive reviews to date, there is no denying that this product truly is reliable. Customers most loved this connector for its ease of use and good value for money.
Why should you buy it? Best aluminum quick connector.
Features:
Compatible to use with either 3/4, 5/8, and 1/2 inch garden hoses 

Constructed with high-quality plastic material

With rubberized grip design

With water-stop feature

Easy to use

Color-coded

Suitable to use with water not more than 115°F or 46°C

Ideal for outdoor faucet use

Limited 2-year warranty
Why do we love this product?
This quick hose connector from Melnor is perfect for those who like to be more organized. It is color-coded, so you know which end goes with what. This is a fantastic idea, especially if you are using hoses and connectors of different diameters.
Why should you buy it? Best plastic quick connector and great for an organized garden hose system too.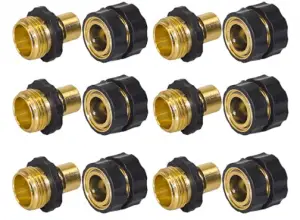 Features:
Constructed with premium aluminum material

It fits with standard 3/4-inch garden hose connections

With rubberized grip for easy and non-slip grasp

Leak-proof design

Includes extra rubber washers

Easy to connect and disconnect

Good after-sales services
Why do we love this product?
Although this Hourleey quick connector is made with aluminum material, it is still well-praised for its durability. It was rated 5 stars on Amazon for its sturdiness. Furthermore, it is a good value for your money. The pack already comes in 6 pairs. So, that makes each count likely to cost you less than $3 only.
Why should you buy it? Best value for money.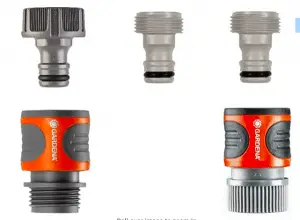 Features:
Constructed with durable plastic material

Fits with 5/8-inch and 1/2-inch garden hoses, sprinklers, and spray nozzles

Compatible to use with Gardena hose end accessories

With water-stop feature

Integrated spring knobs

5-piece set

Made in Germany

2 years warranty
Why do we love this product?
This quick connector starter set is perfect for beginners. It includes everything you would likely need for connecting the tap to the hose and from the hose to hose end accessories. This 5-piece set is made explicitly for the Gardena hose system. Hence, you can expect them to fit all together perfectly.
Why should you buy it? Best hassle-free starter kit.
Wrapping Up
Garden hose quick connectors are the ultimate solution for a fast and easy way to attach and detach connections. From your hose to your tap and accessories on the other end, this tool got it all in control. It is very convenient to use and saves you a lot of time and effort. Without a shadow of a doubt, it is a perfect addition to your garden hose system.