Last Updated on June 24, 2022 by Gary Stephen
There are plenty of more advanced models of log splitters in today's market. Then again, nothing can still beat a trusty good old-fashion axe for log splitting. It may be a plain and simple tool but it still packs a lot of punch and versatility. Rain or shine, winter, spring, summer, or fall, this tool can get through it all! You can pretty much use it to split logs for you any time, anywhere. No need for gasoline, nor electricity. This tool alone, along with some elbow grease, is all you need to create firewood.
Indeed, it is basic yet mighty!
HOWEVER, in order to get the best experience using a splitting axe, there are some things you should first look into. In this guideline, we will discuss valuable factors that are worth considering when buying a log splitting axe. From the types of materials to size, weight, and length, we got it covered here. Plus, we also included our top 5 picks for the best log splitting axes in 2021.
Axe 101 – What You Need to Know
Just to be clear, not all axes are created equal. Yes, all may be good for cutting and shaping wood. But when it comes to log splitting, there is actually a certain design meant for this specific kind of job. The splitting axe is designed to have a larger and heavier metal head. The blade of this axe is shaped similar to that of a wedge. The sharpness of the blade together with the heftiness of the iron head creates a good combo for splitting small to medium logs.
However, larger logs tend to require more effort to break apart. Hence, there are splitting axe models today that are already built-in with maul on the backside of the blade. So, when the axe doesn't seem to effectively cut through, you can use this maul side to pounce over a splitting wedge to give you better leverage. 
On that note, you can think of modern axes much like a 2-in-1 tool. It can offer both functionality and versatility at the same time.
Reasons Why You Should Buy A Log Splitting Axe
Apart from being able to actually split woods, there are other valid reasons why an axe is a better choice than other log splitting equipment. Here's why:
Multi-Function
Yes, axes made for log splitting may come with a distinct design. Nevertheless, that doesn't mean that its functionality is likewise restricted. Despite the slight difference in its look, the log splitting axe can still do the same tasks the regular axes can do.
Other than specifically splitting logs, you can also use it to pretty much cut or chop anything. Although, it may not be as efficient as others, yet it is good enough to deliver a decent performance.
A Log Splitting Axe is Portability
Portability probably is one of the most obvious advantages of a log splitting axe. In terms of weight and size, it is definitely more compact than other kinds of log splitters. Because of this, you can easily bring them anywhere you wish to. 
Furthermore, it does not require electricity or gasoline to get it going. Hence, this makes it a perfect cutting tool to take with you outdoors or even off-the-grid. 
Storage is also not an issue with this tool. They can be simply stowed away in your garage, backyard, or even in the trunk of your vehicle. It would barely eat up space. Just make sure though it is kept safe and out of reach from children to avoid untoward accidents.
Low-Maintenance
Basic as they are, log splitting axes do not need any complicated maintenance routine. Unlike other log splitters, especially the motorized ones, splitting axes do not have moving components. It is a solid piece of tool. And, that makes it super easy to upkeep.
Same with any other cutting equipment, the blade or the axe head is the most important thing to care for. Since it is made from metal, corrosion is its #1 enemy. Dirt and moisture are the primary culprits. Thus, make it a habit to always clean and dry your axe before storing it. Otherwise, rust will end up eating the metal away in no time.
Every now and then, it is also advisable to oil your axe. Coating the metal with oil helps to condition and protect the blade. Moreover, this also enhances the axe's ability to cut faster and deeper into the wood. 
Forget not the handle too. Same with the axe head, make sure to keep it clean and dry every after each use. It should be smooth enough to be comfortable to hold. Yet, it should have a good grip as well to allow you to have better control over it. 
Most importantly, never ever neglect to inspect the attachment of the axe head from the handle. There's no way in the world you would want to take hold of a loose axe head or a slippery handle. Its either you become the target instead of the log. Or worse, you can put the people surrounding you in grave danger. 
So you see, maintaining a log splitting axe may be oh so simple and basic. Yet, you cannot dismiss its dire importance as it affects the tool's integrity, performance, and safety in the long run. 
Environmentally Responsible
This holds very true not just for the splitting axe, but for any manual type of log splitters. This equipment does not utilize gasoline or electricity. Hence, they do not in any way burn fuel and produce carbon emissions. In that regard, it makes the axe and other manual log splitters a more environmentally responsible option. 
Good Exercise
You may not directly think of log splitting as a form of exercise. Then again, that swinging action of your arms is enough to raise your heartbeat, break some sweat, and burn decent amounts of calories. 
Actually, it's not just your arms that are being worked out when using a splitting axe. Your muscles in the upper and lower back, the shoulders, the chest, the abdominals, the core, glutes, and the legs are all engaged to give you a stable stance. Hence, you can well consider splitting woods as a full-body exercise. 
So, aside from being productive, you are actually health-wise benefiting from your physical effort too. It's like hitting two birds with one stone, right?
A Log Splitting Axe has Affordable Price Point
A good quality splitting axe is not entirely the cheapest among all the types of manual splitters. However, it would not cost you an arm and a leg to invest. It is still far far far cheaper compared to buying motorized equipment. So, if you want an effective log splitting tool that won't break your bank, then the splitting axe may just be the right fit for you.
Factors to Consider When Buying A Log Splitting Axe
Axe Head Material
The quality and durability of the head or the blade say a lot about the value of the axe. Material such as high carbon steel tends to be of premium quality. Hence, you can expect such to be stronger, harder, and sharper compared to other inferior materials. 
The coating on the surface of the axe head is also another thing worth considering. Anti-corrosion finishing protects the metal against degradation due to rust. Although it may still eventually wear off from constant use. Then again, it does help to maintain the good condition of the axe much longer than non-coated ones.
Axe Head Width & Shape
The width of the axe head plays a significant role in the efficiency of the splitting axe. The wider the head is, the larger the wood it can cut through as well at a single blow. Narrower axe heads, on the other hand, are perfect for chopping smaller woods. Nonetheless, they are also applicable to use on larger logs too. However, you may need to give the log several strikes to break through it completely.
As for the shape, you may want to choose an axe head with beveled edges. The angling of the metal allows it to be easier to withdraw from the wood. Thus, giving you a smoother flow and lesser struggle pulling the axe off from the log.
The Handle Material of Your Axe Log Splitting 
There are different materials commonly used for splitting axes. This includes the following: hardwood, solid steel, and fiberglass composite.
Hardwood is the most popular among the three. It is so mainly because it is more lightweight. Wood is also a good shock absorber. However, that very same impact also weakens the handle over time. Hence, you might need to eventually replace the axe handle as it wears down and breaks in the long run.
Log splitting axes made with steel are often forged in a single piece. That means the head and the handle are built and connected as one solid structure. The solidness of the material makes this axe extremely durable. However, metal does not fair well absorbing shocks. Thus, be aware that each strike will produce pronounced reverberations.
Fiberglass composite material is somehow a mid-range option. It is as durable as steel but it has better resistance to corrosion and shock. It is also lighter than steel but has more substantial weight than hardwood. The only caveat to fiberglass is its higher cost and poor tolerance to subzero temperatures. 
Axe Handle Grip
The grip is very important when it comes to axe handles. It is a matter of safety and comfort for the user. The better the grip the more safe the handling will be. At the same time, the grip should be able to provide comfort to the user. It must be smooth yet firm to grasp.
Some splitting axes are designed to have rubber grips wrapped around the handle. Meanwhile, some people prefer to have it lightly sanded, especially the ones made from hardwood. Either way, this adds texture and better hold.
Axe Handle Length
Axe handles come in various lengths. The shorter axe handle is suitable to use for single-handed operations. They are best used for chopping smaller logs. Moreover, short-length axes are also great to carry around outdoors as a general-purpose cutting tool.
On the other hand, longer axe handles are more apt to use with both hands. It tends to drive more force. Thus, they are better used for splitting larger and tougher logs.
Axe Log Splitting Weight
The weight also plays a significant factor in the efficiency of the splitting axe. The more weight there is, the more striking force you can deliver. Nevertheless, you should also bear in mind that heavier axes can tire out your arms much quicker. Once fatigued, the delivery of blows tends to be less effective. 
In this case, it is better to choose an axe with a weight that is based according to your own capacity. Never force yourself to use heavy axes beyond what you can handle. This is by any means inefficient and unsafe. 
Versatility
As mentioned earlier, some splitting axe models come with a maul on the other side of the head. This is a very clever way to maximize the value of your money. Multi-function tools like this are also great for saving some space in your storage. When out and about, this also spares you the hassle of bringing multiple tools. 
Our Top Pick Log Splitting Axes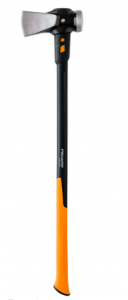 This is a 2-in-1 log splitting tool with both axe and maul functionality. It is made with heat-treated forged steel metal with a rust-resistant coating. The blade comes with optimized geometry to enhance penetration and blast impact.
The Fiskar splitting axe is designed with a riveted head. It vouches to be solid and inseparable. Thus, you can ensure it will not loosen or slide off even when the axe is used in full hard swings. 
This 36-inch splitting axe features a patented IsoCore shock control system. It claims to absorb and minimize shocks and vibrations by up to 2x less compared to wood handles. Furthermore, the Fiskar handle offers a soft-grip that is sculpted to conform to the natural shape of the hand. 
Check the Latest Price on Amazon.
This splitting axe offers an all-steel construction with a forged and tempered metal. Thus, delivering maximum strength and durability that will last you a lifetime of quality service. Aside from Estwing's legacy hand-polished steel, this axe is also available in a special edition black finish. This gives the equipment an ultra-sleek look that is perfect for any outdoor activity.
The handle of this Estwing splitting axe features its patented rugged shock reduction grip. The special edition model comes with a very classy genuine leather grip. This provides a non-slip hold while keeping it comfortable to grasp by hand. 
Of course, a premium axe deserves a premium accessory too. The package includes a ballistic nylon sheath with a belt loop. This holder enables you to protect the hand-sharpened cutting edges at all times. It also allows you to safely carry the axe close to you especially when you are on the go in the woods.
Check the Latest Price on Amazon.
This splitting axe is simply a classic. It features a high-quality Swedish forged steel axe head. It is designed to cut deep into the log with only minimal effort. 
The 30-inch axe comes with a long hickory wood shaft. It is meant to be handled by two hands to optimize strength and power at every strike. 
The package also includes a leather edge cover to keep the axe head protected and secure. The design of the Husqvarna splitting axe is fashioned that of a traditional axe. And with proper care, this will surely last you a long while. 
Check the Latest Price on Amazon.

The Adler super splitting axe is a heavy-duty tool made from C45 carbon steel with a hardness scale of 47 to 55 HRC. It has a unique hollow forged expansion wedge design that helps to improve the integrity of the axe head. Hence, giving you more power at every blow.
This axe features an ergonomically shaped hickory wood handle. It is coated with anti-slip paint to provide a more secure grip. This splitting axe is handcrafted in Germany and was granted the Forest Stewardship Council certification. This expresses the company's commitment towards responsible usage and management of wood and the forest in general. 
Check the Latest Price on Amazon.

The Gransfors Bruk log splitting axe is made to chop up any type of firewood. It features a 5-pound steelhead that is hand-forged in Sweden. It is strategically designed to have a more concave shape. Thus,  enhancing the axe's ability to split woods through and through.
The handle, on the other hand, is made with 27-inch solid wood. A steel collar is being placed just below the head to provide protection against overstriking. Towards the tip of the handle, circular groves are being placed to give the user an extra firm grip.
Check the Latest Price on Amazon.
Wrapping Up about The Best Log Splitting Axe
Bottom line, no matter what era you are from, you can never go wrong with a classic log splitting axe. It is simple, classic, and history will prove its efficiency. But, given the wide array of options available today, you just have to be smart enough to find the right one for you. We hope that this article serves that purpose and helps you buy the perfect log splitting axe.