Last Updated on July 15, 2020 by Gary Stephen
If you are planning to expand your garden in the future at first you should try VIVOSUN Grow Tent. It comes with an observation window. So, you can look after your plants without disturbing the environment you chose for them. The extra reflective surface ensures the light and the energy remains trapped in place. So, the plants can have their necessary nutrition with adequacy. Rather than it has excellent zippers those are important when you need to use them a lot.
The best grow tent also has a removable floor tray. Nonetheless, its beams are very strong and can hold the light panel with more efficiency. Let's know more about what this tent is can do.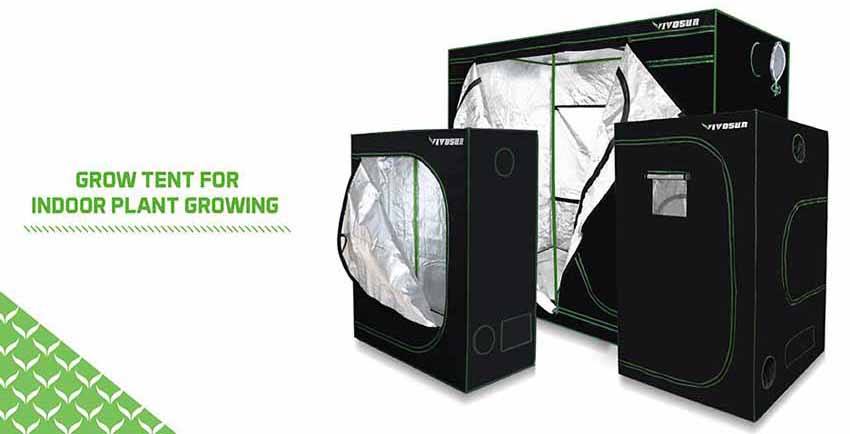 For Whom the VIVOSUN Grow Tent Is Designed?
VIVOSUN designed this Grow Tent for indoor growers. People who are looking for something compact; easy to set up this is perfect for them. To set it up, it requires little to no tools. You can keep the grow tents anywhere according to your choice. Be it in a corner of a basement, bedroom, living room, garage or even in a closet space too. Besides these types of growing tents are discreet and excellent to keep the odors in the least state. It is easy to move from one location to another with a little effort.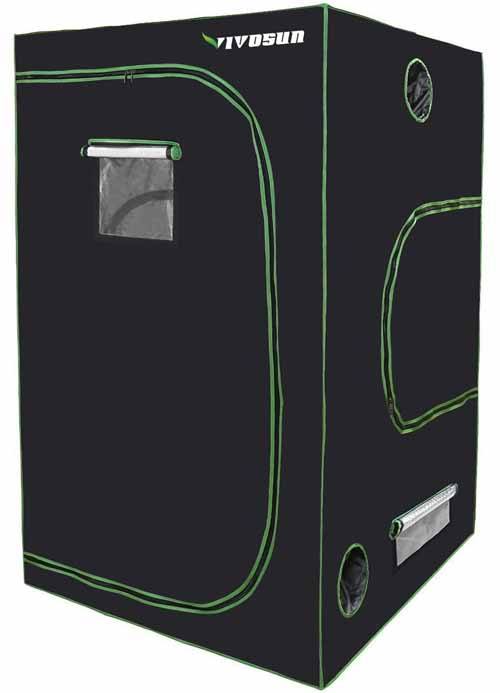 VIVOSUN Grow Tent Specifications:
Grow Tent Weight: 33.1 Pounds
Dimensions: 48x48x80 inches
Is It Portable: Yes
Is IT Waterproof: No
Is It Tear Proof: Yes
Batteries Required: No
Tent warranty: Two-year
To More Specifications – Click Here
Features & Benefit of VIVOSUN Grow Tent
Rather than making a DIY homemade grow tent at home, it is easier to buy a complete indoor grow tent set up. It is quite time-saving and a ready-to-go item.
Extra Thick Canvas
You will be glad to see the exterior of the VIVOSUN 48″x48″x80″ Mylar Hydroponic Grow Tent. It's made of 600D tear-proof materials. At the same time, you will find the interior covered by 95% reflective Mylar lining. Here the manufacturer put everything double stitched so that it can last long. It also ensures that your tent will be secure. It makes sure your plants will never experience any unwanted exposure from outside.
With one touch, you will get the whole idea of the canvas's top quality. The thick fabric and the double quality stitching will not let anything come inside. Do you know where the zippers come from? Well, the zippers come from SBS. In this regard, SBS is the second largest zipper manufacturer in the world. For user's comfortability, the pulls come in a comfortable size, they are all metal and easy to grip.
Easy View Window and Tool Bag
VIVOSUN Mylar Hydroponic Grow Tent has earned a high reputation. They sell first-rate grow tents at a very competitive price. If you can optimize, you can grow more than 32 plants at a time. The reflective screen will help you to concentrate on your plants' growth. You can even track the whole process of your plants through a nifty viewing window.
At the beginning of the use, you might not face the running of cords, venting or irrigation plumbing. Later you will find more access options available. When you already have a tent, make sure its openings are compatible with your venting plans. If you need modification, you will get many zippers available in the market. Make sure those are attachable before cutting the material. In this case, of course, make sure the zippers line up.
Durable Metal Frame
The bigger 600D canvas cover is a solid metal interlocking frame. By the way, VIVOSUN 48″x48″x80″ Mylar Hydroponic Grow Tent is a great indoor or hydroponic grow tent. This is for those who are looking for a lot of ports. In general, the ports come in different sizes. They have two 4-inch ports, five 8-inch ports, and a 12-inch port for ducts with dual ventilation socks. The manufacturer suggests distributing weight very even between the two bars. They also mentioned the bars together could support up to 110 pounds between them.
Checking the quality of materials is important. A grow tent should not have to support much more weight than the light fixture and shell. In this addition the design of the VIVOSUN 48″x48″x80″ is excellent. It has a good quality shell, perfect stitching and will not appear flimsy once you assemble it.
No Light Leaks
The grow tent is light-proof and also blocks all the light from escaping. On top of that, the reflective mylar lining gives an efficiency boost to lighting setups. The door has double flaps to prevent light leaks and keep moisture inside. You can check your plants by rolling up the flap.
Safety Assurance
You should keep in mind that buying a grow tent is not a matter of brand. Rather, it is a matter of different features that will bring benefits. There are many tents in the market don't have the ability to hold up the extreme heat. Sometimes it is important to look for because in a grow tent lots of hot lights hang in an enclosed space. Here many electrical parts stay close to the water. But in this case, you can rely on VIVOSUN Grow Tents. It ensures all these safety matters and will keep your tent safe to use.
Easy Installation
VIVOSUN grow tent is very easy to install. Even if you have never done something like this before, you won't have face difficulties to install it. In fact, you will not need any tools to install it. While installing a tent, try to remember that you need to read the whole instruction well. Before installation, it is advisable to allow some time to avoid mistakes. Sometimes, it is not possible for one person to put together a grow tent. So, you might need to ask for a hand to make the task easier. Here is a proper grow tent setup guide will help you set up your grow tent.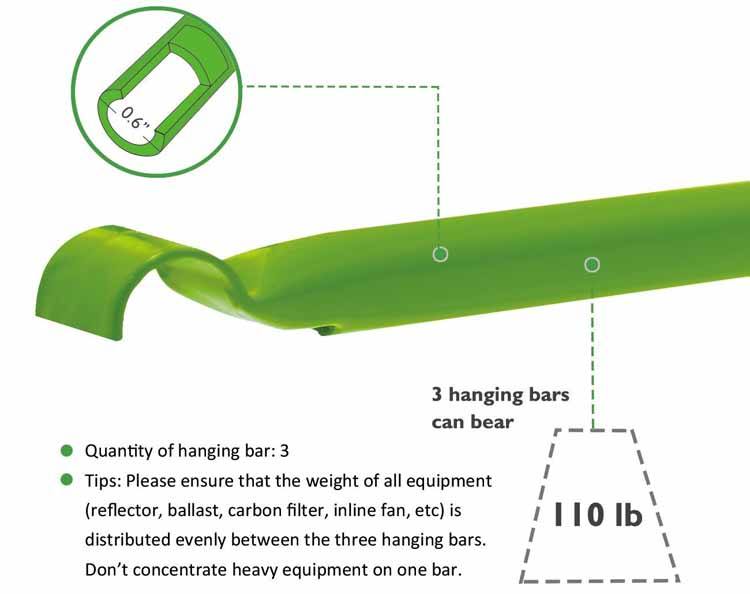 Easy To Use
VIVOSUN Hydroponic Grow Tent is so far one of the best grow tents out there. Once it knocks your door you will start feeling the importance of having a grow tent at your home. Thus, the inside is very reflective and easy to clean. While passing by the tent you can see how well growing your plants are, no longer need to unzip the tent. Then the Velcro is also very strong. According to a few users, a couple of spotlights come through the stitching. They don't feel any problems with their eyes. All in all, it is convenient, easy to operate and maintain flowers.
Those who get tired of the interference of heat or mosquitoes, this is an ideal solution for them. You should learn about hydroponics and then you will realize how easy it is. Further, inside the tent, you will find a nice section of the port for equipment. You will see how plants are growing without disrupting the temperature or humidity. In general, it is possible to grow strawberries, tomatoes, dill, chamomile, basil, etc.
Two Years Warranty
The grow tent is offering two years warranty for its users. It already gained a lot of customer's appreciation and users are very happy with the quality. This is to remind you that VIVOSUN makes great quality products for their prices. One real user claimed in his review that it's customer care service is out of this world. And this is the reason they have gained a lifetime customer. In fact, if you judge the quality with the price VIVOSUN Mylar Hydroponic Grow Tent has, it is incredible.
For More Specifications – Click Here
Doesn't Occupy Much Space
The total dimension of the grow tent is 48 x 11 x 6 inches, it is bigger enough to grow lots of types of plants. Yet your indoor garden might take up more space than the grow tent itself. In this case, for storing your extra supplies or equipment, you may keep them somewhere else. We can only tell about a few items you may need to allow extra space. Such as a reservoir, AC unit, excess grow media, nutrient storage, lighting system, etc.
Always try to remember that an organized garden takes up less space than an unorganized one. As mentioned above, you can keep some defined or dedicated area near the tent. In order for your clutter items to keep it organized and clean.
Pros
Built with extra strong canvas materials.
Assembly only took about 10 minutes.
No tool required.
Comes with a viewing window.
Strong zips for your security.
Reflect 95% of all light with Mylar lining.
Offer two years warranty with 100% customer service.
Cons
Few users claimed about minor light leak issues.
Reported it's quite hard to read the humidity monitor through the window.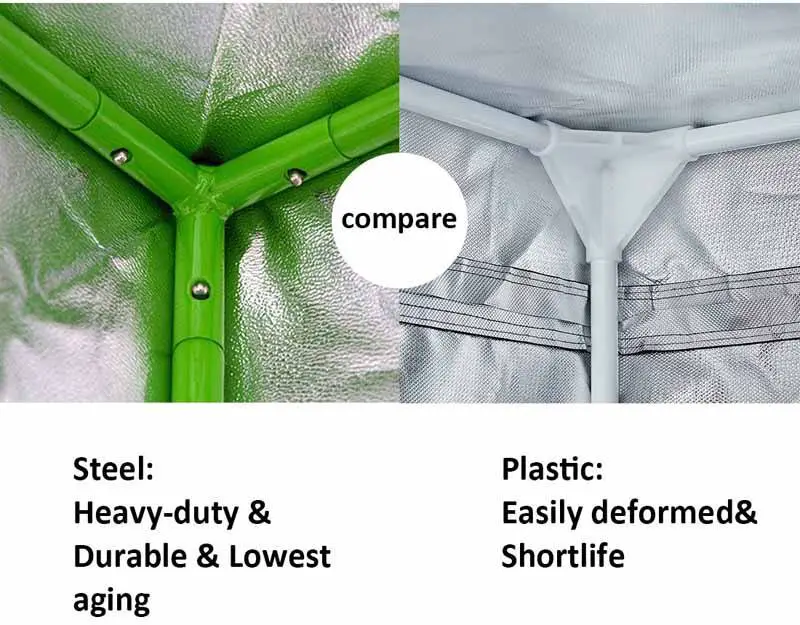 Alternative or Similar Grow Tent:
The VIVOSUN Grow Tent may not meet all your expectations. Then, you can try some other grow tents within in your budget. Mentioned below, might be useful for you in the long run:
The first thing we would like to tell about this grow tent is it is 100% waterproof. It has large heavy-duty zippers. Also, it has a double stitching cover to protect the tent from light leaking. Above all, a 100% lightproof tent allows you to control the climate and lighting.
As a result, you will be able to grow any plant in an easy and safe way in any place you like. It's reinforced by the metal poles that guarantees its stability and security. Easy to assemble and a user manual that comes with the product. It will tell you everything about the installation process. It has a rare access door, door snap hooks, adjustable vent doors, and heavy-duty steel poles. It makes the tent perfect for versatile use.
If you are ready to spend some extra money for the quality, you can try IDAODAN Grow Tent. It will help you keep your grows contained, stop pests from getting in as well as prevent odors from leaking out. Thus, it comes with a 100% steel interlocking frame to ensure durability. Besides, in this tent uses PE materials as surface materials. The materials are ecological and built to last longer. This gives an efficiency boost to lighting setups.
It is great as an indoor plant growing tent. Its total dimension 48 x 13.8 x 5 inches still weighs only 32.8 pounds. In particular, it made of 100% reflective tear-proof Mylar, lasts long. It is sturdy, strong and compact in size. If you want, you can even fit a child's swimming pool after having plenty of rooms for you. Easy to assemble and easy to use.
Frequently Asked Question (FAQ)
Question: What other plants can grow beside cannabis and tomatoes?
Answer: It is possible to grow any other herb or vegetables in it that do well in limited space.
Question: How many light hanging bars are there?
Answer: You will find 3 bars with the VIVOSUN grow tent which is very easy to move around.
Question: Is it a true 4×4? What's the inside dimension?
Answer: Yes, it is the 4x4x8 width, length, and height. Great quality.
Question: How much durable is the canvas?
Answer: It is thicker than expectation, heavy duty and durable.
Question: Does it have metal corner pieces?
Answer: Yes, it has metal poles and corner pieces.
Final Verdict
I the end, we hope you have enjoyed a lot the VIVOSUN Grow Tent review. If you are searching for the best grow tents for your specific growing needs, it would be a perfect solution. Thus, the materials used here are sturdy, strong, and built to last long. We would like to recommend this 4×4 tent for growing more in your garden. There are also many garden tools that you also need for your gardening.